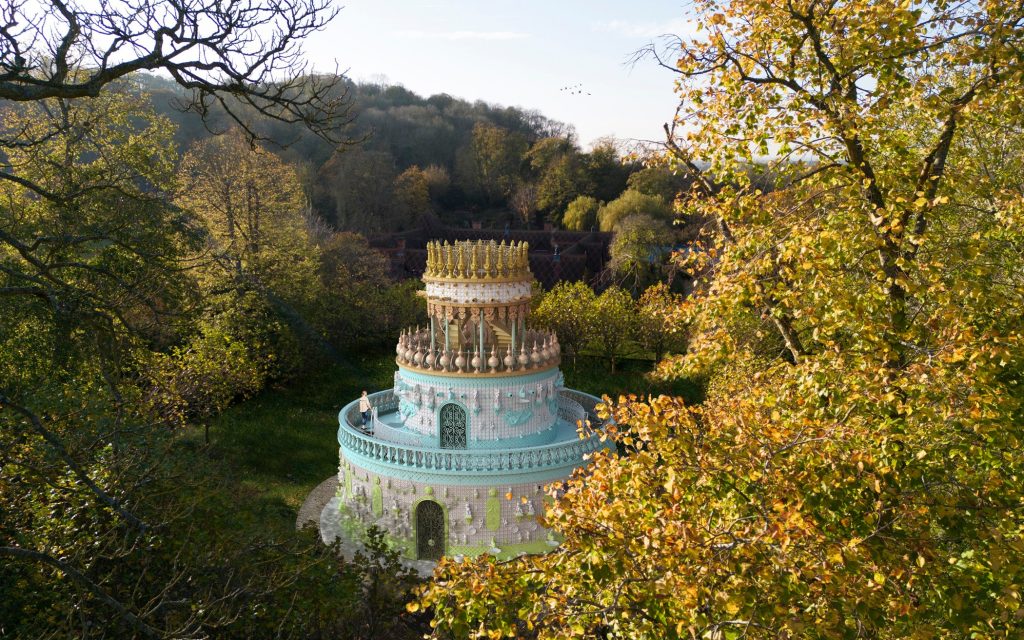 [ENGLISH BELOW]
Si te gusta la campiña inglesa, la tradición de los pabellones efímeros y las tartas de boda enormes, esto te encantará: Un pabellón de 40 pies de Joana Vasconcelos acaba de abrir sus puertas en Waddesdon, un castillo único en Chilterns.
"La artista portuguesa Joana Vasconcelos -según cuenta The T Magazine– es conocida por sus ambiciosas esculturas de gran tamaño que a menudo elevan objetos cotidianos. Su contribución a la Bienal de Venecia de 2005, "A Noiva" (La novia), era una lámpara de araña hecha con 14.000 tampones, y "Valkyrie Miss Dior", la imponente y tentacular instalación envuelta en tela que sirvió de telón de fondo al desfile de otoño de 23 de Maria Grazia Chiuri para Dior, ocupó el espacio del Jardín de las Tullerías de París. El último proyecto de Vasconcelos es el más ambicioso hasta la fecha: "Wedding Cake", un pabellón de casi 12 metros de altura con tres pisos de tarta nupcial en tonos pastel rosa, verde y azul, se instaló esta primavera en los terrenos de Waddesdon Manor, en Buckinghamshire (Inglaterra)".
Esta extraordinaria estructura, en parte escultura y en parte exuberancia arquitectónica, es una celebración del amor, la fiesta y la alegría y está inspirada en los exuberantes edificios barrocos y en la tradición de la cerámica decorativa de Lisboa, donde Vasconcelos vive y trabaja.
Buckinghamshire está a menos de dos horas de Londres en coche y mucho más rápido en tren, así que es una opción para un daytrip diferente.
*
TICKETS: ADULTOS £13.20 · NIÑOS £6.60 · MENORES DE 5 AÑOS, GRATIS
If you like the English countryside, ephemeral pavillions and massive wedding cakes, you'll love this: A 40-Foot wedding cake / pavillion by Joana Vasconcelos just opened in the grounds at Waddesdon, a unique château in the Chilterns.
"The Portuguese artist Joana Vasconcelos -as reported in The T Magazine– is known for her ambitious oversize sculptures that frequently elevate everyday objects. Her 2005 Venice Biennale contribution, "A Noiva" (The Bride), was a chandelier made of 14,000 tampons and "Valkyrie Miss Dior," the imposing, tentacular fabric-wrapped installation that formed the backdrop of Maria Grazia Chiuri's fall '23 show for Dior, took over the show space at Paris's Jardin des Tuileries. Vasconcelos's newest project is her most ambitious yet: "Wedding Cake," an almost 40-foot-high three-tiered wedding cake pavilion in pastel shades of pink, green and blue, was installed this spring on the grounds of Waddesdon Manor in Buckinghamshire, England."
This extraordinary structure, part sculpture and part architectural exuberance, is a celebration of love, celebration and joy and is inspired by the exuberant Baroque buildings and decorative pottery tradition of Lisbon, where Vasconcelos lives and works.
Buckinghamshire is less than two hours from London by car and much quicker by train, so it's an option for a daytrip with a difference.
*
TICKETS: ADULTS £13.20 · KIDS £6.60 · UNDER 5 FREE