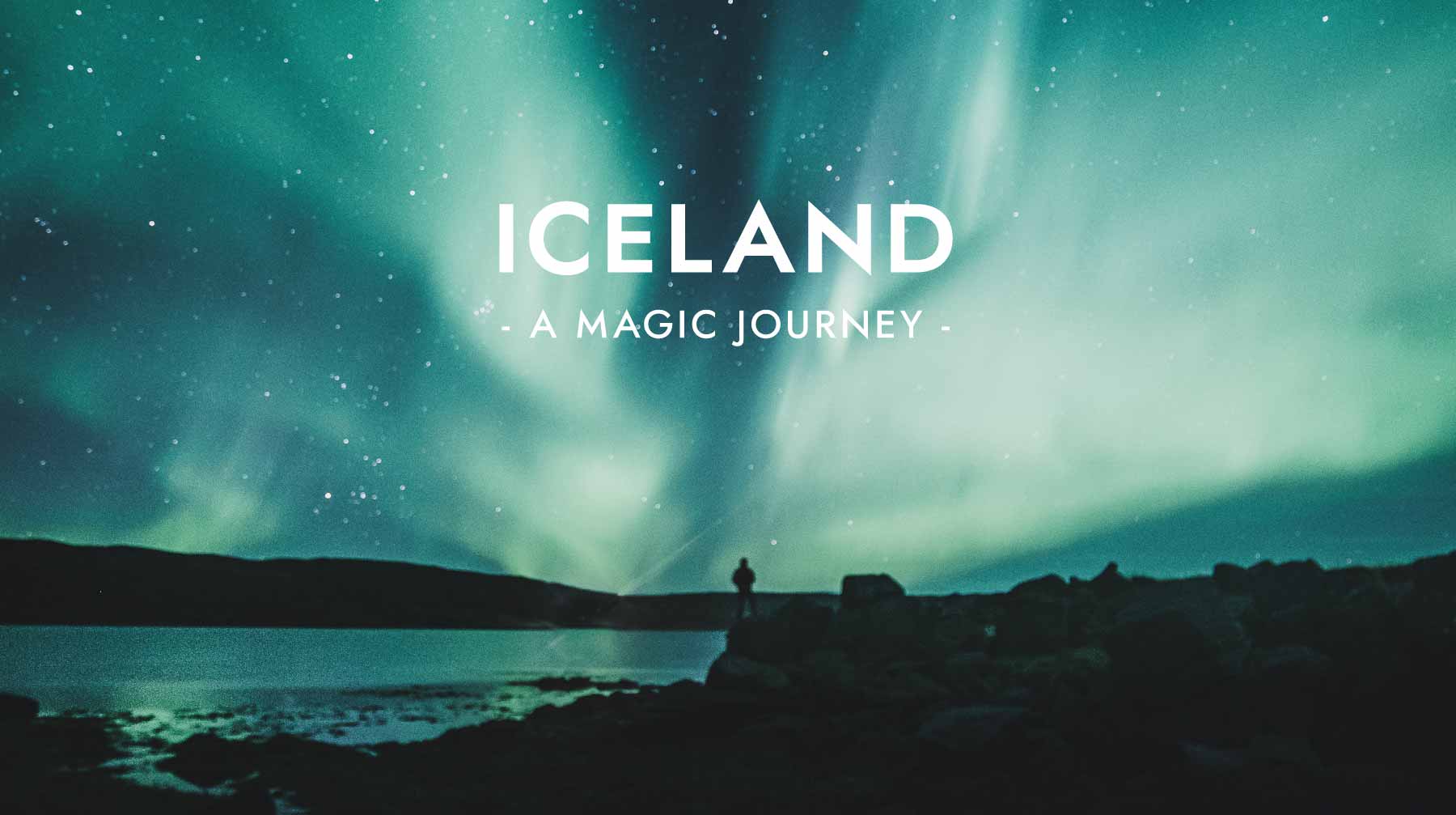 [symple_column size="one-third" position="first" fade_in="false"]
Iceland, land of ice and fire, is one of the most amazing and different places you can ever imagine.
Edited & illustrated by Rena Ortega.
[/symple_column]
A magic place where nature reigns above all, where you can see glaciers and in a few minutes you can see volcanos, where horses and sheeps are the kings of the island and wherever you look, your eyes are able to find a waterfall and maybe, the Northern Lights. Welcome to the most wild and magic place of the north, welcome to Iceland!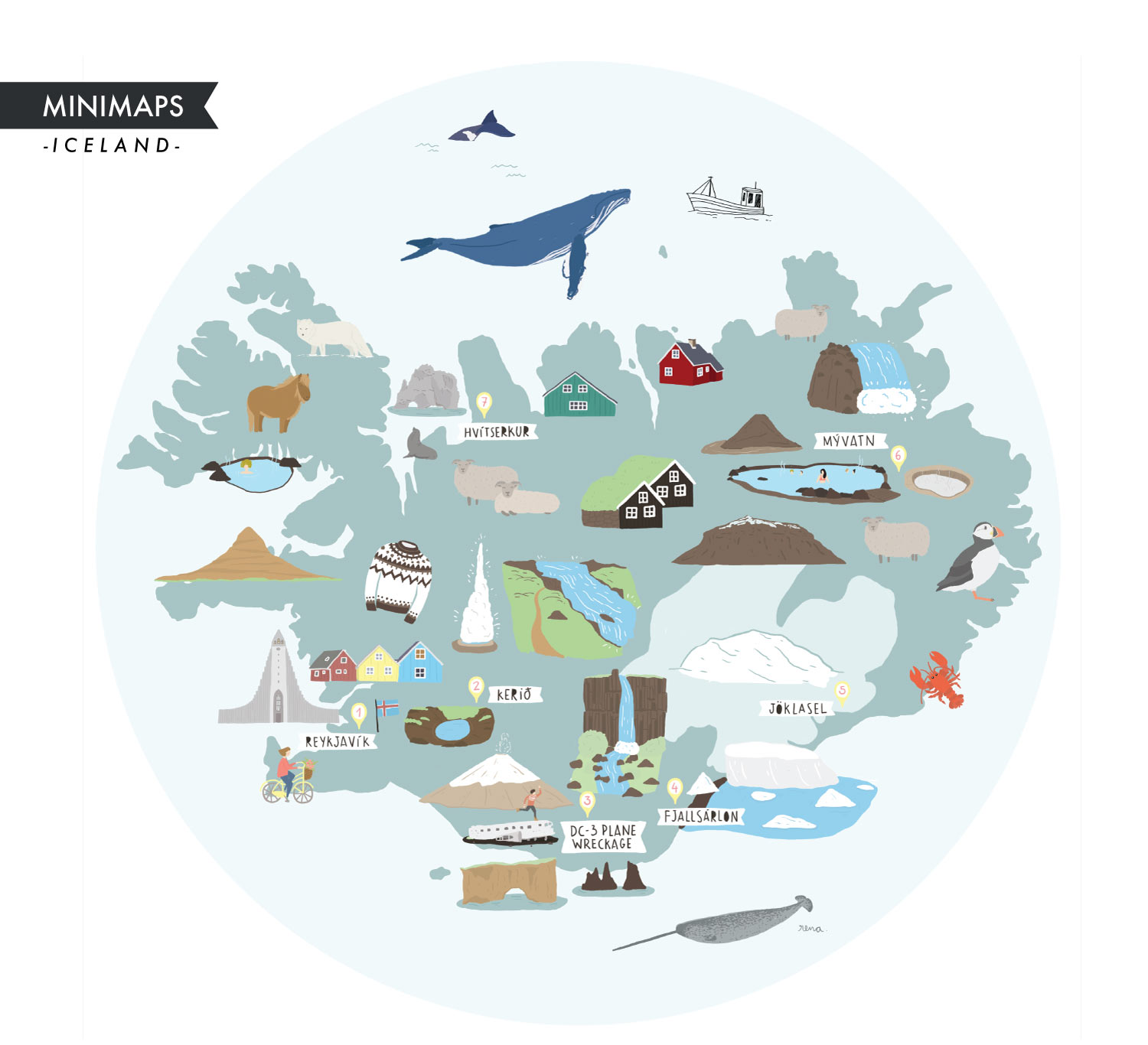 Free to download and ready to print!
[symple_button url="http://superminimaps.com/wp-content/uploads/2016/07/Iceland-Minimap_2019.pdf" color="black" size="small" border_radius="1px" target="blank" rel="" icon_left="" icon_right=""]Download[/symple_button]
In the modern and peaceful Reykjavik, this small but great restaurant on the harbor is famous for its menu, but also for its maritime decoration and the watchful wax statue of its owner. The fish soup is the star of the menu but one cannot leave without trying one of their fresh fish brochettes, so tasty! And for the adventurous ones, the whale steak. One of the most curious mix of flavors existing, between the fillet steak and the tuna fish.
2. Kerið Volcano
After visiting Gullfoss waterfall and the famous Geysir and before getting to Selfoss, a photography stop at the Kerið volcano is essential. Beauty in its pure expression in this peaceful volcano with a lake at the cone. The best plan? Walking down to the cone and sitting on the bench and waiting for the sun to set.
3. Sólheimasandur Airplane Wreckage
Between Selfoss and Vik, under the unpronounceable volcano Eyjafjalajökull, you will find a place out of this world, where there are only little volcanic rocks, black sand and an amazing lunar landscape. Well, there's also a crashed plane in the middle of that unimaginable scenery, a must for those who love photo shooting!
4. Fjallsárlón
Looking for a perfect sunset in a quiet and magic place? Then, you must visit Fjällsárlón, a less touristic and one of the most beautiful glaciers right next to the famous Jökulsárlón. The ideal time to visit it is at the afternoon, when the sun comes down, to appreciate the change of lights, from yellow to blue, the cracking of the glacier, the minuscule water drops slowly melting, the calm, the silence… Everything there is magic!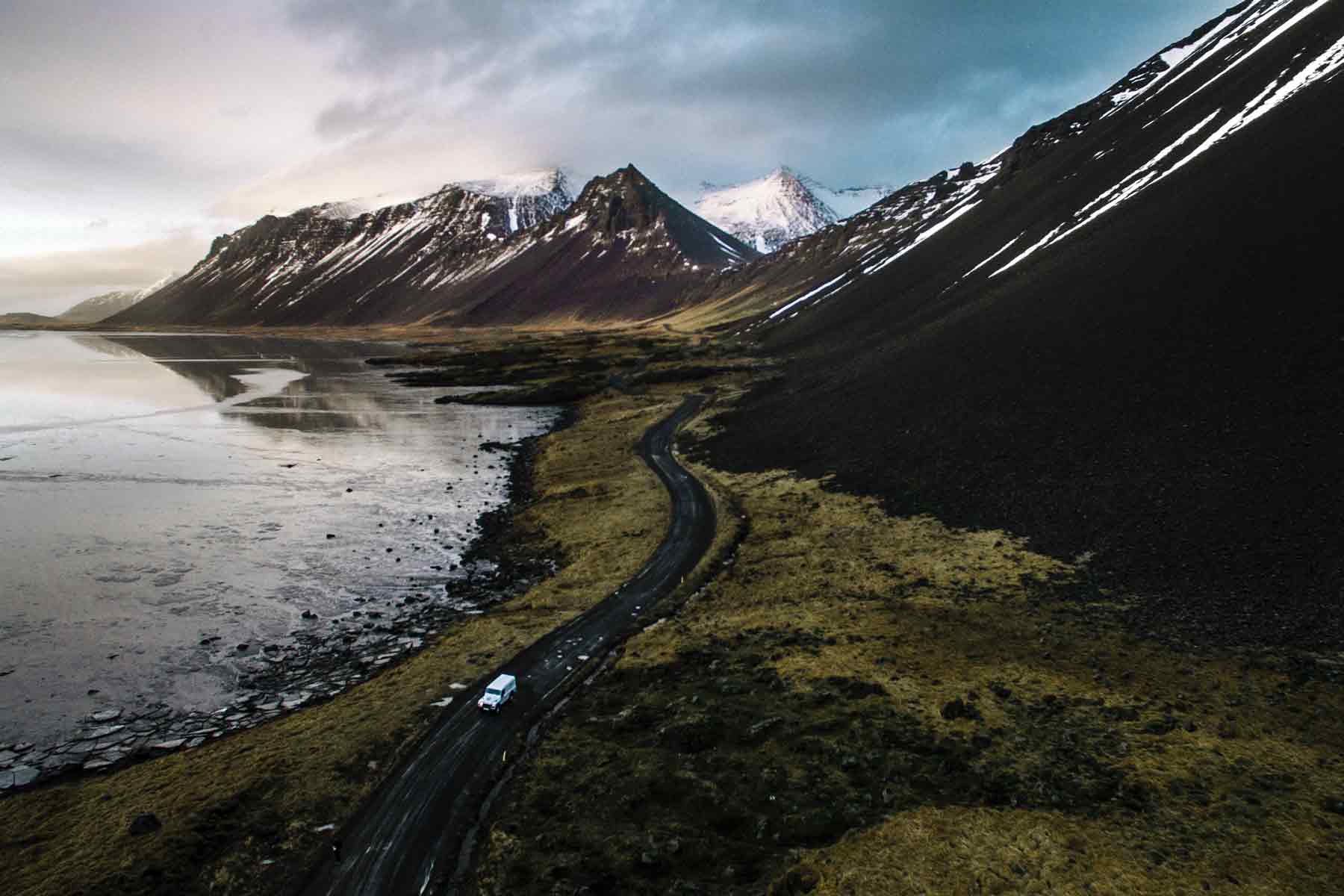 5. Jöklasel
Getting on the gates of Vatnajökull glacier is an unique experience in every way. An endless curvy road, between lakes and mountains that continues up, with an amazing view will take you to the doors of Vatnajökull. The first moment you see it, that immensity, will give you a sense of magnificence, almost like entering the gates of heaven (but a frozen one).
At the top, most glacier tours, snowmobile and off-road tours starts there and the beautiful wooden restaurant offers a buffet and a good coffee to regain strength in front of that beautiful landscape!
The frontier between ice and fire, between glaciers and volcanos. The Mývatn and Námaskard zone is like being in another planet, everything turns into red, yellow and brown color, with nothing around except fumaroles, volcanic rocks and heat. Oh! and a huge quantity of little mosquitoes that will come with you all the time, near your head, non-stop buzzing! They don't bite but it's convenient to take an scarf or a towel on your head and above all, lots of patience!
But the best plan there is an afternoon at the geothermal Mývatn bath (cheaper and quiet than the south one of the island). Don't forget the previous compulsory shower before entering the baths and to have a beer inside the pool, waiting the sunset and looking up the sky waiting for the Northern Lights.
7. Hvítserkur
In this zone of the north coast, there is an amazing rock with a rhino shape! A must to get there to see it and take some photos in front of this giant rock and you can't leave there without visiting the little and curious house full of Lolapeysas, the typical sheep wool icelandic jumper, that you will find very near.
Down the road, you will find a picnic zone and a nice path that will take you to a wood house and a zone full of seals resting on the rocks and the water! Perfect plan, isn't it?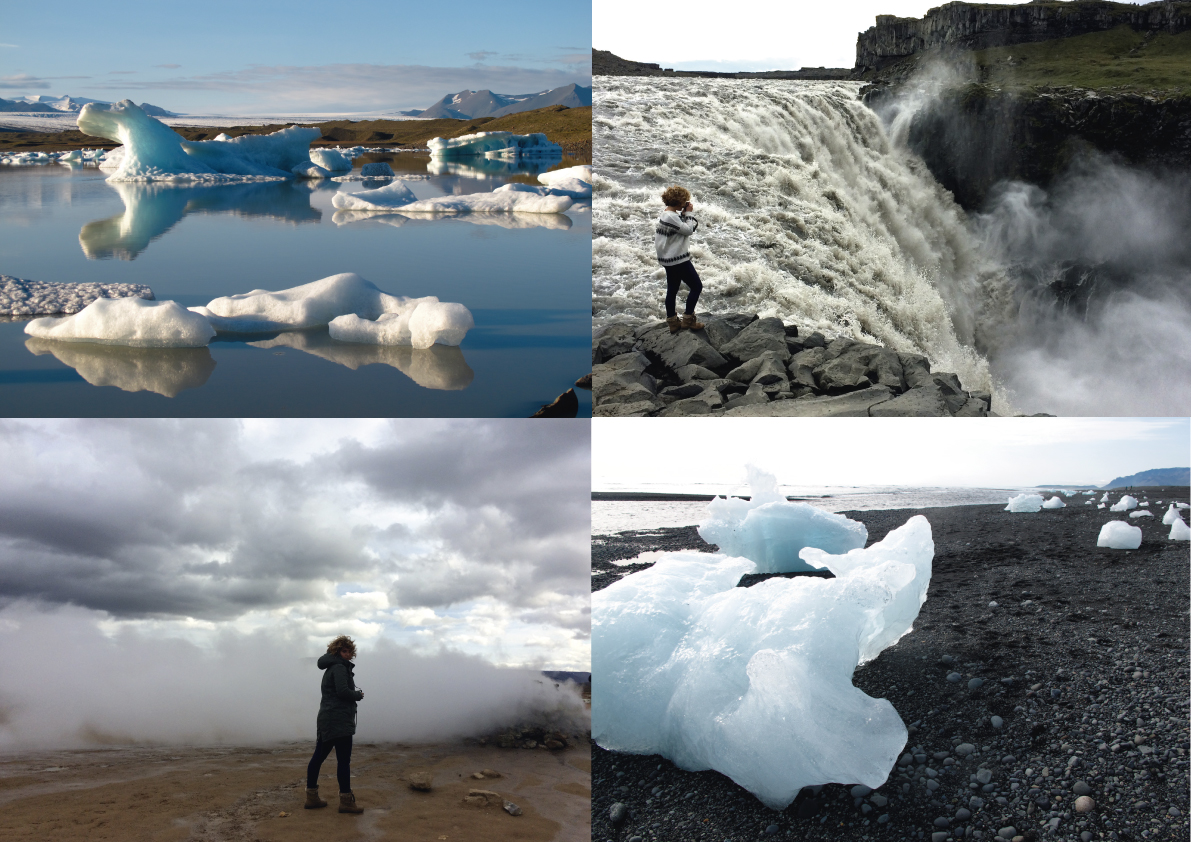 Iceland photos by Rena Ortega (:
Ready to start your journey around a truly magical super-mini-island? 
Yes! Download your minimap here!
[symple_button url="http://superminimaps.com/wp-content/uploads/2016/07/Iceland-Minimap_2019.pdf" color="black" size="small" border_radius="1px" target="blank" rel="" icon_left="" icon_right=""]Download[/symple_button]
.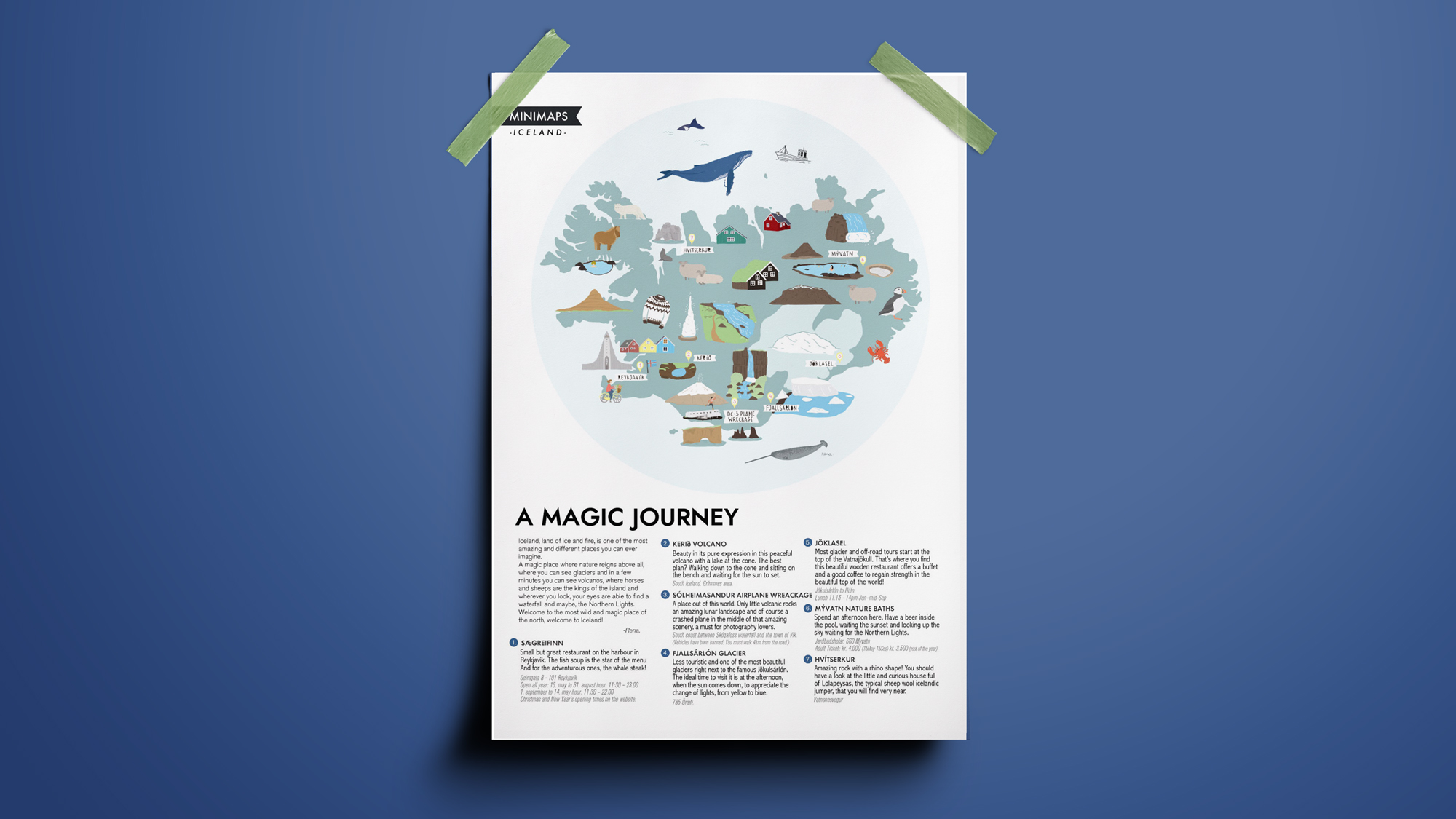 To share your photos with other minimappers,
please use this hashtag #superminimaps in Twitter and Instagram!
♥