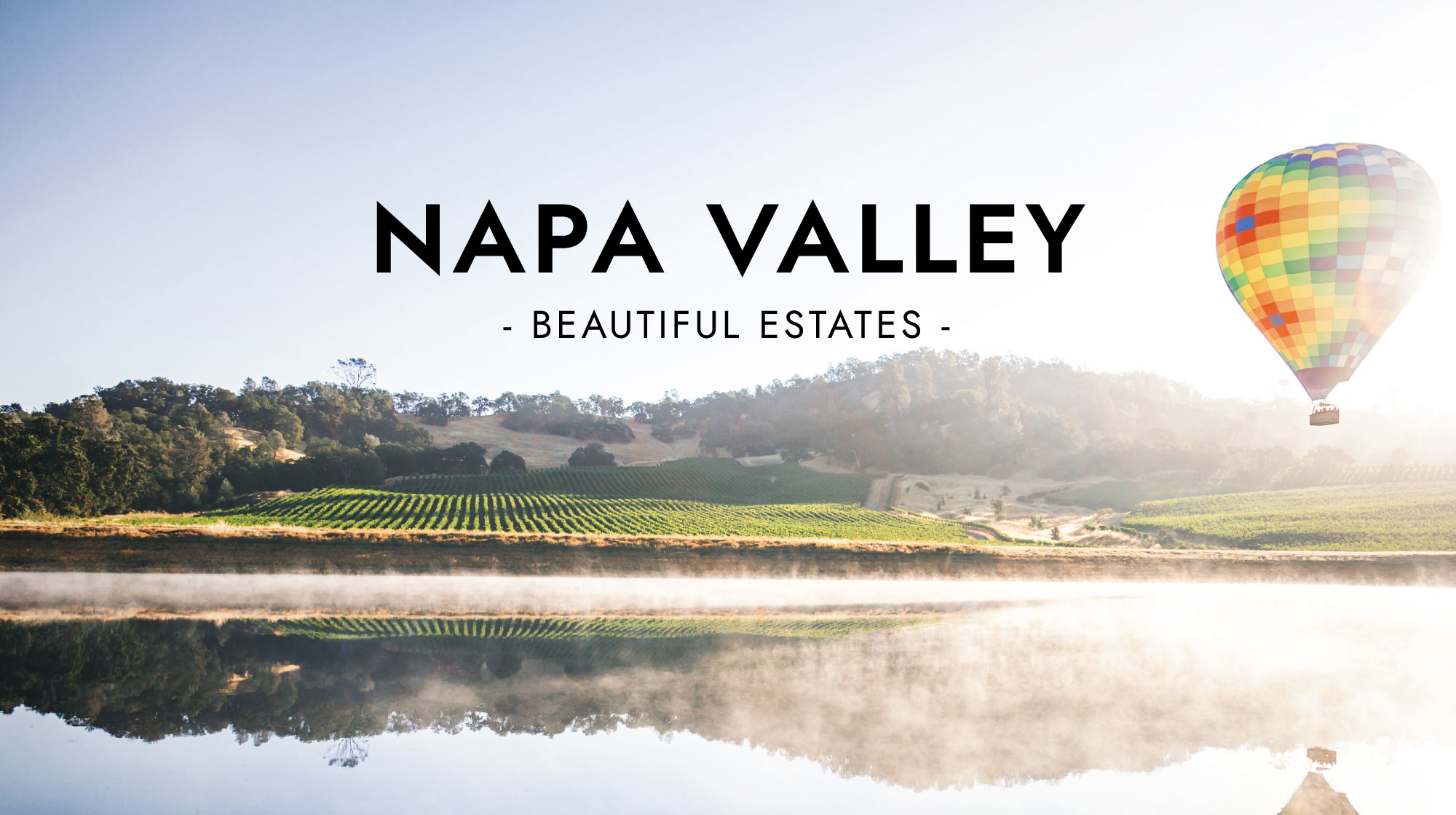 Napa Valley is a relaxing, community-focused and pleasure-seeking place where tourists and locals alike can find things to enjoy. Our map highlights the most beautiful estates and the must-see wine stops found in this beautiful region.
Edited by Sylvie S. & Illustrated by Isabelle Skoog.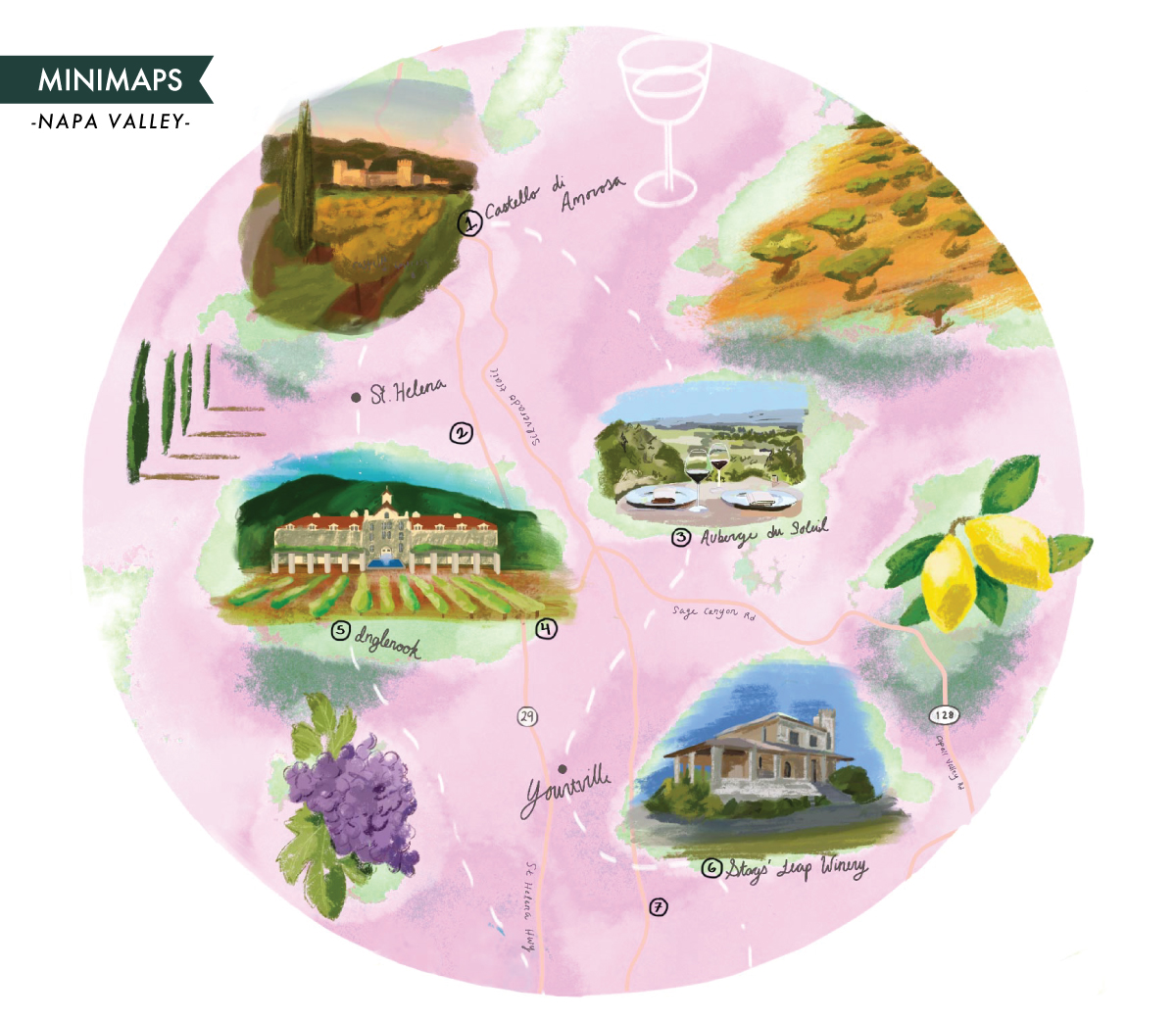 .
Picture a beautiful drive up an inclined Cyprus tree-lined road. Charming vineyards? check. Uninterrupted view of the valley? Yep. You arrive at the top of the hill to find yourself staring at a 13th century styled Tuscan castle. And all this is before you make your way to the underground tasting rooms to sample their delightful wine. Expect reasonable prices, beautiful backdrops, tasty wine and pleasant company.
Tip: Arrive right before they open if you are looking for an uncrowded and quiet photo-session with the property as your setting.
Open: Daily 9h30 – 18h (November – February) | 09h30 – 18h (March-October)
Fee: General Admission & Wine Tasting – $30 per person
Self-promoted as California's oldest continually operating winery, Beringer brings a cozy atmosphere to an elegant estate. The Rhine House itself imitates the style of the 19th century, Beringer's family home in Mainz-on-the-Rhine, Germany. The stately Victorian architecture, which at times can be overpowering, lends a magical belle époque vibe to your wine tasting experience. Want to time travel, but just cannot seem to find the cash (or the technology)? This winery is an exceptional second option.
Open: Everyday 10 – 17h30
Fee: Must book wine tastings (start at $25 per person)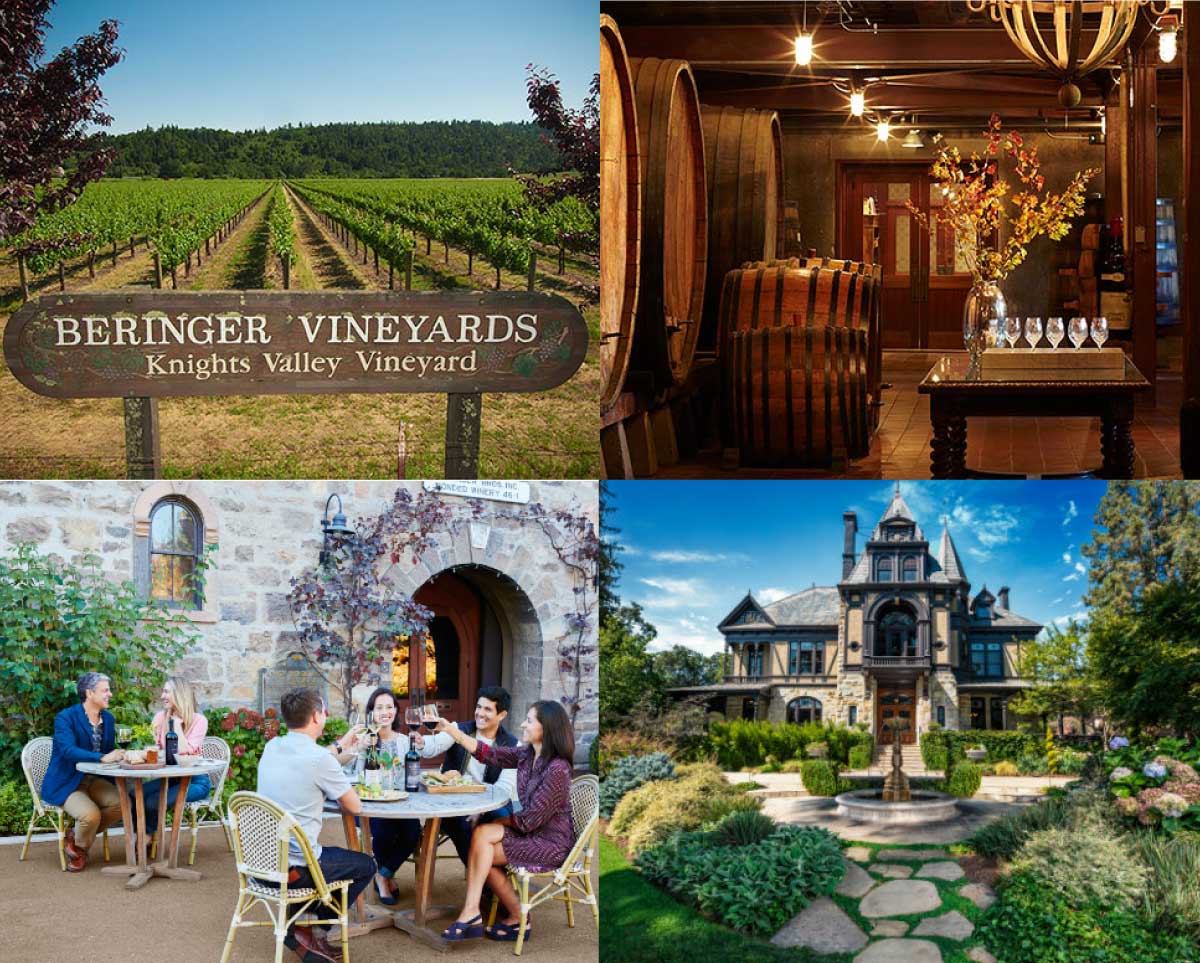 A secluded luxury resort equipped with a Michelin Star restaurant, the Auberge du Soleil boasts a private and extremely elegant landscape that matches its clientele. The inconspicuous road signs and winding drive up to the resort embodies mystery and class, which is further perpetuated by the establishment's lavish hospitality. Nevertheless, the real winning element is the view from the resort's Bistro and Bar. You do not have to pay the Michelin Star price, nor stay the night, to share a cocktail on the Bistro deck and enjoy the unequaled views of the valley. With nouveau French music quietly playing over the hidden speakers, do not be surprised if you are tempted to doze off in relaxed bliss.
Open: 24 hours daily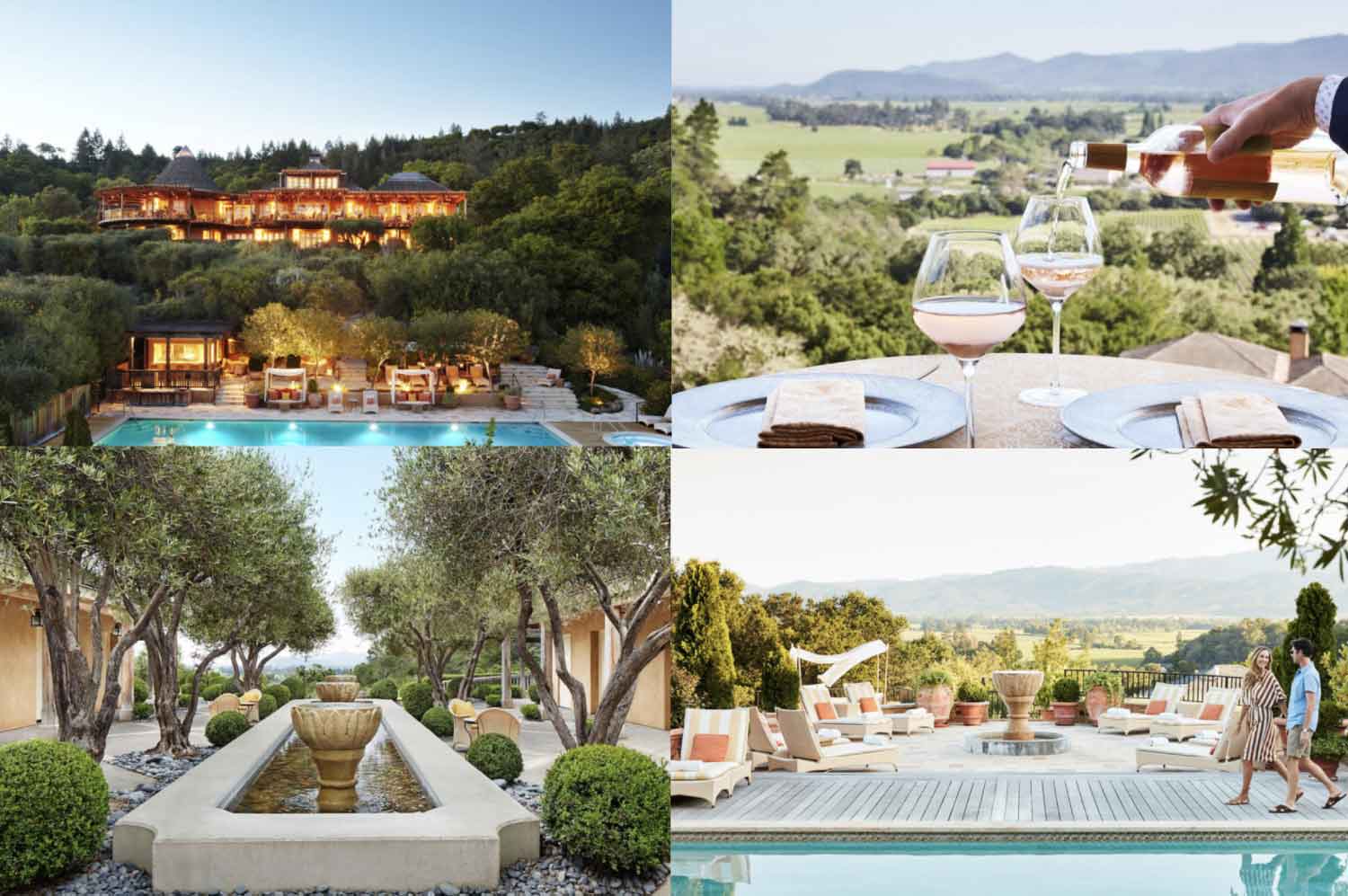 A petit mention for an equally quaint and petit winery. Relatively new by the valley's venerable standards, the Peju Province Winery is proudly family owned and operated. The winery gracefully balances picturesque family-designed and curated gardens with a noble tower-shaped tasting room. The wine itself boldly holds its own within the valley's steep competition and the exterior landscaping is reminiscent of fictional lands, dusted with just the right amount of magic.
Open: 10 – 18h daily
Fee: $40 per person – no reservations necessary, if less than 7 guests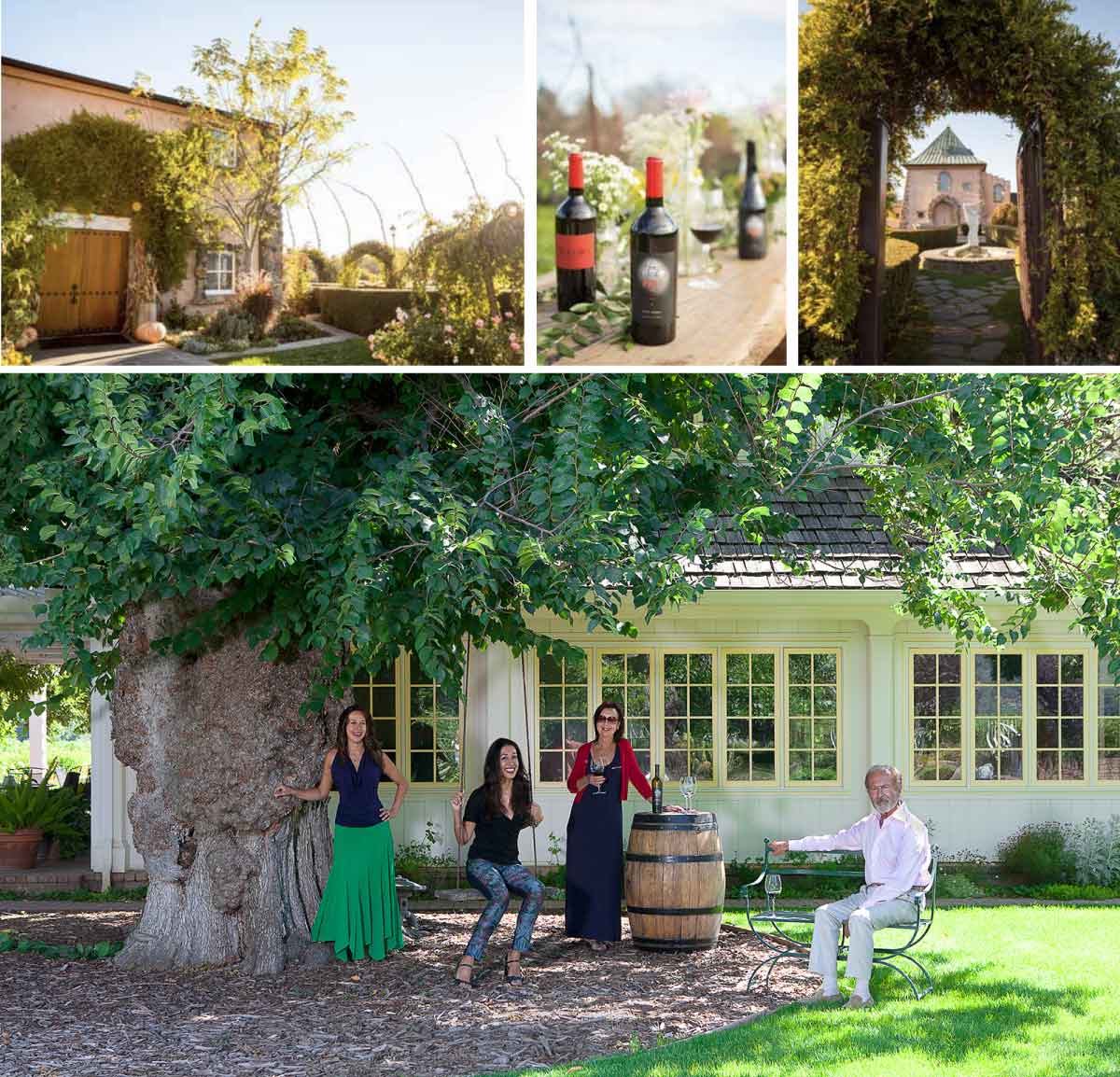 Lights. Camera. Private entrance gate…? The Inglenook Winery exudes an elite and classic Hollywood ambiance. Once past the gate, the wide tree-lined avenue radiates the appeal of golden age glamour. The chateau, commissioned by an 18th century Finnish sea captain, sits handsomely nooked on the edge of the valley. It is not surprising that Francis Ford Coppola, one of the world's leading film directors, is the proud owner of this establishment. Complete with private tasting rooms, a grand staircase and a small film museum; sit long enough outside at the winery's Parisian-style bistro and Inglenook will leave you feeling like a star.
Open: 10h30 – 17h
Fee: $55 per person for a heritage wine tasting.
Luckily, it does not take a leap of faith to fall in love with Stags' Leap Winery. If the tales of the three founding families do not peak your interest, then the legends of the bygone estate guest gangsters, socialites and bootleggers will. The winery's rich history is as impressive as the estate's stone manor house, charming surrounding cottages, and scenic vineyards. The winery rests in an idyllic Mediterranean microclimate, host to an abundance of tropical plants and creatures. If that isn't enough, the group tastings and estate tours are kept small, treating guests to an intimate five-star experience. You leave the estate head over stems in love with the wine, place and people.
Open: Open Mon-Wed / Fri-Sun: 10-16h | Visit Appointments: 10am, 1pm & 3pm.
Fee: $75 per person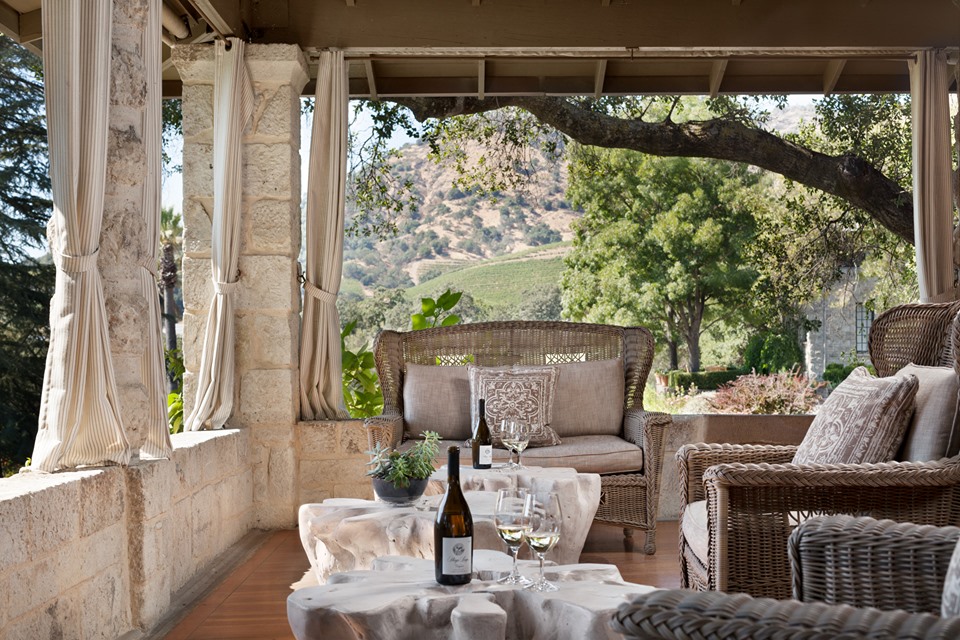 Chimney Rock Winery's striking Cape Dutch architecture pairs perfectly with its classic Napa Valley wine. The estate's elegant all-white South African style majestically soars above the vines, its simple sophistication contrasting beautifully against nature's wild vibrancy. Family-operated, the winery is a generous host that offers several varying experiences. Our favorite? A tasting on their shaded patio, from which visitors can sample the flavor of Chimney Rock Winery while taking in the beauty of its terroir.
Open: 10 – 16h daily
Fee: starting at $50 per person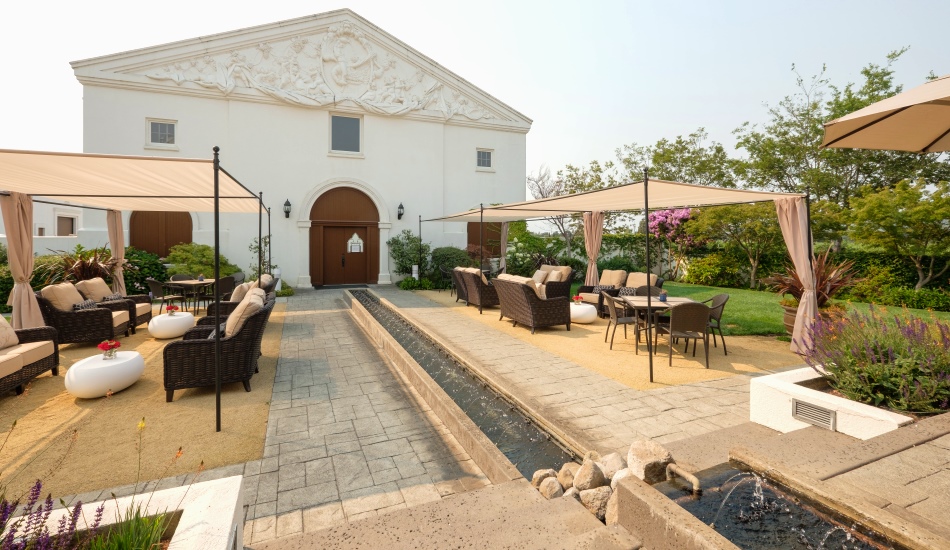 Ready to visit the most beautiful estates in the most beautiful valley?
.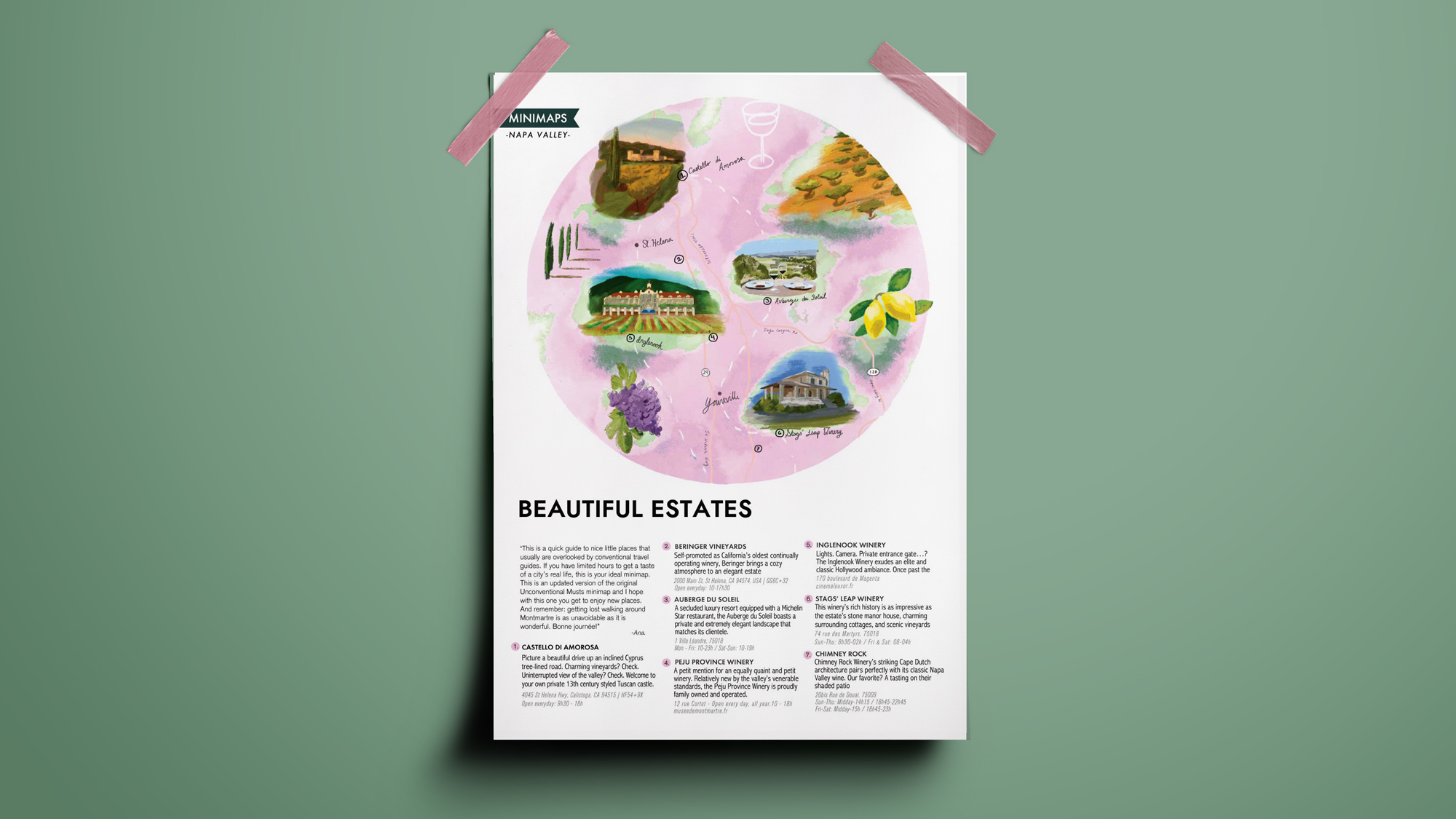 To share your photos with other minimappers, please use this hashtag #superminimaps in Twitter and Instagram!
♥