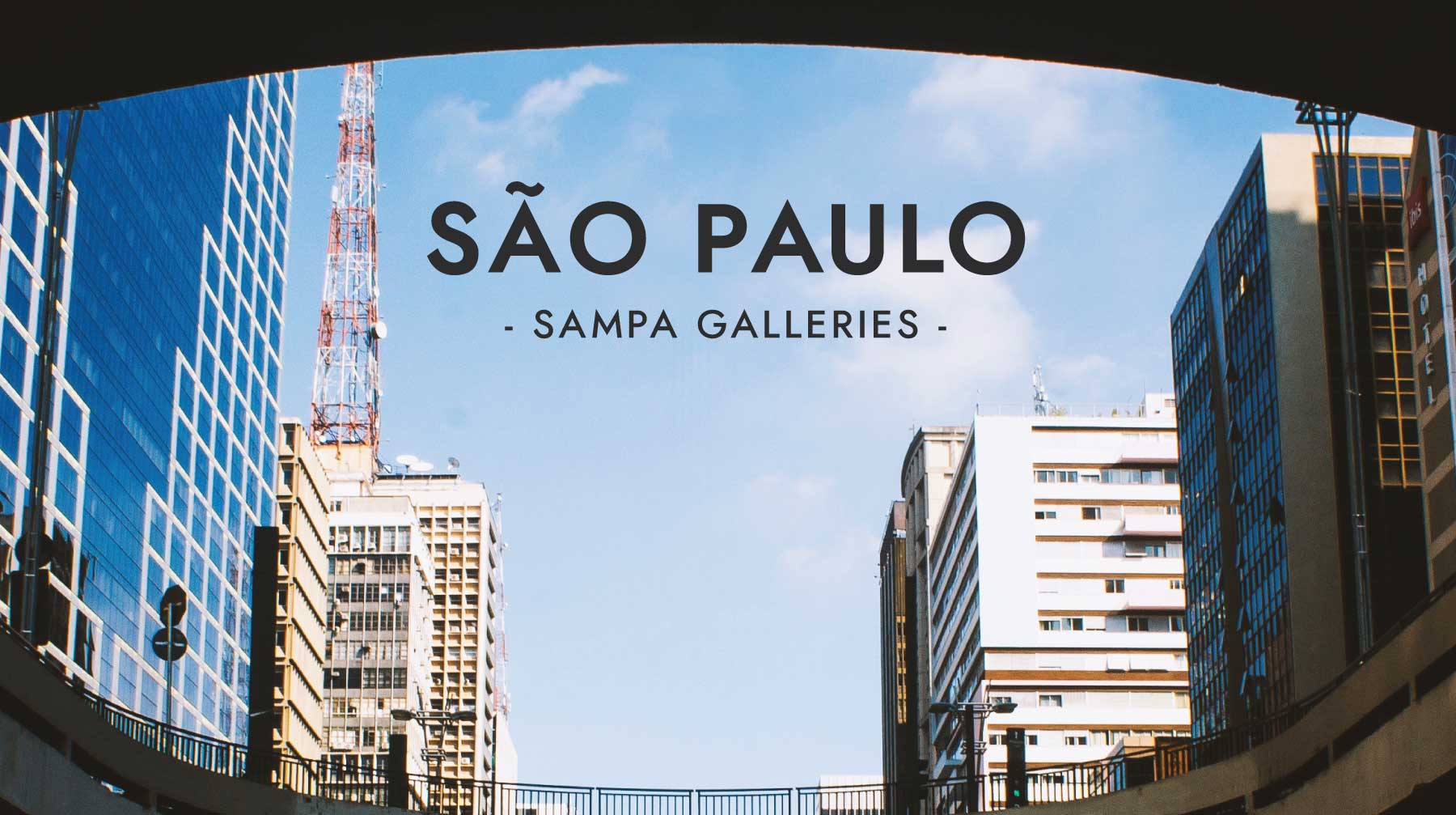 [symple_column size="one-third" position="first" fade_in="false"]
Like a flâneur, strolling through the streets and squares of the historic center of São Paulo is a trip to the past. Despite the huge amount of people, vendors and workers passing by, you'll feel back in the 60's. The historic center is a versatile zone, which combines residences, commerce and services.
There we can find these amazing 'galleries' (galerias in Portuguese), most of them built in that period. Their entrances are mainly located on the pedestrian streets that constitute the historical center area. They are used as passages, connecting different streets trough the middle of the blocks.
Edited and illustrated by Julia Reis.
[/symple_column]
Opened to the city and access-free, they are considered and used as public spaces. There are no restrictions for people to circulate inside the buildings; nothing can prevents visitors from exploring them.
Combining permanent uses and circulation space, these galleries keep the blocks alive, affording and fostering a river of people to flow right in the middle. Most of them are in constant use still today, and some also still preserve its beautiful mosaics, original designed floors and gardens projected by world famous architects and artists of the time.
There are people who say that these galleries are the origin of the shopping malls. But there is a huge difference between them: while the shopping centres are kind of non-places with no true link with the city, these galleries were built in harmony with their surroundings.
From restaurants, bars and cafés, to offices, photography, electronics and games shops, it is possible to find anything you want in these time tunnels. You can go looking for one of these things or just let yourself get lost!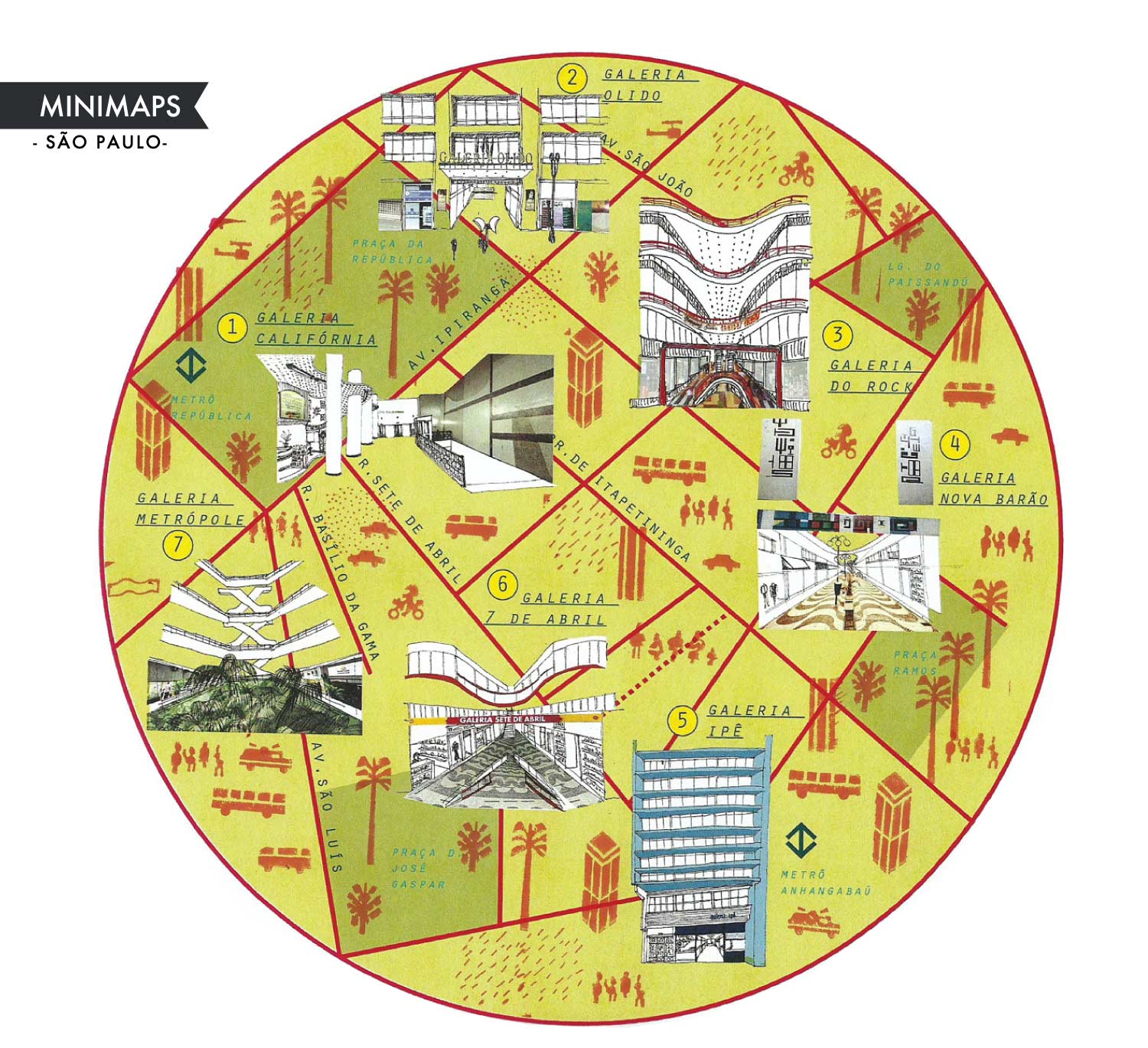 Free to download and ready to print!
[symple_button url="http://superminimaps.com/wp-content/uploads/2015/12/MinimapSPGalleries_PRINT_2019.pdf" color="black" size="small" border_radius="1px" target="blank" rel="" icon_left="" icon_right=""]Download[/symple_button]
.
1. Galeria Califórnia
Designed by the famous architects Oscar Niemeyer and Carlos Lemos, this building differs from others in its shape. It's not a linear passage, but an "L" path that begins in Barão de Itapetininga St. and ends in Dom José de Barros St. On the corner of the "L" you will find a hall with elevators that will get you to the above floors, and a stair which used to lead to a popular cinema in its lower ground level. Besides a roof garden projected by Di Cavalcanti and a beautiful 250 meter-square panel of the painter Cândido Portinari, the gallery also offers a variety of great restaurants and service stores. The Óptica Ypê has been there for many years and have thousands of vintage glasses for all tastes.
2. Galeria Olido
Right next to the Galeria do Rock we find Galeria Olido. Contrary to its neighbour, it has a quiet ambient with informative spots and exhibition areas. This gallery usually hosts a big event three times a week: a dancing class opened to the public called Vitrine da Dança. This is how the gallery opens itself to the city and invites pedestrians to step in.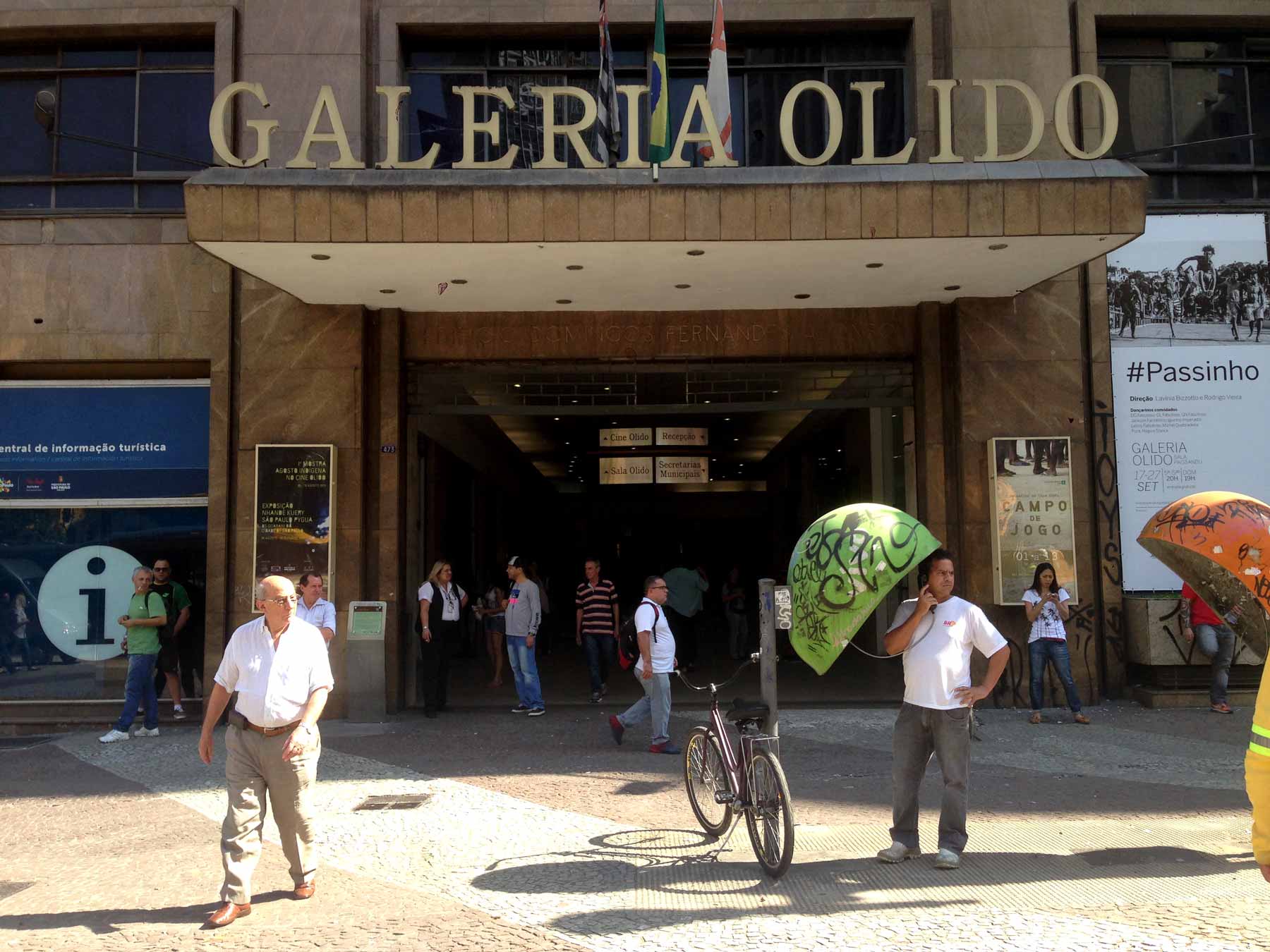 3. Galeria do Rock
One of the most famous ones, is situated in front of the Largo do Paissandu. Populated mostly young people, it offers a great variety of all things rock. Clothes, stencils, discs, tattoos, skateboards, paints and graffiti sprays, are just a small amount of what you will be able to find here. This gallery has become a meeting point of different tribes of the city. From skaters to rock and metal fans, they all meet here. The building, with its curved floors covered with vivid red painting and "Portuguese stones" mosaics, is also worth visiting and was declared a Heritage monument. On the top floor there is a garden with a nice views of the city and of the church of Largo do Paissandu.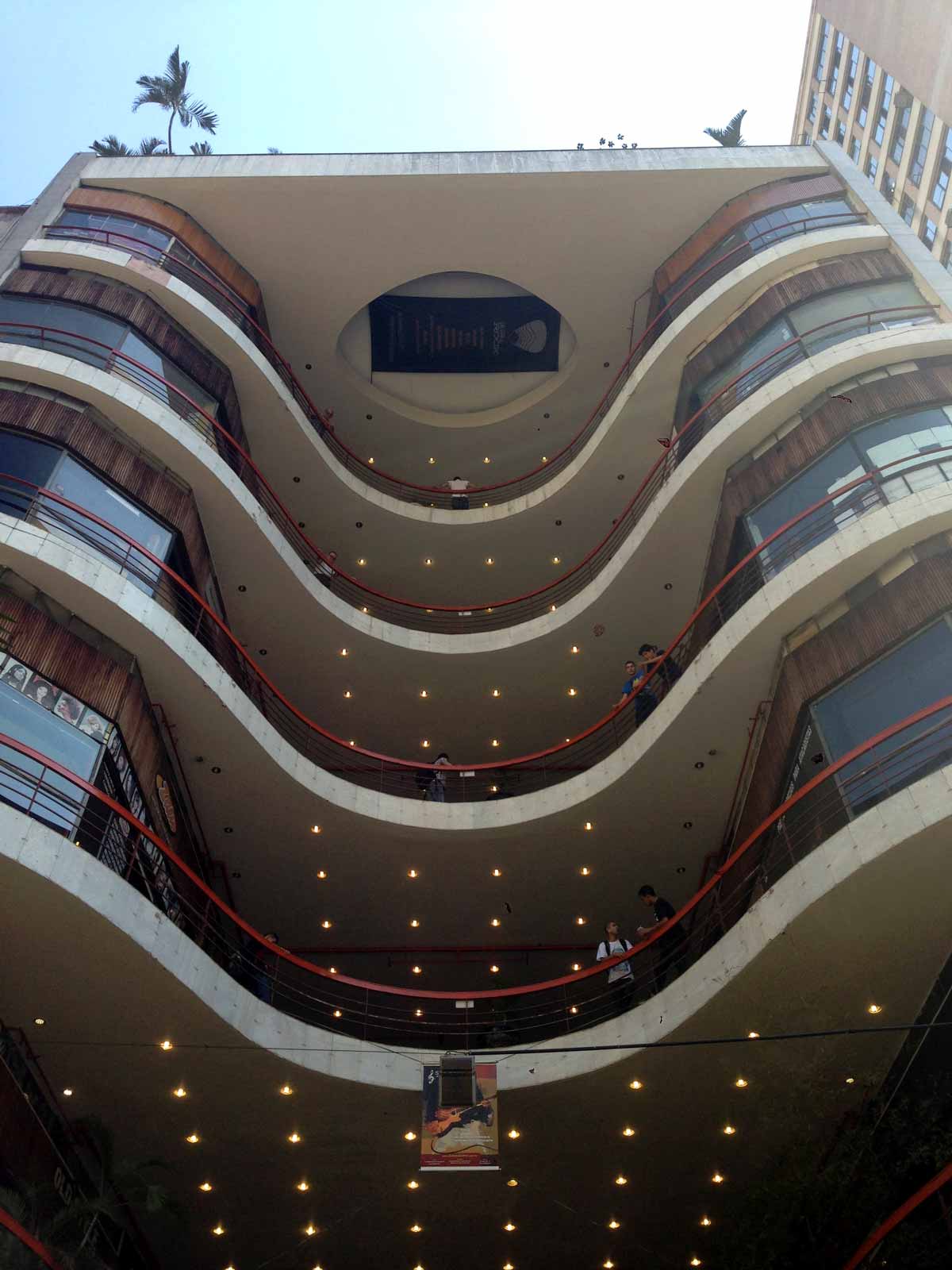 4. Galeria Nova Barão
Like a real pedestrian street, this gallery connects Barão de Itapetininga and Sete de Abril streets and is used by many as a route to the Teatro Municipal and the Viaduto do Chá. The commercial part has two floors connected by escalators and the residential one is composed by two buildings above the gallery. When you get there, on the 2nd floor, you will find lots of music shops selling LP discs as well as hairdressers. The ground floor is full of watches and perfume stores. If you are hungry you can go for a "pastel de feira" next to the Sete de Abril st. entrance.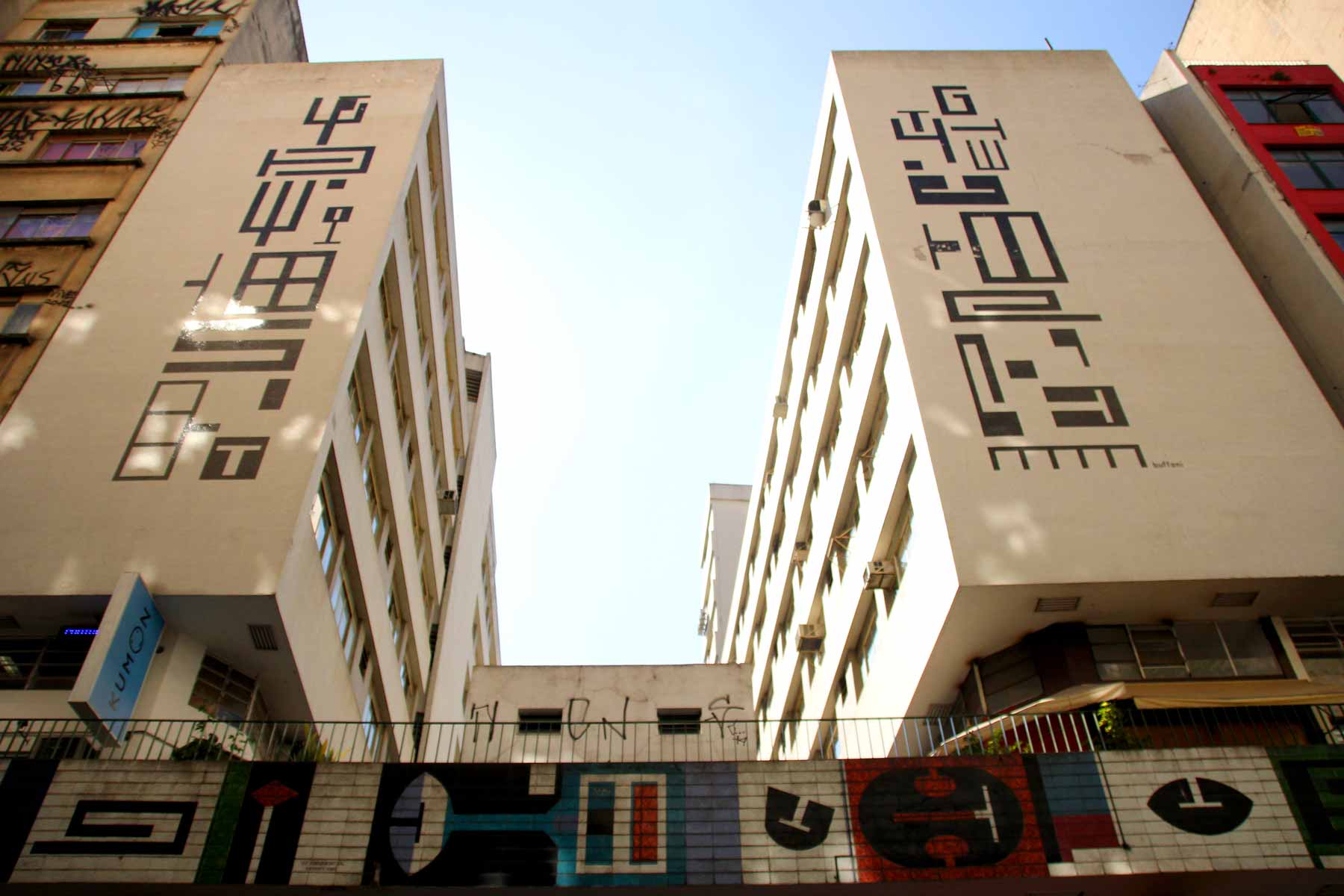 5. Galeria Ipê
The passage is situated under a commercial building and is divided in two parts. Stores and commercial kiosks occupy half of it and the other part is the entrance of the "hemeroteca" of the Mario de Andrade Library, that is situated a block away from the gallery. The Café no Vidro is a great choice to stop by if you are walking around for a while. Ask for a "chipa" bread and enjoy your Brazilian coffee served on a glass cup, known as "copo Americano" or American glass. There are a few electronic stores that offer good prices. If you need to develop some photographs make a stop in Colormart, a photolab store at the end of the gallery, in Sete de Abril St.
6. Galeria Sete de Abril
The paradise of photographers, this three-story gallery is filled with professional photography shops. Built by the same architects of Galeria do Rock, the entrance invites you to come in using two different ramps, one that goes up and the other that gets you to the lower ground floor. Just like in Galeria do Rock, the floor has awesome designs in black and white "Portuguese stones" that are of the same material of the pavement. That creates a beautiful connection between the gallery and the outside "world"; one as the continuation of the other. The elevators hall have amazing mosaics too. If you get the escalator up, you will find good regional restaurants with interesting views of the surroundings.
7. Galeria Metrópole
If you are looking for good restaurants and bars this is the gallery for you! The tropical garden on the ground floor can be seen from the other floors; it's an extension of the outdoor's square. Located at the feet of a commercial building and close to Praça Dom José Gaspar, Metrópole is full of places to eat, both inside and outside the building. To find north Brazilian typical food go to Feijão do Norte, inside of the gallery or other bars with samba on the ground floor next to the plaza. But if you feel like drinking and listening to great music at night, you should visit the Bar Mandíbula on the second floor, store number 40. There you can eat a potato borek, drink a gin tonic and buy some vinyl records. From that part of the gallery you will have a beautiful view of Av. São Luís.
.
Are you ready to explore the most interesting Galerias paulistas?
Start by downloading your minimap here!
[symple_button url="http://superminimaps.com/wp-content/uploads/2015/12/MinimapSPGalleries_PRINT_2019.pdf" color="black" size="small" border_radius="1px" target="blank" rel="" icon_left="" icon_right=""]Download[/symple_button]
.
To share your photos with other minimappers, please use this hashtag #superminimaps in Twitter and Instagram!
♥