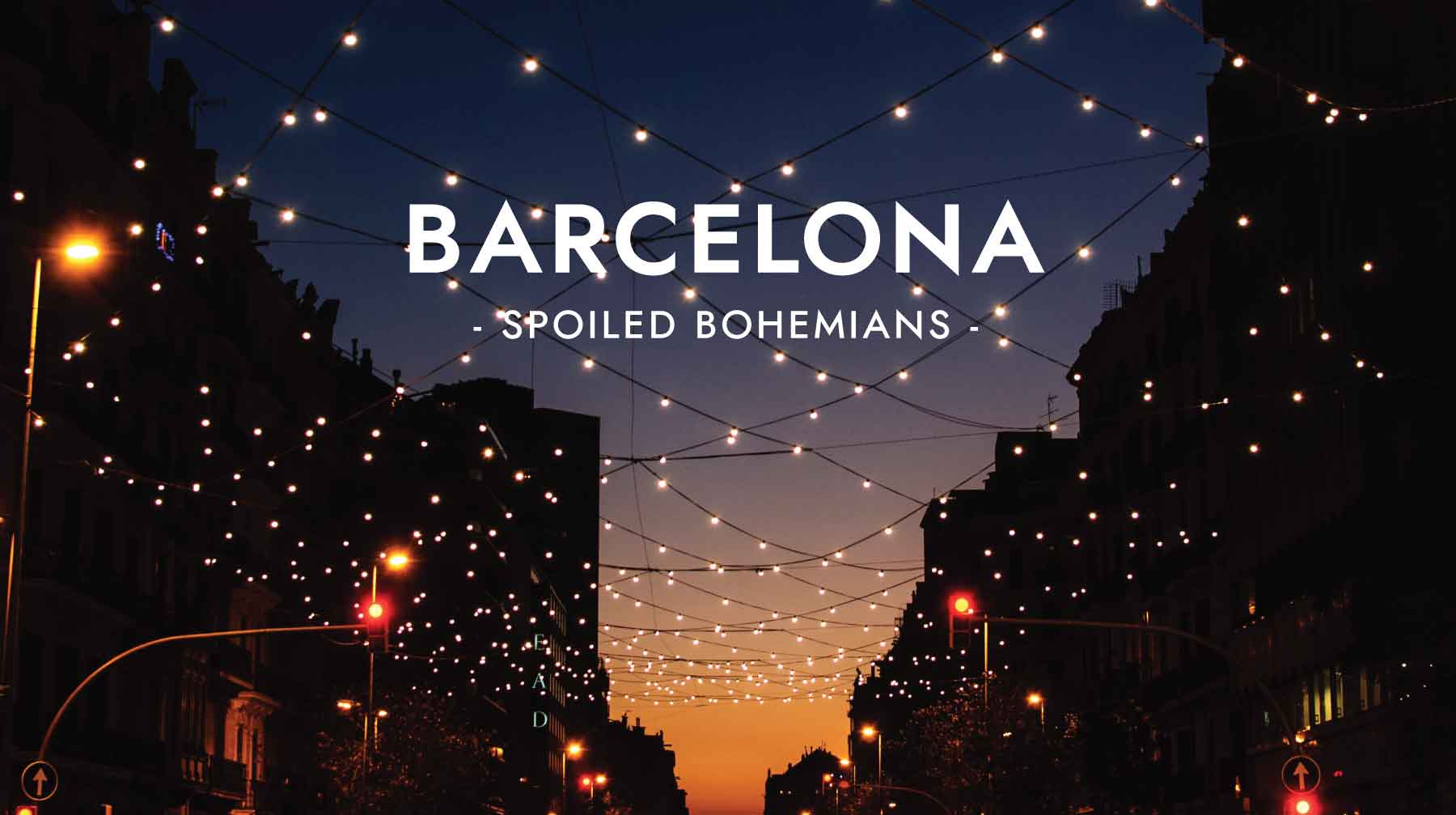 Barcelona is like the family's single-for-life aunt who has always been known to be a little nuts. She definitely thinks she's way younger than she really is and overdose the gin and tonics. Despite of, or more likely, because of all these things, you would love to spend a couple of months crashing at her place.
.Barcelona is such an extreme aesthete that she can seem ridiculous. She could show up at your family reunions wearing that bubblegum pink suit with massive shoulder pads, straight bangs and red lipstick! And she will claim that she bought it at the charity shop, because everybody knows she's penniless and finds herself forced to give an explanation. She talks politics with passion and strong conviction, even though she might be a bit (or very) confused. Trendiness had her for breakfast. All in all, she's a fake, but a massively fun one.
Barcelona is not as mischievous as Madrid, nor as splendid as Paris, or as daring as London. Dear traveler: just surrender to the worldly pleasures of the bourgeois bohemians. Wander the streets as a flaneur. That's the greatest way to discover what's underneath the layers of tourists and beyond the most hipster venues. A complex city awaits, one that its inhabited by all sorts of people. That's where real secrets are hidden, and those cannot be told for free.
Edited by Almudena Monzú. Illustrated by Victoria Fernández.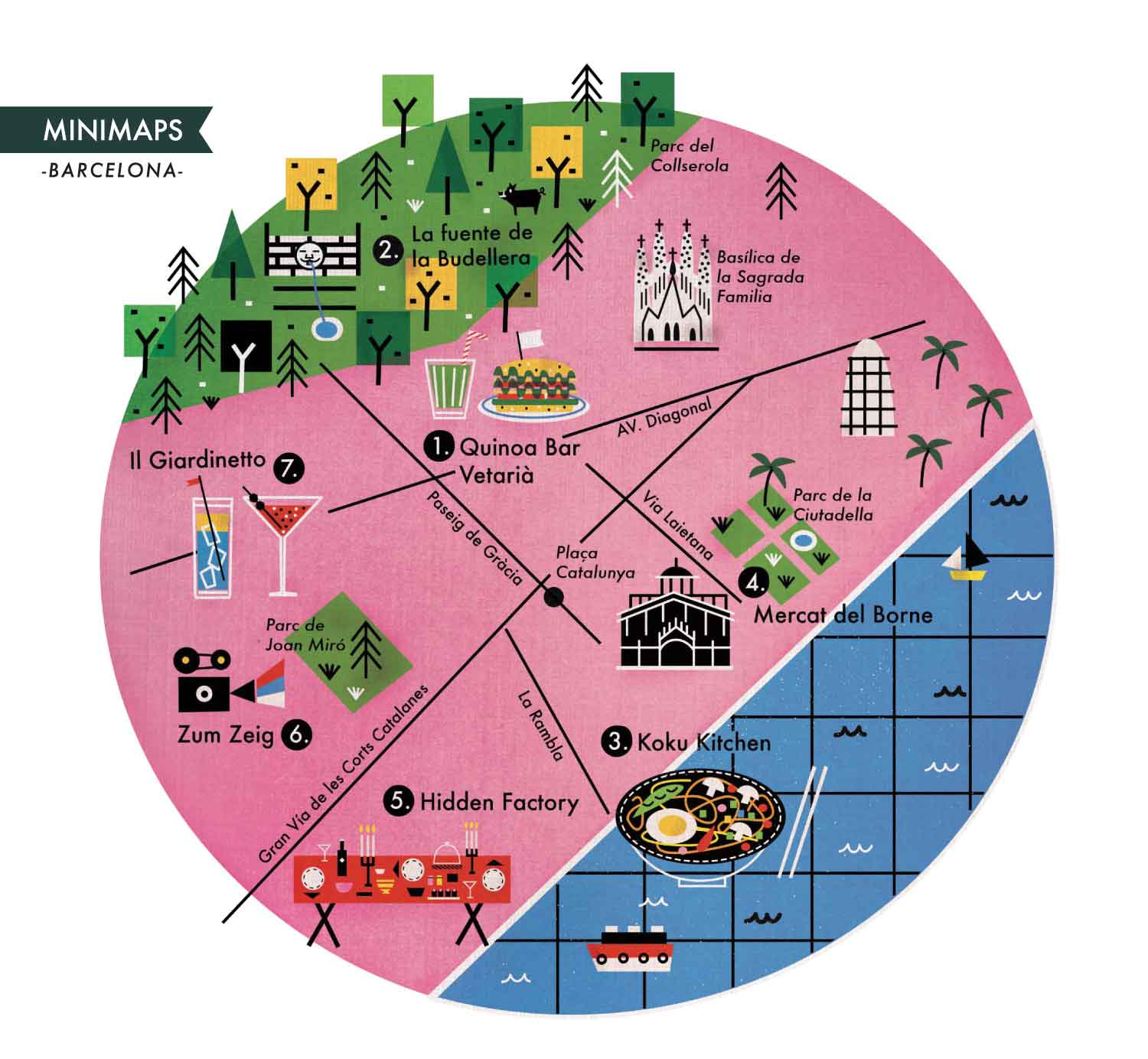 1. La Quinoa Bar Vegetariá
A long time ago, Gràcia was a town outside of Barcelona's walls. Today it keeps the same old structure of squares with churches and small houses, but it's actually squeezed in the middle of the big city. La Quinoa is right in front of the Albaceria Central market, where they buy their seasonal products. My recommendation is to order one of their freshly made juices and to try the quiches, the spanakopita and the variety of veggie burgers they prepare (there's one with millet and beetroot, that is delicious!) If you have breakfast sitting at the bar you will see grannies walking by with their little shopping carts, and also the hippies and hipsters who are the latest gentrifying acquisition of this quiet and traditional neighbourhood.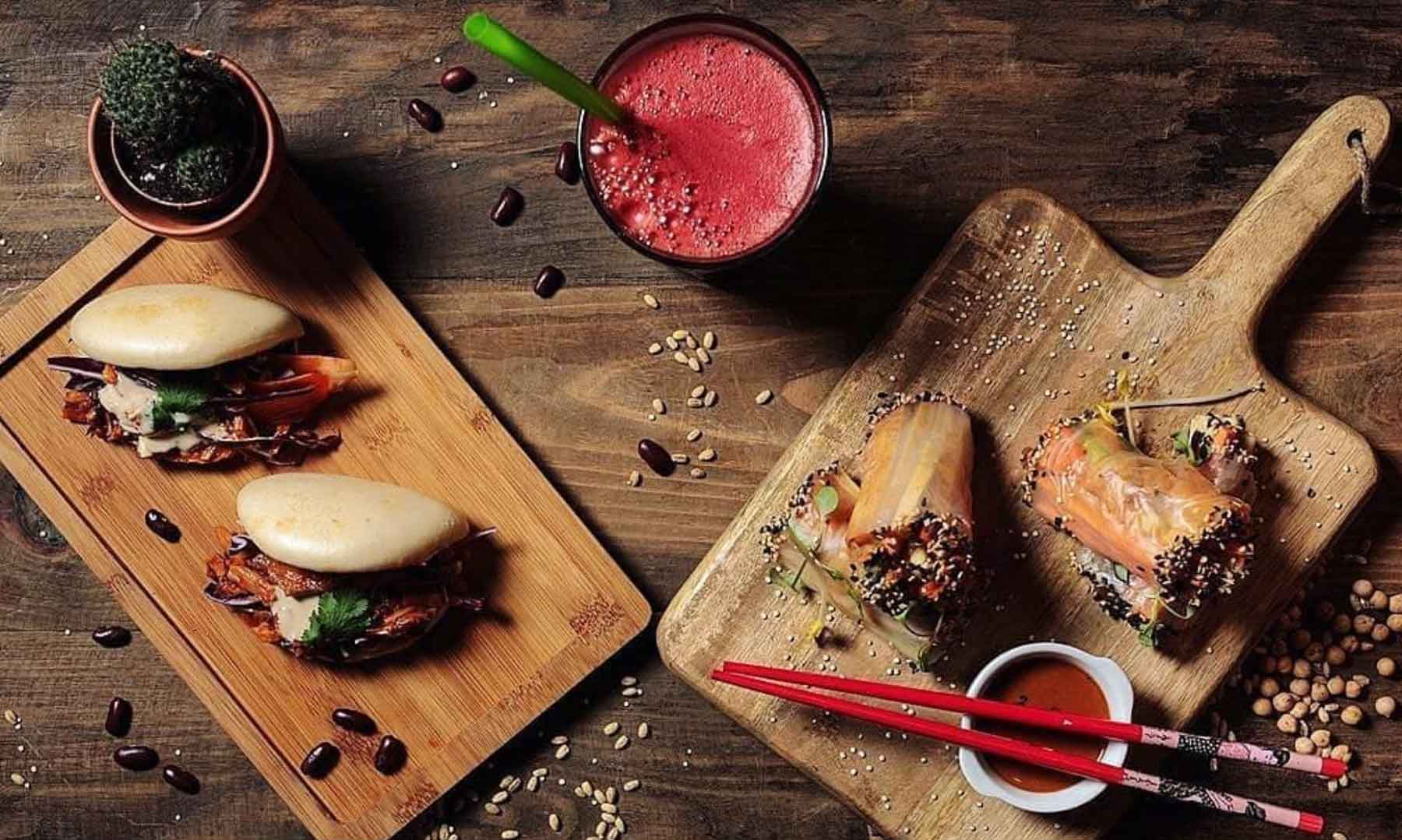 2. La Budellera Fountain
La Budellera was restored in 1988 according to the original project from 1918. With its pergolas, terraces and stairs in the middle of the forest it reminds us of Modernism, a movement which reintroduced organic forms into architectural design and which had many famous followers in Barcelona (although at that time the movement's strength was starting to fade). It's easy to imagine passers-by a hundred years ago, wearing long muslin dresses and straw hats, whispering secrets in a hidden corner. To go up, the best is to take the funicular, which is quite an experience in its own. If the day is clear, during your ride you will enjoy a fantastic view of the whole city up to the sea.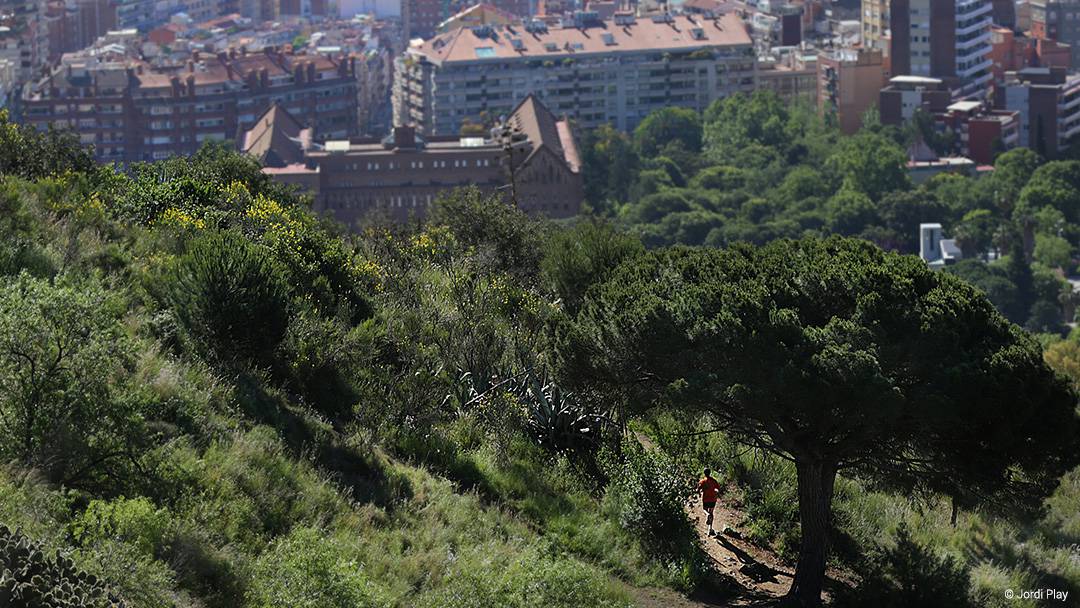 Bobby, one of the founders of this restaurant, is the Swedish chef who will cook your ramen right in front of you in his beautiful open plan kitchen. Unless Bobby is touring with his band: Case Conrad. Yes, he's a multitasking kind of guy. Edamame and desert are also unforgettable. Decoration is sober, modern and chic: big sharing tables, beautiful ceramics and a characteristic neon sign welcoming guests at the entrance. Koku Kitchen is a great example of the cosmopolitan side of Barcelona; they say that foreigners only come to the city for short adventurous stays, but Bobby and his girl, the Mexican photographer Rocío Lunaire, are a great counter-example of that.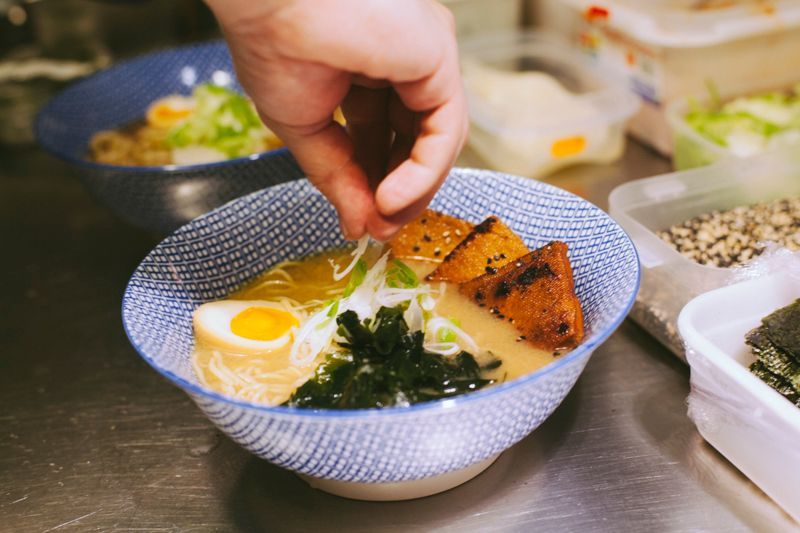 In the 19th century this ultra-modern steel and glass market was built in the middle of El Borne. Eclipsed by other city markets it was used for different activities until the 18th century ruins were recently discovered. These are sitting over more ancient constructions dating back to the 14th century. Thanks to the documentation archived, they have managed to decipher who lived in those houses, how their everyday life was and even how they were decorated. The discourse of this public museum has to be understood within the contemporary Catalonia context and the pro-independence aspirations of some Catalans. Mexican writer Octavio Paz said that architecture is the only incorruptible witness of History… so come, see and judge. After your visit you can have a nice debate over a coffee in any of the lively terraces surrounding the museum.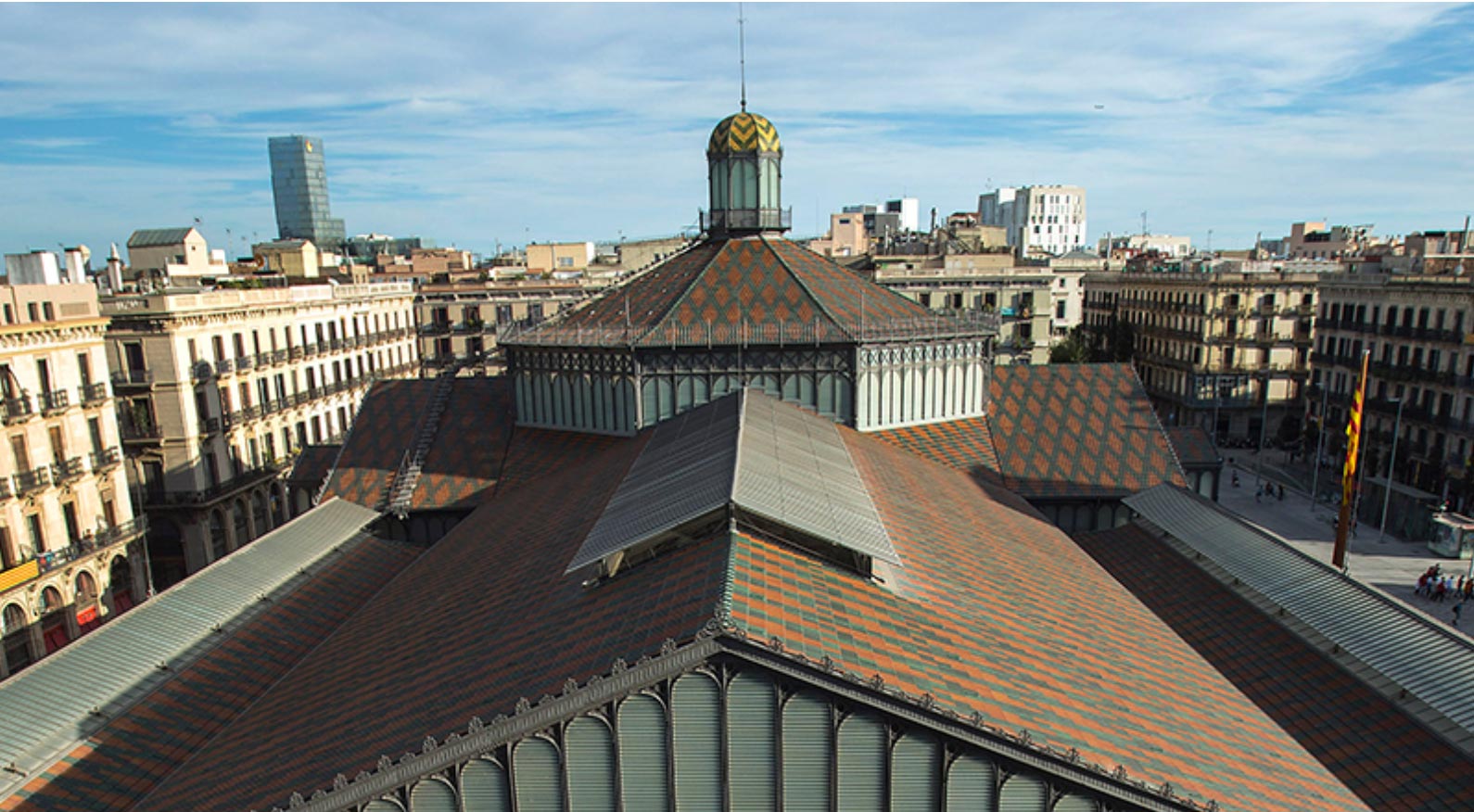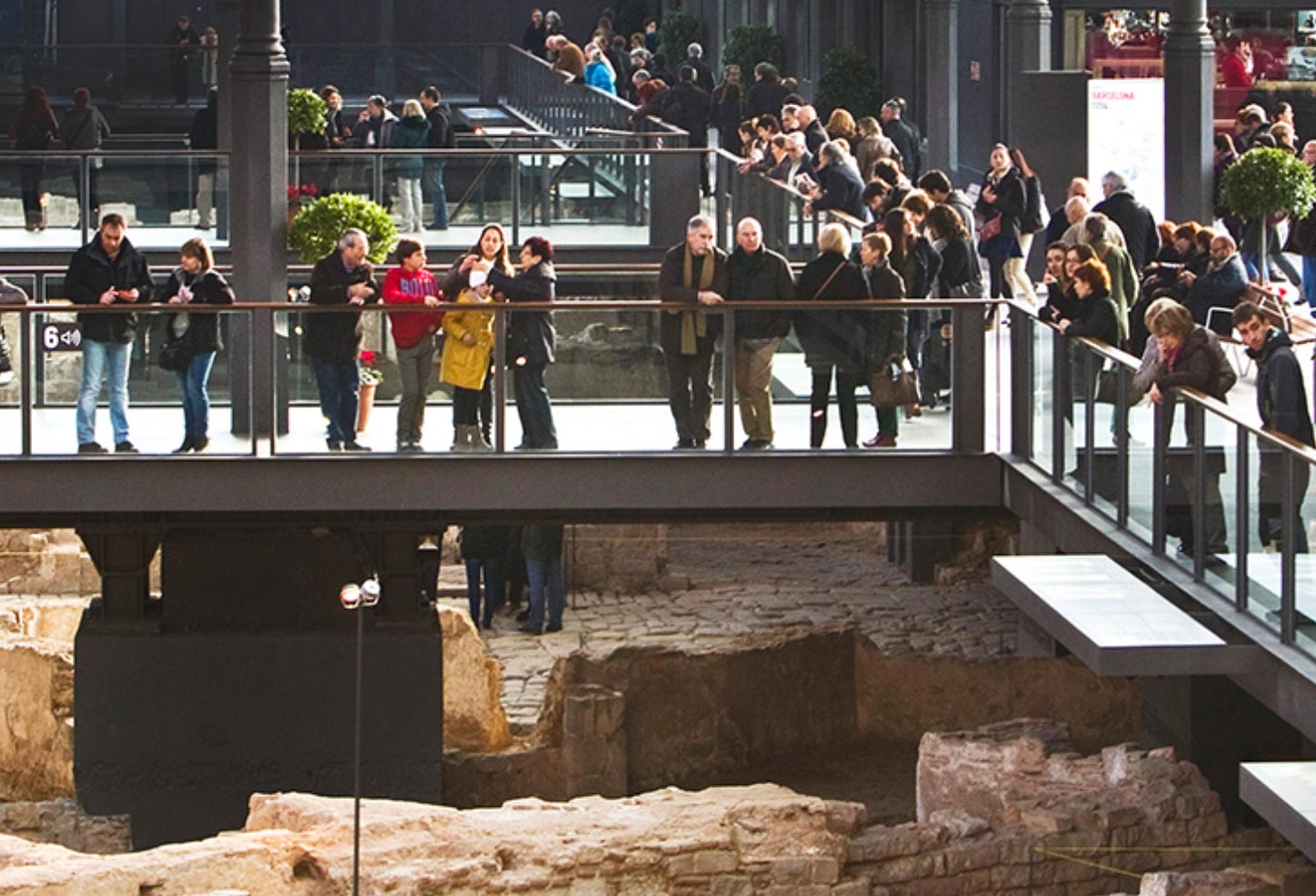 The Zum Zeig is a safe shelter for those films that have no place in the kind of venues where other rules such as profitability or trying to please that tyrannical fiction character called "the average viewer" prevail. Zum Zeig screens all kinds of genres and formats but focusing on the authors. Just walk by and see what film they are screening that day, relax and let yourself be surprised by any of the odd gems of their program. After the film you can rub shoulders with la crème de la crème of the intelligentsia of Barcelona in the charming bistro situated right next to the cinema, and of course create convoluted interpretations of the movies.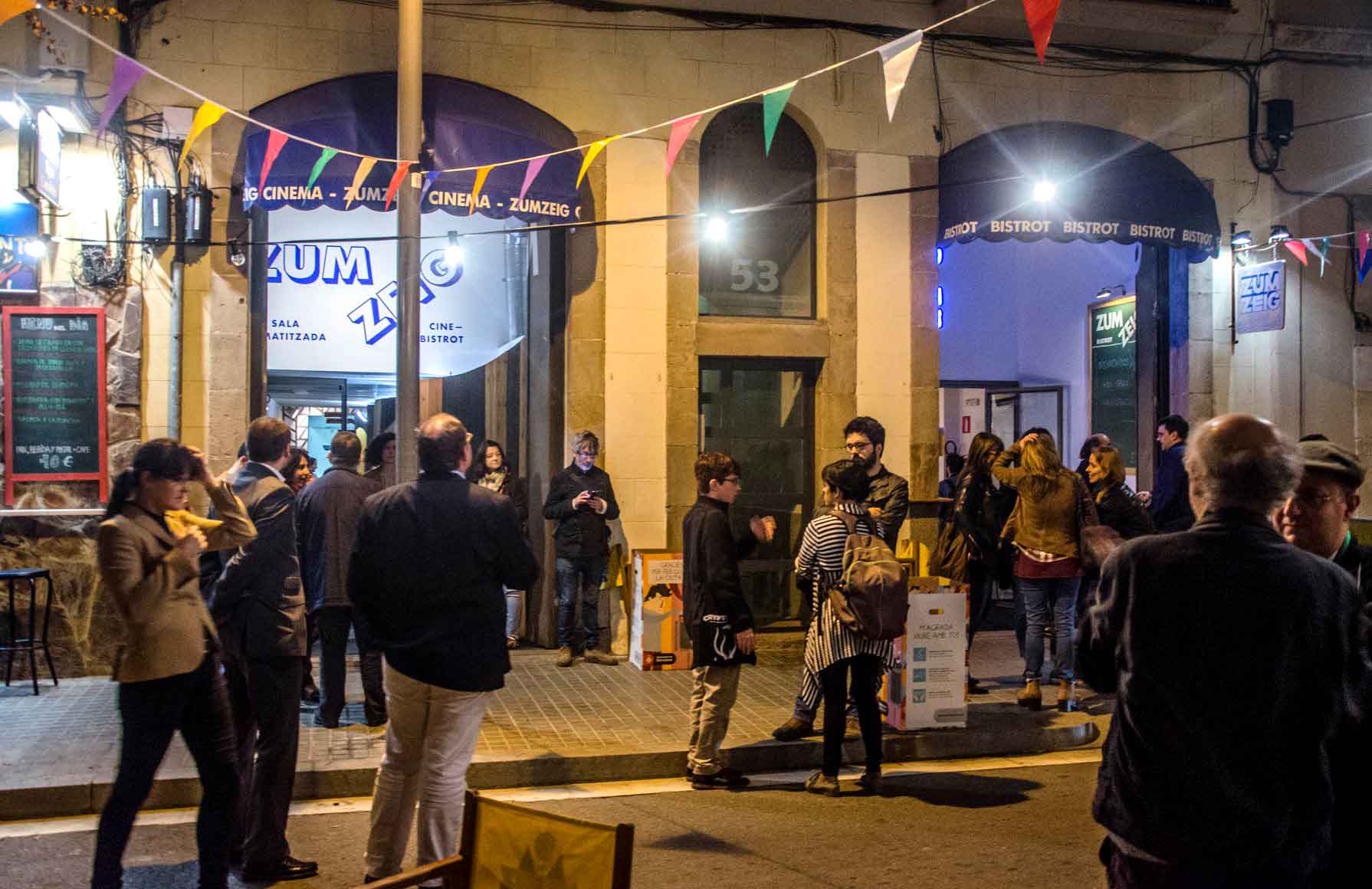 Don't be fooled by the entrance full of graffiti or the sinister forklift or the narrow stairs: this is the road to a temple of haute cuisine at much lower prices than regular fancy restaurants (although this visit requires a bit of a higher budget). Xavi and Nico, both trained in Michelin-starred restaurants are the chefs in this unexpectedly warm space, which, rumor has it, was Antoni Tapiès first studio in Barcelona. Don't forget that when you see paint stains on the floor! When they're not closed for private events they serve dinners almost every night, where you can eat next to globetrotters passing by Barcelona. You will taste things you've never eaten before in your life for sure, and the chefs will also give you good conversation while you watch them cook. My only warning would be: go on an empty stomach as the seasonal tasting menu consists of about ten different dishes.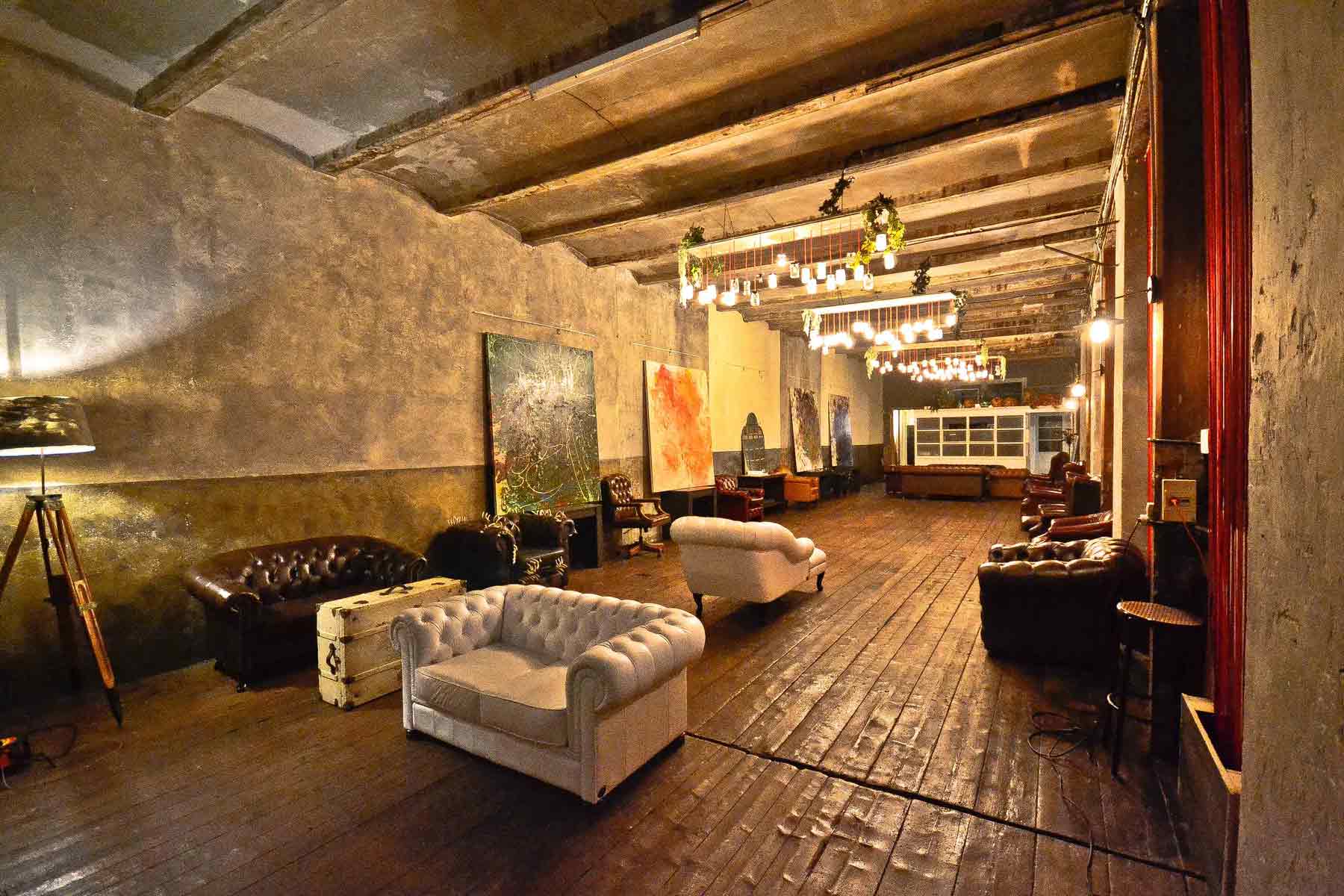 Il Giardinetto's decoration is very peculiar, it's like an 80s reinterpretation of the 60s, with a long, shinny and warm wooden bar. Cocktails are taken very seriously, they even have a series devoted to the relationship of spirits with cinema. The atmosphere is unique: conservative bourgeois mingle with spoiled kids of the cultural scene. The lighting is dim and the music selection surprising, from Nina Simone to Velvet Underground. The lifelong waiters are impeccably dressed in smart suits and never ever ever place a drink on the bar without a coaster. This is, without a doubt, the ideal place for people who love to play movies in their heads.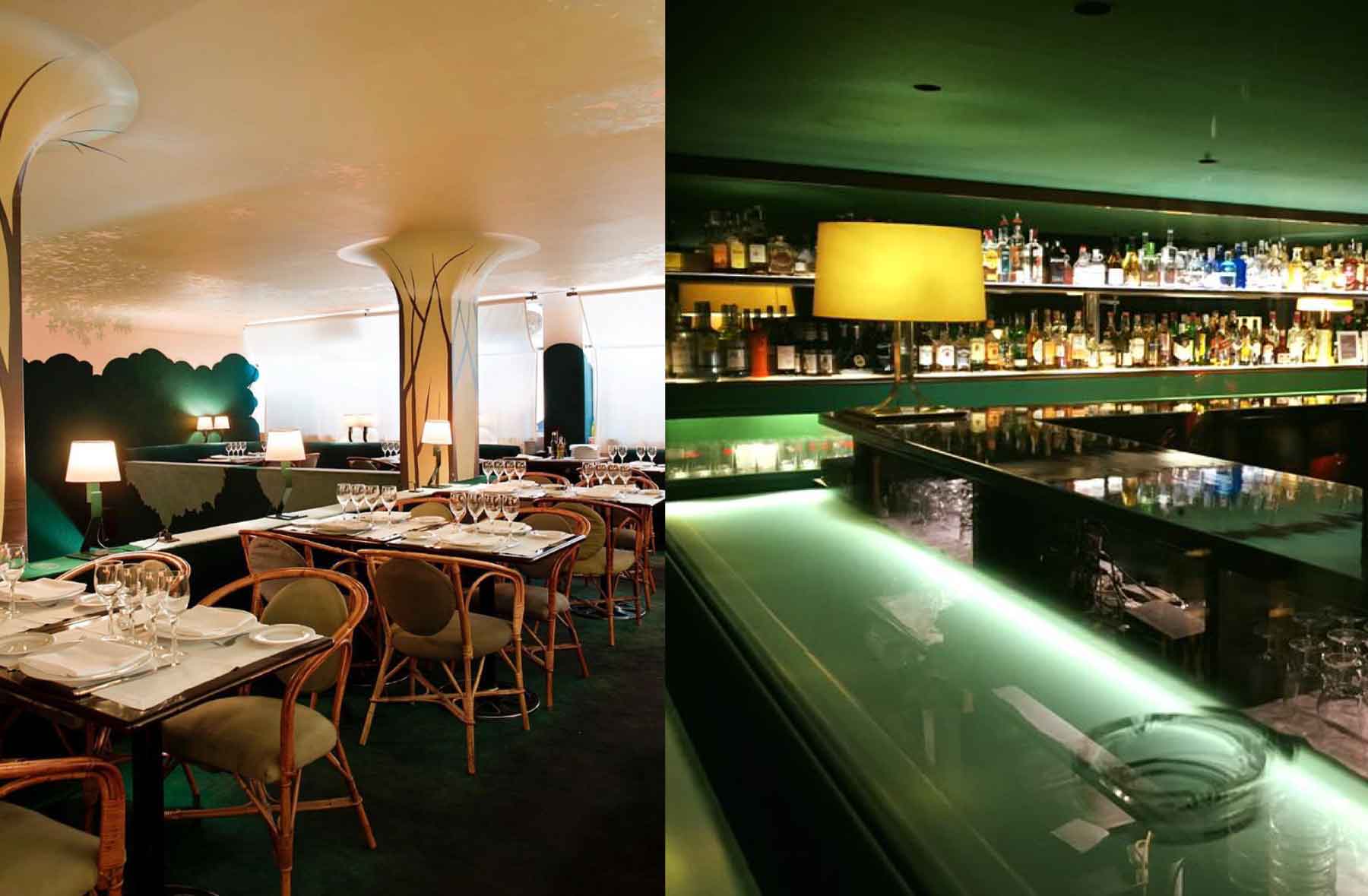 Ready to spoil yourself? ¡Venga!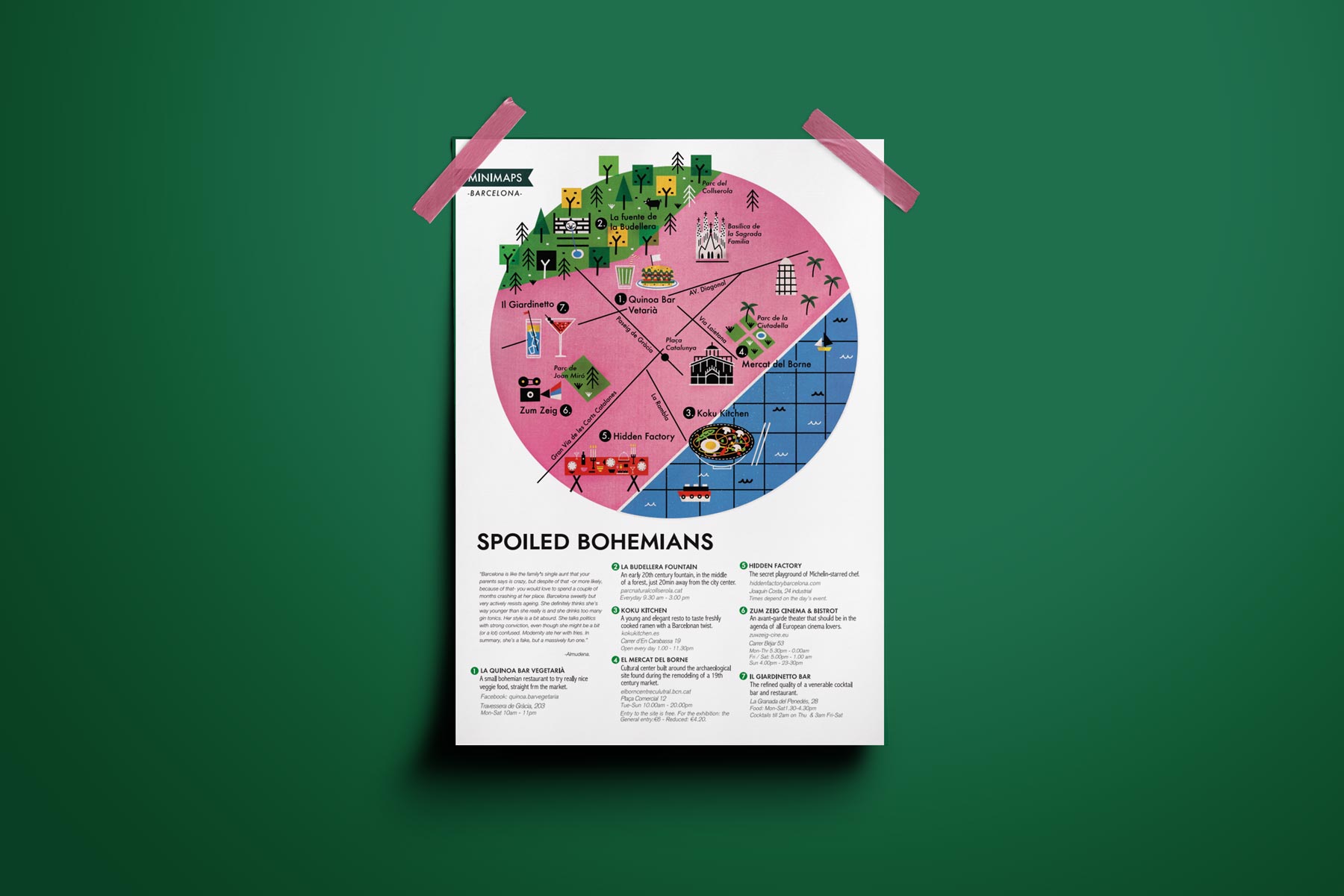 Around Barcelona:
1. Barrio Gótico.
2. Local Off License Sign.
3. A very typical scene in a postcard.
4. Gràcia, beautiful Gràcia.
To share your photos with other minimappers, please tag them #superminimaps in Twitter and Instagram!