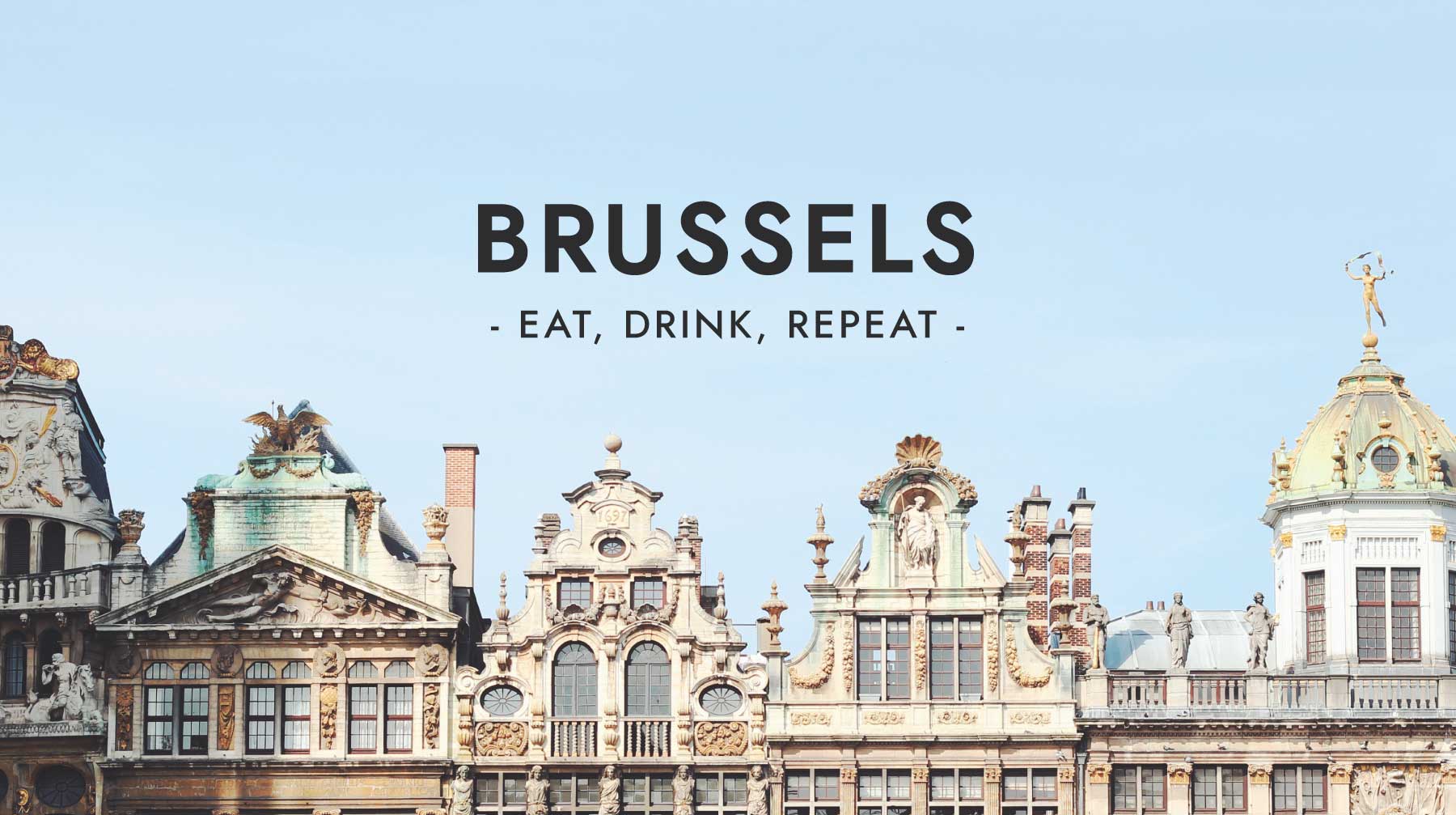 Brussels, the capital of Belgium and the heart of Europe (!) is very famous by its bad weather. There is no saying in that. It does rain a lot the enjoying a blue sky is an occasional privilege. However, Brussels has a lot of amazing things to compensate for its weather, namely some of the best beers of the world, delicious chocolate and waffles, famous French (oh the irony!) fries, soul-warming dishes and some of the most honest, funny, cool and diverse inhabitants. You will love it.

Edited and Illustrated by: Ana Laya.
Eclectic this is the best word I can use describe this city. Brussels is definitely weird, but its interesting collage of styles and cultures is what makes its peculiar charm. You can experience this in the little streets around Saint-Géry and Saint-Catherine. This part of town is not as posh and commercial as Louise, not as underground as Saint-Gilles, and is very well connected by tram, bus and metro. In this neighborhood you can find pretty much everything you might need. From restaurants, cafés and bars, to restored markets, vintage clothes stores, design shops, pop-ups, Chinese supermarkets, cool hostels, fancy galleries, boutique hotels and cultural venues and atypical dance floors (Madame Mustache I'm looking at you!).
I used to come here every weekend and walked aimlessly until I found a place I liked to try… and I liked a whole lot. I tried several places both day and night, both to work and to party, so I guess (and hope) this guide is only the first of some others to come. This minimap will lead you through the streets of Saint-Géry and Sainte-Catherine / Sint-Katelijne, so you can indulge in this worldly pleasures of one of the nicest and multicultural circuits in downtown Brussels.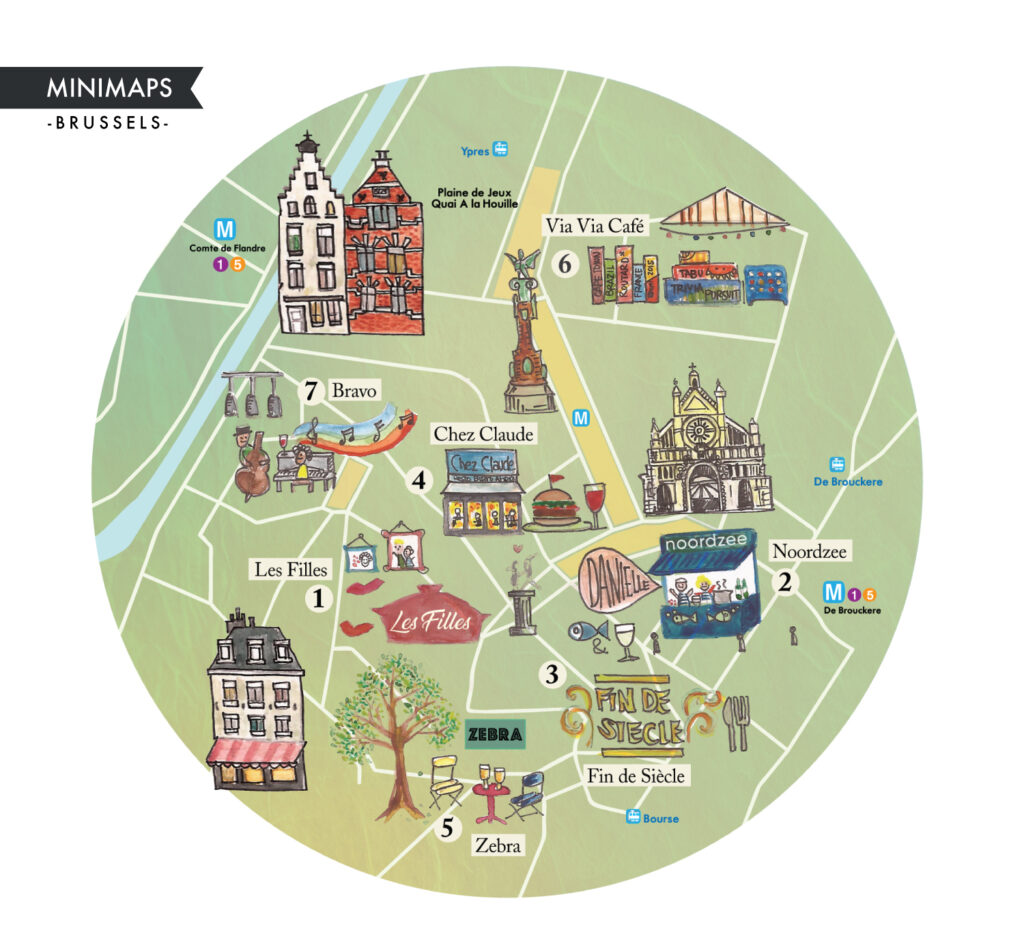 These are the 7 places Ana recommends to eat and drink walk a bit and start again around Saint-Géry and Sainte-Catherine.
✨ (Please note that this minimap was created in 2015, some of the places featured are now gone. Four of them are still working though. A couple of them are exactly the same as 2015, with some Covid restrictions, the other two have changed a little bit, they are all still wonderful. The places that are open as of today -November 2020- are marked with a "✓". The texts are the original ones, but some websites have been updated.)
.
The first place in this minimap is Les Filles as I think that is the perfect place to start your day having a fabulous unconventional (self-service and all-you-can-eat) brunch with a homemade feeling. The place is beautiful, tall ceilings, shared wooden tables, modern and cozy at the same time, and the values of these girls, lead by the chef Line Couvreur, are generosity, honesty and fostering a sense of community and sharing through good healthy food that beautifully mixes tradition with creativity. Besides brunch on the weekends you can also have dinner and lunch; they offer delivery, cooking lessons, and you can buy products selected by them in their little epicerie in the ground floor of the house.
Going to Noordzee to try some gourmet fresh fish (and soup and coquilles saint-jacques and croquettes) was the first thing I did on the first weekend after I moved to Brussels, and it was the one thing that I kept doing again and again almost every Sunday, come rain or come shine, but specially come shine as you eat standing on tall tables situated at the very lively Sainte-Catherine Square. The reason is a combination of deliciousness and freshness and good vibes, as the people that will prepare on-the-spot your food are always very nice, and they really know how to scream with great enthusiasm! (You'll see!)
3. Fin de Siècle ✓
Yes, there will be a queue outside of the place but I promise you two things: it will move faster than you think and it will be worthy. Food at the Fin de Siècle is typically Belgian and dishes are massive, so go on a very very empty stomach. I tried the jambonneau à la moutarde and it was great. They also have saussages with mashed potatoes, Simple, but tasty. That's what this restaurant is about, honest unpretentious food in a beautifully preserved and decorated art decó place.
Whenever you're traveling there is always a moment when you fancy a nice juicy hamburger, or is it only me? Well, in case you are like me and in case in that moment you are around Sainte-Catherine or Dansaert Street, Chez Claude is the right place. Their burgers are really delicious and the place's decoration is a really nice collection of rock, cinema and political vintage posters and magazines, some belong to the chef Claude Remy's personal collection. They also have a jukebox that works! Chez Claude describe itself as an atypical bistro, so you can find other nice things in their menu like pasta, chicons au gratin, tartiflettes à la Bruxelloise… and the odd musical event every now and then!
This place was my local bar, while I lived in Brussels, even though I live like 30 minutes away from the place. From the very first time I felt welcomed. The 9 degree beers definitely help, and they have a great selection (!) Zebra is a great place for l'apéro. Snacks and good music. From hip-hop to salsa brava. The thing I like the most in Zebra is their monthly event Jam & Jambon. The last Sunday night of the month they serve free food in exchange of any collaboration you want to give for the live band playing that night. Usually a nice reggae/funky one. If you happen to be there, don't miss it! It starts around 8pm.
It's a travelers café! Is impossible not to feature it! The whole Via Via circuit is comprised by a warm and cozy café with loads of travel books and board games and a open terrace that is share with the Micro Marché, a cooperative design market of emergent designers, and "Citizenne", a permanent education center that focuses on the intersection of cities and interculturality. The café is perfect for working (reliable wi-fi!), reading a (travel) book during the day, or playing a board game with friends. They have a great variety. At night the temperature goes up as people start to enjoying some nice local beers, the Zinnebir or the ones from The Beer Project (my favorite is the Grosse Bertha). It's very common to bump into an informal Brazilian party with nice live music. Beleza.
Frédéric Nicolay is a Belgian entrepreneur that have created nice shared spaces in Brussels, like Belga in Flagey and Zebra -our number 5 – in Saint-Géry. He believes that a friendly, functional and beautiful place can improve people's quality of life and bring out the best in any neighborhood, specially in neglected areas. I definitely agree with him, I believe in the power of aesthetics to inspire people. Why am I telling you wll this? Because Bravo is the newest place he made. A modern space with industrial style, Bravo is a great place for jazz lovers and its quite famous for its jammings on Wednesday's night and for opening until late!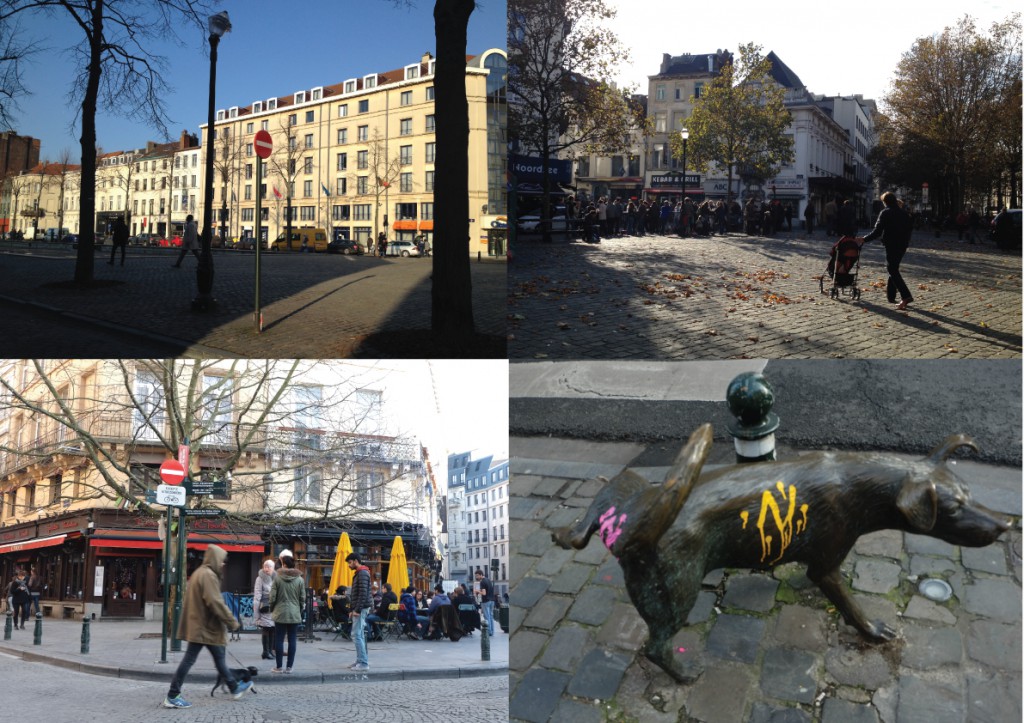 .
Are you hungry and thirsty already? Parfait!
: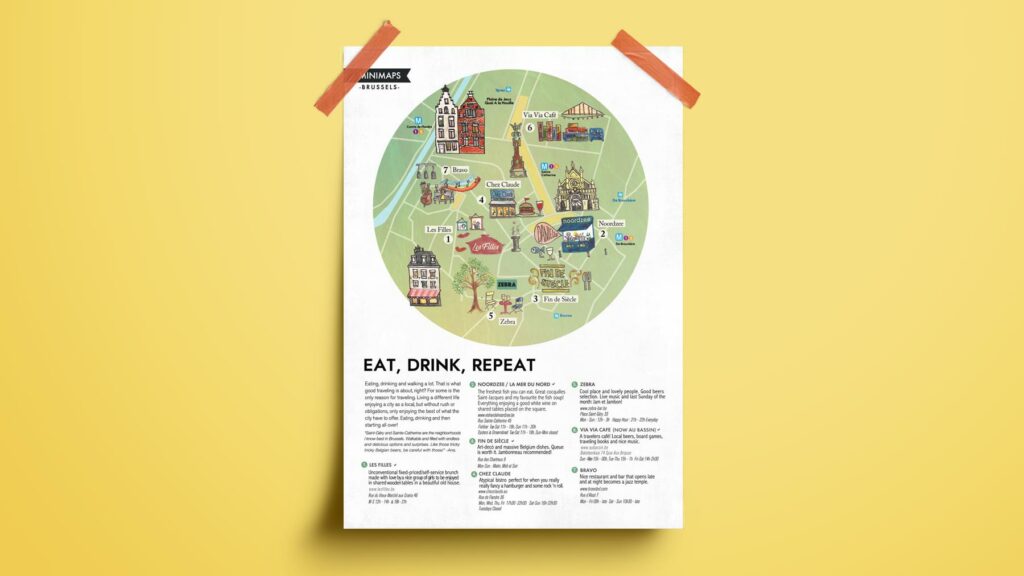 To share your photos, comments, sketches and tips with other minimappers, please use the hashtag #superminimaps in Twitter and Instagram!
♥