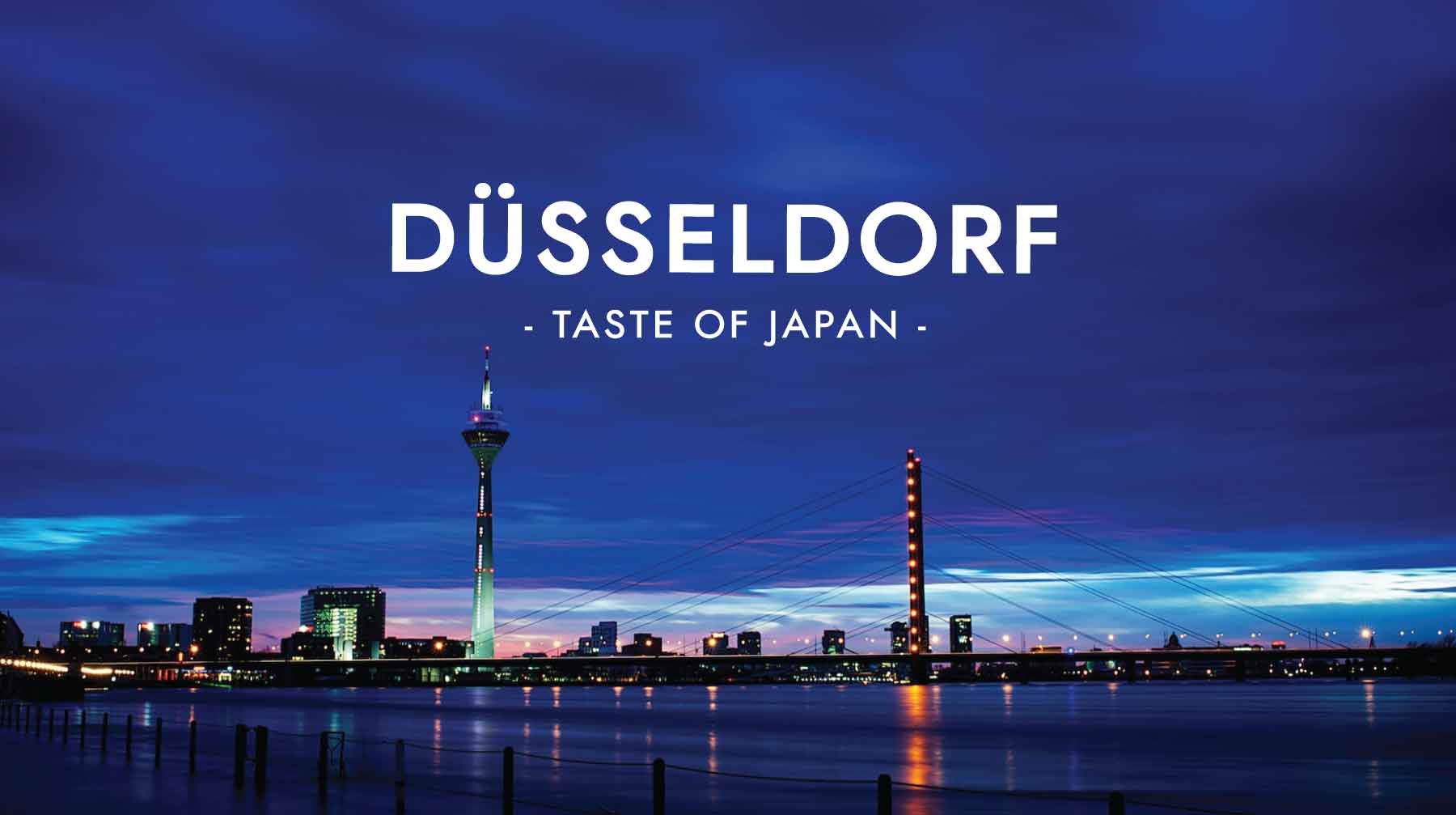 Japanese town in Düsseldorf? No way? Yes way! Now you may find this rather odd, but given the 8000 Japanese citizens living in this city and surrounding area, it all makes sense.
On Immermannstraße is where it all happens. On this street all Japanese restaurants, cafés, shops and even hotels come together. No wonder this quarter is called Little Tokyo / Japanese town.
You can explore this marvelous 'town' in one day, but if you do have the time, I recommend you to stay at least one night, such that you can experience and enjoy it to the fullest and at a much more relaxed pace. Especially when you visit this city during Japan Tag (the biggest German-Japanese festival, held every year in May or June), it's worthwhile to stay overnight. Japan Tag will be closed spectacularly with gorgeous fireworks and you don't want to miss that, just because you need to catch the train home, do you? 😉
As there are many restaurants and shops on this street, I can imagine it may be too overwhelming for you to choose just the right one, especially when you are a first time visitor. Well, I am here to make your life easier! I will guide you to the 7 must visits of Little Tokyo. Are you ready to explore?
Edited by Devina Agus and illustrated by Marcos Arévalo.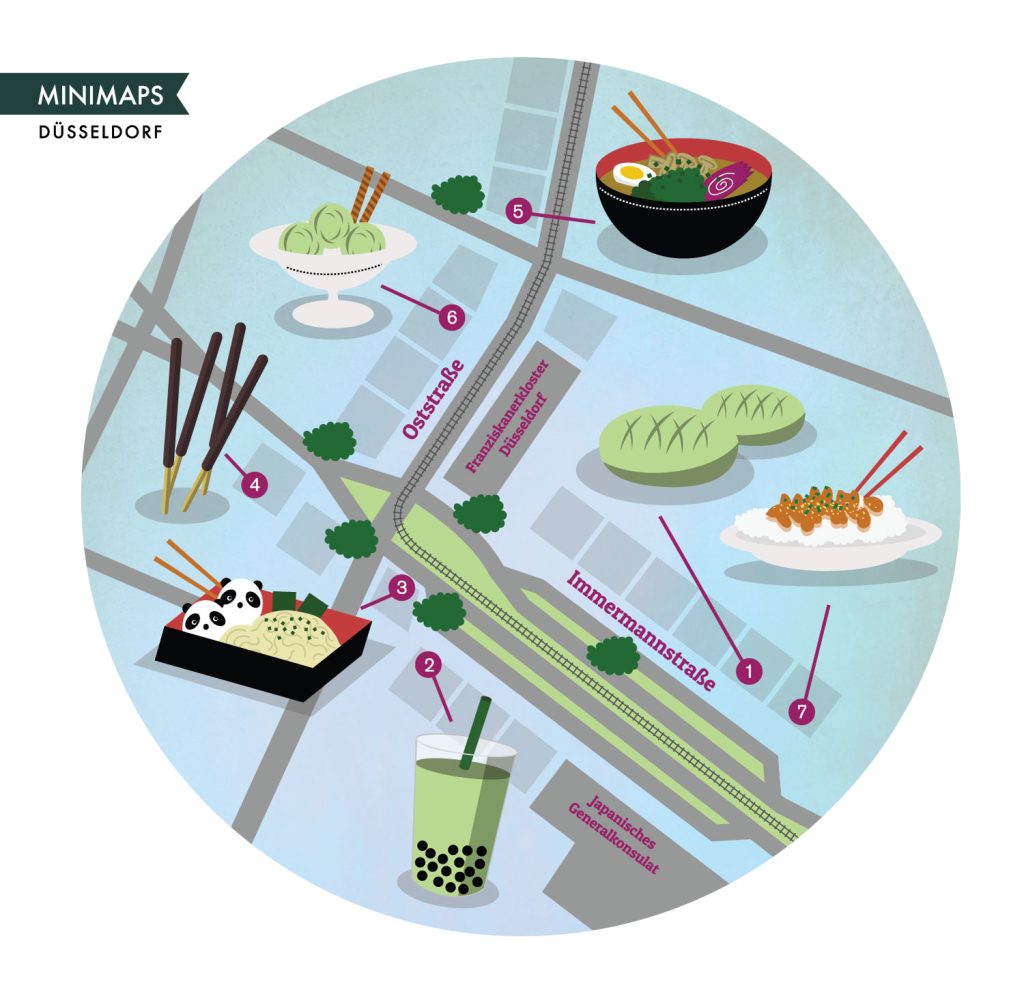 I suggest you start at this bakelicious bakery. The buns are freshly baked everyday. The earlier you come, the more choices you will have. They have all kinds of sweet and savory Japanese buns. The matcha melon pan and deep-fried bun with minced beef are incredibly delicious! Totally recommended! Besides buns, they also sell mochi and Japanese crackers. These are also worth a try. Actually everything in this bakery looks so tempting! When you have no idea on what to choose, just follow your eyes, and nose!
After indulging in those delightful buns, I figured you must be thirsty. Well, all you need to do is cross the street and go to Sphere Bay Manga Cafe. Here you will find yummilicious bubble tea, matcha latte, the special matcha hot chocolate and many more! You can have the (bubble) tea hot or cold, with or without topping, whatever you like. There is a seating area upstairs and toilet is available. If you are in a rush, you can always take the tea to go.
Now is time to visit Waraku, located exactly next to Sphere Bay Manga Café. This place has the best Onigiri in town. Besides Onigiri, you can also find bento (Japanese lunch boxes) and all kinds of Japanese tea. In case you wonder: What's an Onigiri? It's a triangular rice ball, filled with for example tuna, salmon or chicken, wrapped in nori (seaweed). Let's say it's the big momma under the sushi. It's very rare to find Onigiri practically anywhere. So you can imagine how thrilled I was when I found this place! I like Tuna and Chicken Teriyaki filling the best, but it never hurts to try one of each variant. To open the unique packaging is already an experience on its own, so Waraku Onigiri is definitely a must try, especially when you haven't tried one ever before!
(*Permanently Closed)
In case it's too early for lunch, drop by Dae Yang Supermarket first, located a few meters away from Waraku. This place is a true heaven for Japanese / Korean snack addicts! You will find lots of bitelicious munchies here: Pocky / Pretz sticks, Hello Kitty candies, Yan Yan chocolate dip biscuits, Panda cookies, Seaweed crisps and all kinds of rice crackers. I even found the rice cracker I bought in Japan a couple of months ago! I bought it here for triple the price of course, but hey if it tastes so good, it's worth it! Besides these snacks, they offer the usual, like instant noodles, bottled green tea, exotic ice creams like melon and red bean ice creams, fine porcelain table ware and so on. In short: a perfect one stop shopping for all the goodies you want to bring home.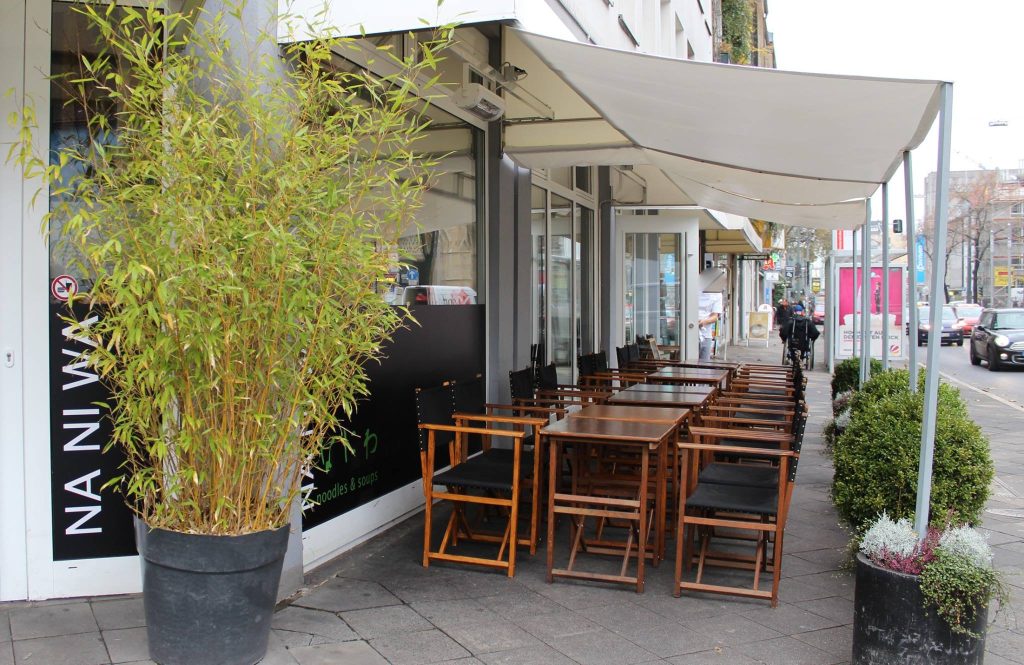 Lunch time! You can't leave little Tokyo without visiting Naniwa. They have the best Ramen in town! The noodle is perfectly firm and not too soft, the meat tender and juicy and the soup base very rich and tasteful. Naniwa offers a wide variety of ramen dishes: Shio (salt), Shoyu (soy sauce) or Miso (soybean paste) soup base, with pork, minced meat or vegetables. Additionally you can add half boiled egg or extra noodle to your ramen. Available side dishes are for example Gyoza and Chicken Karage, both totally recommended. Not a Ramen fan? Don't worry! Naniwa also has delicious rice dishes on the menu. One important note: It's always crowded here, so be prepared to queue. But trust me, it will be worth it!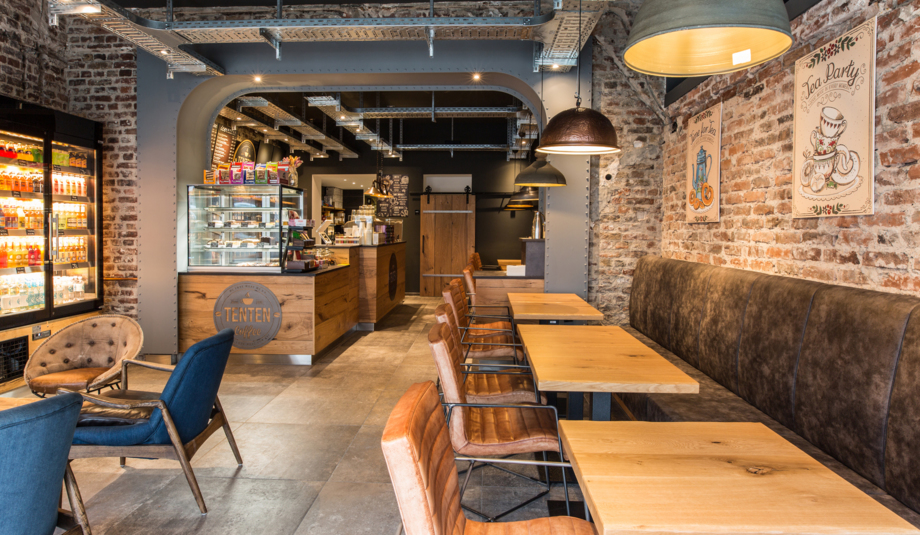 Full and happy tummy, now what? Well, there is always room for dessert they say. So from Naniwa, cross the street and head over to Ten Ten Coffee. A cozy and relax café that serves the usual coffee delights, but also matcha latte and matcha ice cream. The best part of the matcha ice cream is the variety of toppings you can choose from: white or dark chocolate flakes, Oreo or brownie chunks, marshmallows and so on. Perfect as dessert or as a little refreshment during the day!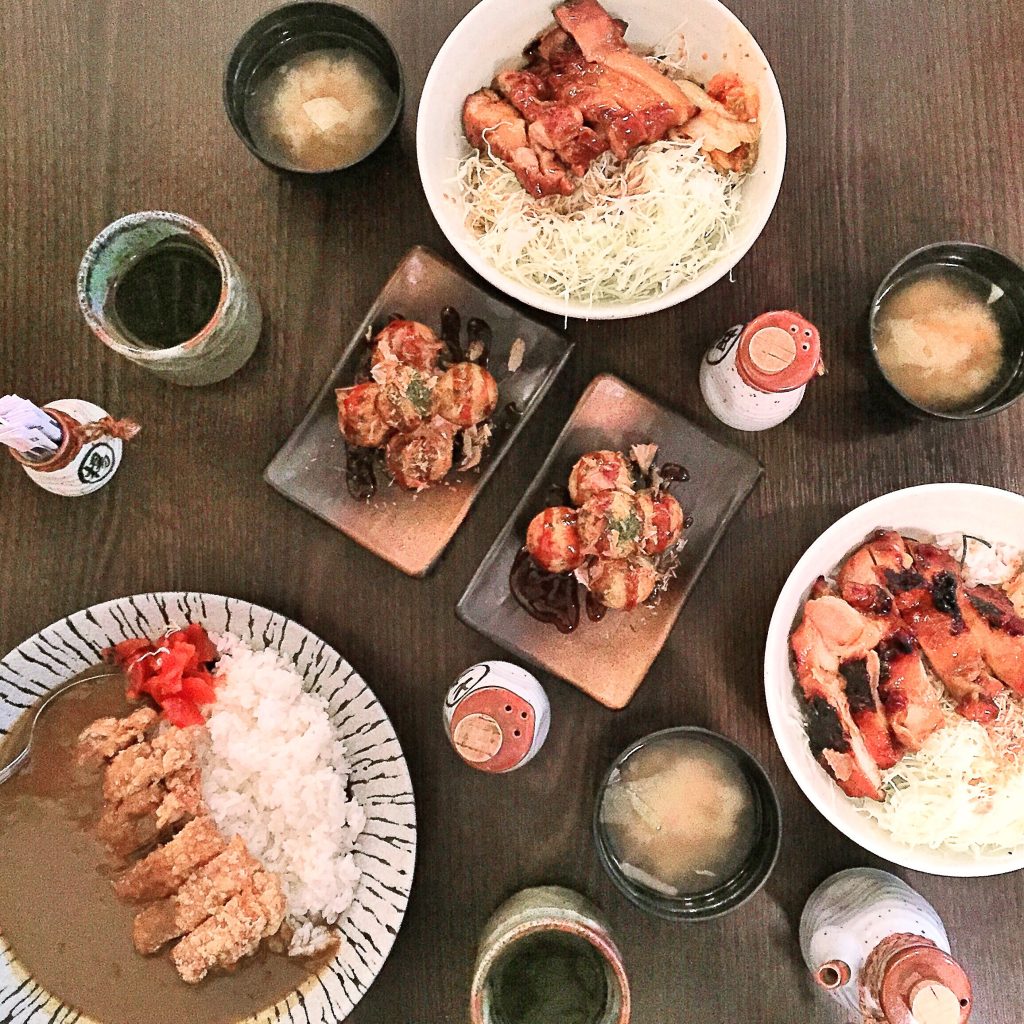 For dinner I recommend you Kushi Tei of Tokyo. An authentic Japanese restaurant with the most amazing Chicken Curry Rice: The chicken was crunchy and the curry sauce tastefully creamy. Also on the menu are other typical Japanese dishes like Chicken Teriyaki Rice and Takoyaki. Normally I am not a big fan of Takoyaki, but they definitely sold me this one, that's how tasty it was! Like Naniwa, it can be crowded too during peak hours, so be prepared to stand in line.
.
So what are you waiting for? Plan that trip to Düsseldorf and start exploring!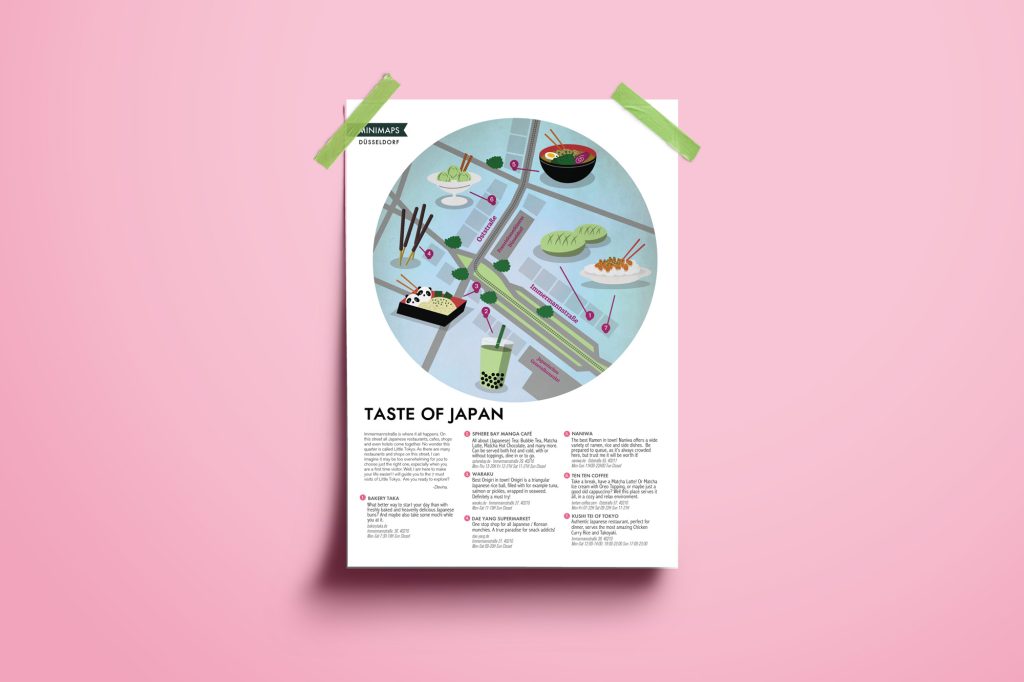 .
To share your photos with other minimappers, please use the hashtag #superminimaps in Twitter and Instagram!
♥