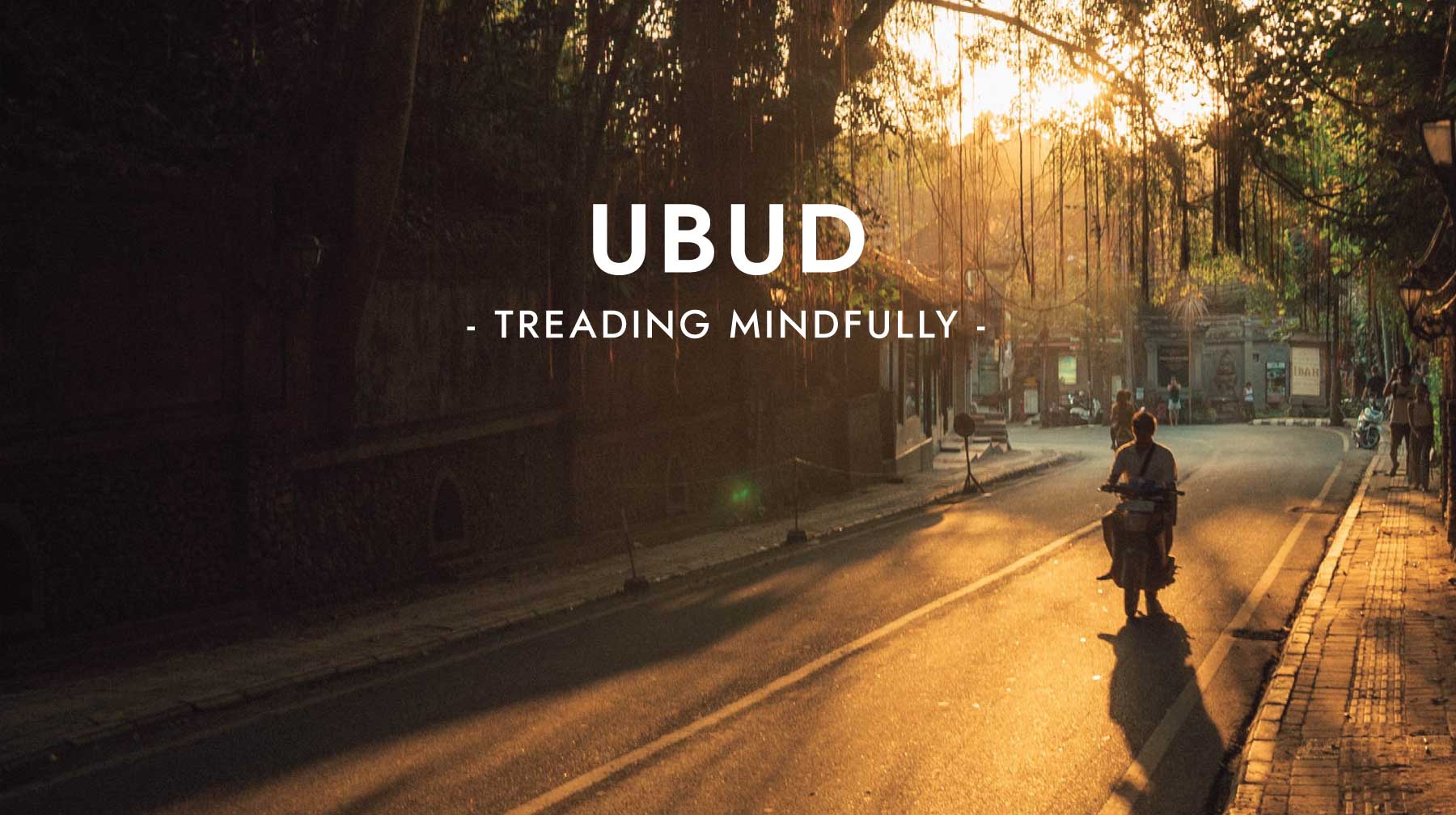 Bali needs no introduction, having been praised so often as an island of paradise, a revered destination for yoga, spas, surfing, creative arts and crafts, energy healing, and further made famous in 'Eat, Pray, Love' starring Julia Roberts. But I want to show you another aspect of Bali by treading mindfully through Ubud, the creative centre and heart of this beautiful island.
Walk slowly with me from dawn to dusk, the journey will be punctuated by lovely floral offerings on the streets, and we will visit shops and warungs (restaurants) doing good for the community beyond the tourist trade. If you are lucky, your walk might even be interrupted by a ceremonial procession on the street.
We want to see Ubud and meet the Balinese, and walk into the Heart in ourselves. We can be more aware to take care of ourselves, our environment, our effect on others and the local community by treading mindfully.
Edited by Khin Tye and illustrated by Cecilia Guevara.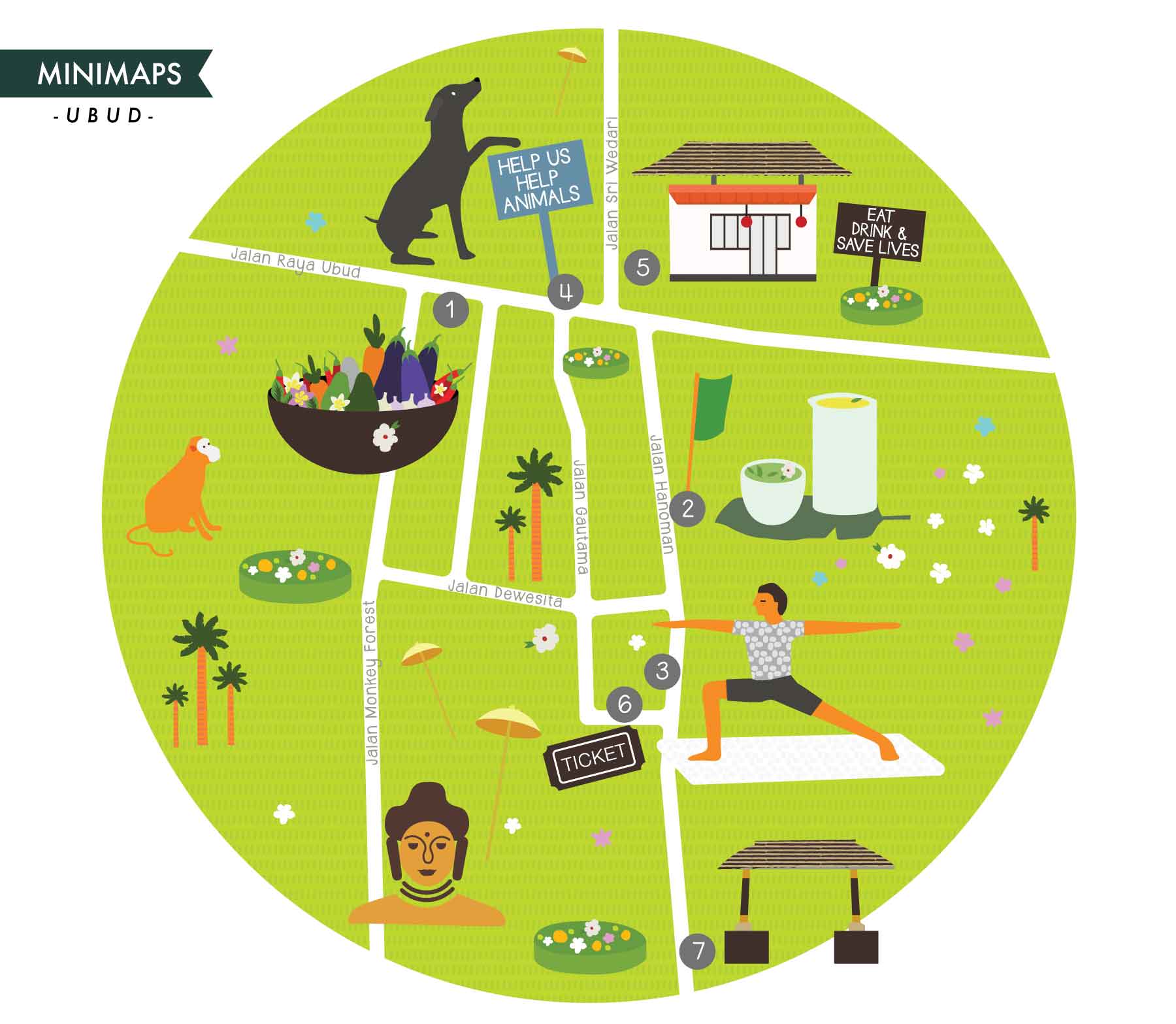 1. Ubud Pasar (Market)
Many tourists usually come here to buy arts and crafts from this pasar (market). There are lovely wares on sale from many creative craftsmen from local villages, however in the very early morning there is a special buzz emanating from the communal life of the stallholders selling fresh produce. Once in the market, walk down a concrete slope to a lower level and you'll see fresh vegetables, coffee, spices, dessert, cakes, fresh tofu, tempe, and flowers being sold here. Try my favourite dessert: 'ondeh ondeh'. As you bite into these little green glutinous rice-balls dusted with fresh coconut flakes, sweet 'gula melaka' (palm sugar) bursts in your mouth. I paid twice the price of a local, a few cents more for the dessert; it's OK as these women would have more mouths to feed at home. I don't want to be cheated but also want to find a balanced price that is not extortion, and yet I can share my wealth coming from a relatively privileged background.
When finished browsing in the market, head across the main road, Jalan Raya Ubud to Jalan Suweta. If the shops here have not opened yet (generally at 10am), you can walk around Ubud Palace, also on the corner of Jalan Raya Ubud and Jalan Suweta.
Alternatively while waiting for the shops to open, have a morning cup of the famed Balinese coffee at Anomali, said to serve Ubud's best coffee. Anomali café is on 88 Jalan Raya Ubud, near the T-junction with Jalan Hanoman.
Head up Jalan Suweta to Nadis Herbal (which has a green banner flag in front) to find the best natural products for your body, inside and out.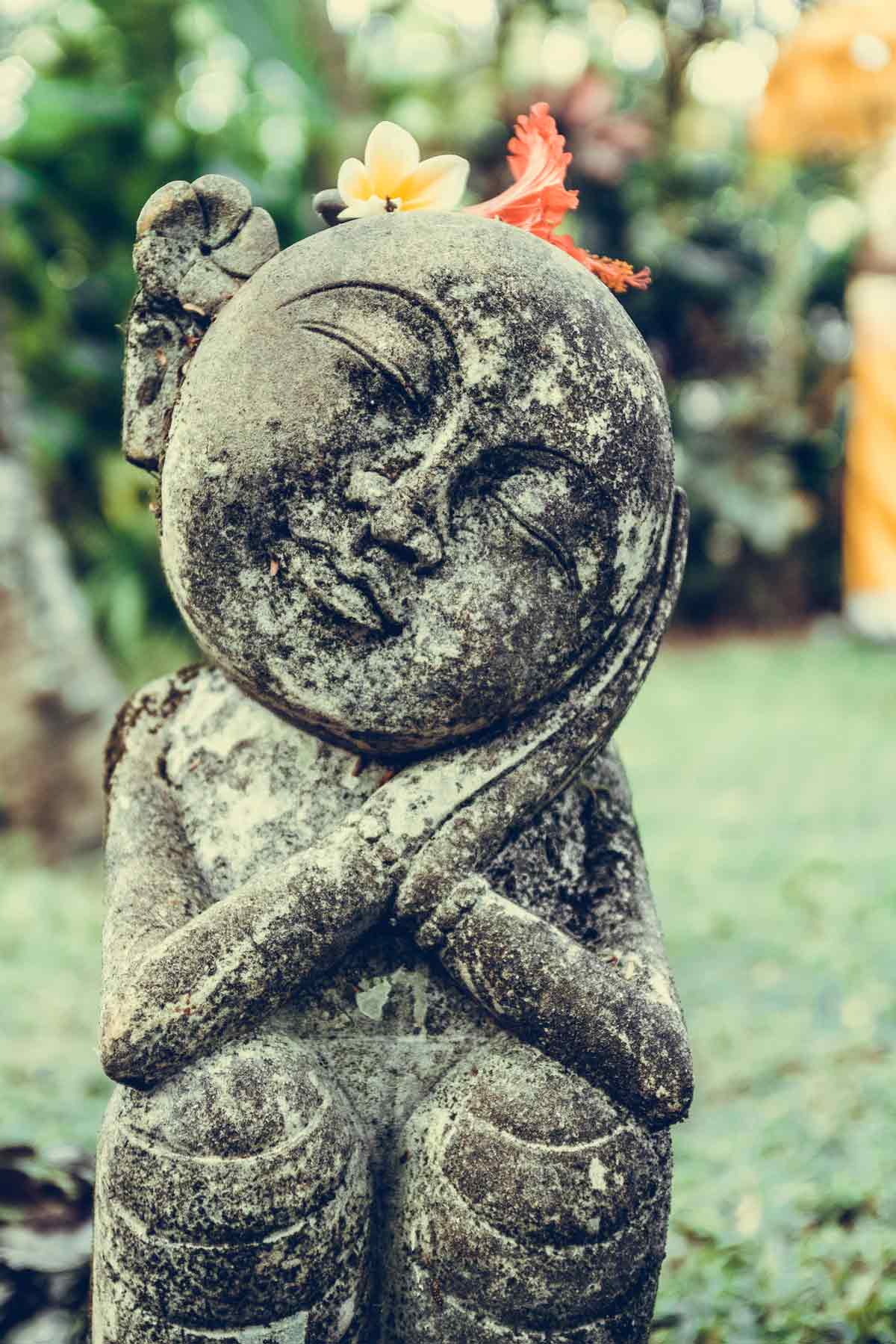 I've spent more money here than anywhere else and every rupiah spent (Indonesian currency) is well worth it. This shop sells all natural, preservative-free herbal products at very good value. Load up on body creams, incense, lotions, shampoo, and herbal teas here! Shop slowly, savour your browsing and the calm ambience. I was invited to sit down and have a cup of tea while I tried the samples and waited for my purchases to be totaled up. The owners also conduct Herbal Walks through rice paddies to teach about using plants for medicine because they want to preserve the Balinese heritage and knowledge of herbs and plants for healing. You can also attend their morning classes for making body scrubs and Jamu (my favourite Balinese drink – it has a strong taste with turmeric, also available in the shop).
After Nadis Herbal, walk back toward the market. After 0930 am, the market changes to a full-on arts and crafts bazaar with a different vibe. This time walk further down Monkey Forest Road and turn left on Jalan Dewisita to head towards my favourite massage place on Jalan Hanoman. If you are like me and enjoy shopping, as you wander into the bazaar and shops along Monkey Forest and Dewisita, your wallet or handbag will also feel lighter (not due to pickpockets but still be alert!) as you prepare your body for a lighter and therapeutic experience.
3. Bodyworks Centre
There are countless spas with luxurious surroundings in Bali. I like the Bodyworks Centre because the founder has transformed his family compound into a serene place for massage therapy and yoga. The massage therapists have been trained by their teacher, who is the Centre's founder, and a yogi and an energy healer. You get to see the traditional Balinese family compound, with antique furniture, Balinese architecture and even a fish pond. Need I say that the massage took away my bodily tensions and made me feel lighter (but not enlightened)! Take your time after the massage to rest on the antique Balinese bed in the garden compound.
After a massage, what's next for the body? Food of course! Head up Jalan Hanoman towards lunch at Jalan Sri Wedari, on the other side of Jalan Raya Ubud. Do one last shop for a good cause at BAWA (see below) along the way on Jalan Rayd Ubud, before lunch. You can't eat comfortably right after a massage anyway.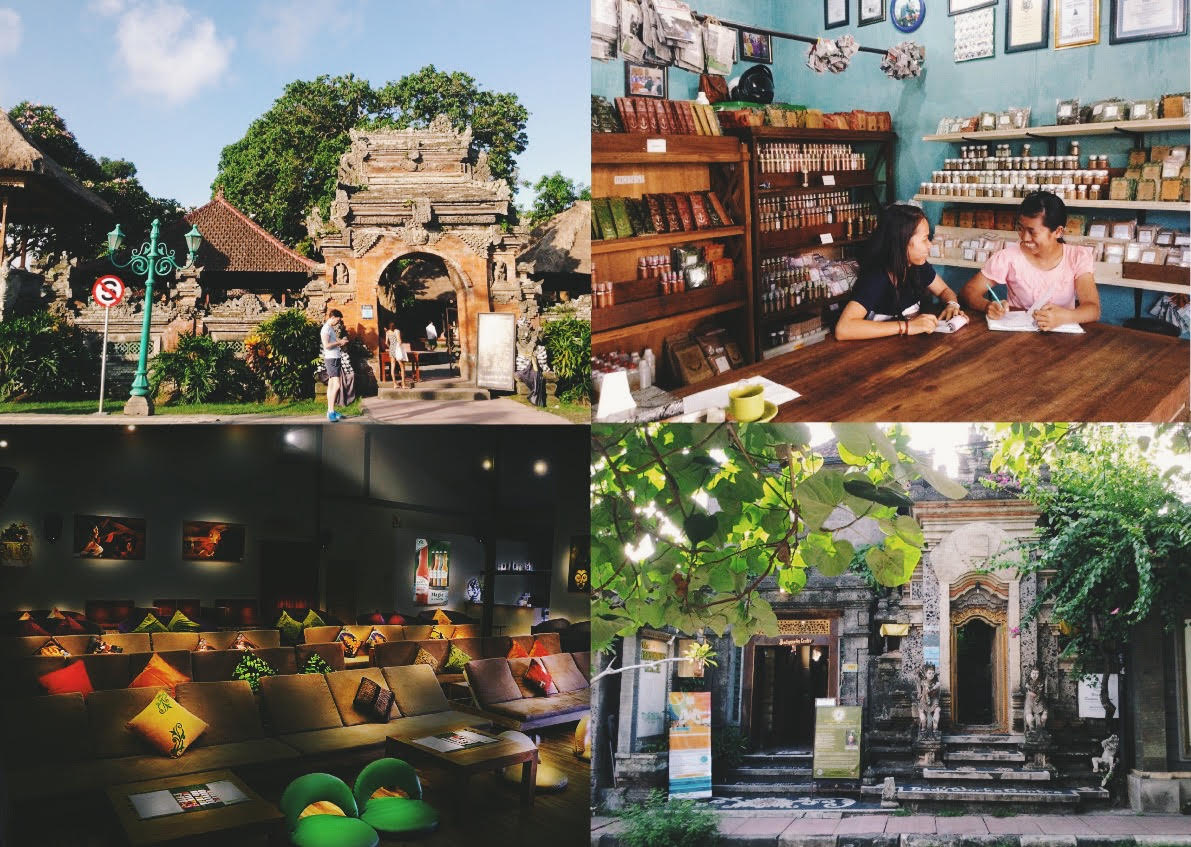 Walking the streets of Bali, you can't miss the dogs. Balinese dogs are heritage dogs with their own special characteristics. I love the brindle, stripey Bali dogs that look like tigers. Please take care not to pet the dogs unless you are absolutely familiar with a particular dog because Bali has documented cases of rabies. The charity BAWA operates a 24×7 animal rescue ambulance, and sterilization and vaccination program. You can help BAWA with donations or by purchasing lovely animal-themed gifts from BAWA shops. The extra bonus is that the silver jewelry in the BAWA shops are genuinely locally made because Janice Girardi, founder of BAWA is also a well-known jewelry designer for more than 30 years, with a workshop of nearly 50 local artisans near Ubud.
After buying something from BAWA and indirectly saving a few animal lives, you can now feed yourself with delicious Indonesian food for lunch.
I wonder whether you would face the same moral dilemma as I did, trying to choose between Hujan … voted best new restaurant in Ubud 2015….or Fair Warung Bale, a social enterprise cafe/restaurant directly opposite Hujan, both restaurants on Jalan Sri Wedari. I confess Hujan won for its more diverse and extensive menu from different regions of Indonesia, not just Bali.
However, as I waited in the luxurious surroundings of Hujan, each moment grew increasingly excruciating as I could see Fair Warung opposite, filling up with smiley, happy people perhaps because their money for food would be used for a social cause to provide medical treatment in poverty-stricken areas of Bali. I tried to console myself with the treat of seeing a rich Balinese family's home compound on the neighbouring side, but I felt worse, thinking that my soul might be by now overtaken by gluttony (so easy in Bali). However, when my food arrived, feelings of guilt started dissipating with each delicious mouthful of perfectly fried calamari and tangy green papaya salad.
I took care of soul-ache and guilt matters by going to Fair Warung Bale for dinner the next day (as if it can truly be this easy!) The food in Fair Warung is delicious too, albeit not at the level of complexity and subtlety of Hujan's. Still food is served by young, enthusiastic and courteous Balinese.
At this point, you are sated, the world feels good, and you might feel that you have also done well for the local community in your eating and shopping with a social cause. You can decide on how to use the rest of the afternoon or evening, choosing between a chill-out in a vegetarian cinema or the wonders of a fabulous art museum.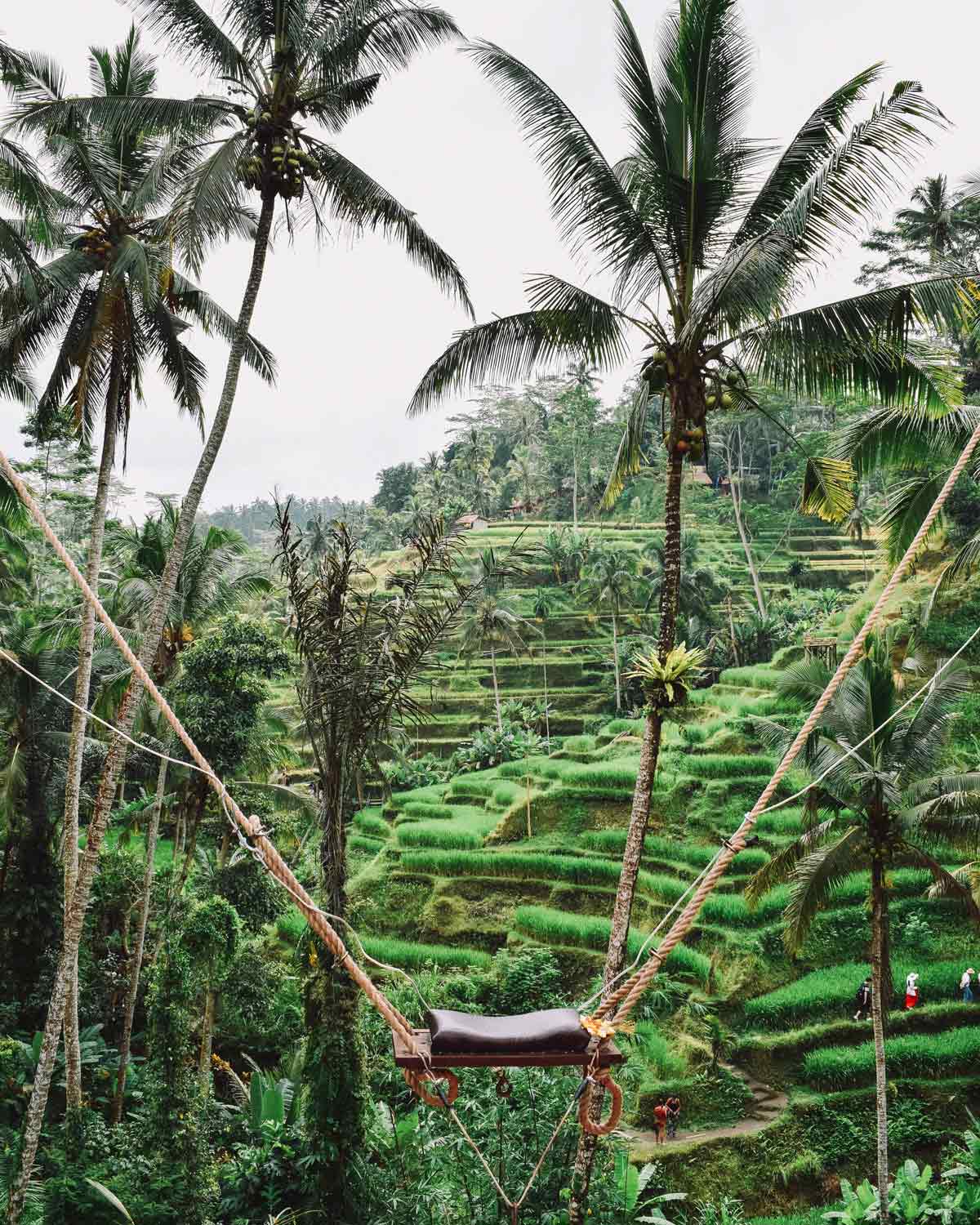 The World's First Vegetarian and Organic Cinema. If you are tired from all that walking, check out Paradiso's program for movie listings. The first movie usually starts at 5 pm or 7.30 pm. This cinema is special to me because we watch movies in a huge hall, sitting on futons, with delicious and creatively designed veggie food and drinks served. I like watching movies with my feet up, cross-legged on futons or cushions on the floor, with everyone just being relaxed.
ARMA although in Ubud, is not really within comfortable walking distance from central Ubud, so I've left it for the end of the walk, in the late afternoon. For me, walking 30 minutes in the heat and humidity feels more like a sweaty one hour exercise! If you want to leg it, drink plenty of water or have a fresh, young coconut along the way. You also need at least two hours to enjoy the museum at ease.
Find a peaceful (!) transport to get to ARMA (about 10 minutes' drive from central Ubud) and walk slowly through its beautiful gardens and the museum of art. The museum was the quickest way for me to see different forms of Balinese art; the founder used to be an art dealer, and his collection provides a beautiful 'one-stop' comprehensive narrative. ARMA has a Foundation that supports young villagers, educating young people and anyone else interested in Balinese heritage and culture. As I have worked in the sector of Corporate Social Responsibility for many years, I'm really impressed to see a museum fully integrated with the local community and culture because its purpose was started with the community and arts at heart, from the onset.
ARMA is also a spa resort with a hotel, villas, restaurants and spa therapy. At one point, a cynical thought came to me that this place was all a set-up: beautiful restaurant, idyllic rice paddy-fields, lily ponds, stone bridge over stream, wooden huts, "Oh yes I've seen this all before in fancy five-star hotels." Just then, a deeply tanned and wiry farmer leading a young water buffalo walked across the restaurant gardens!
So let all cynical thoughts lay their weary heads, and open your heart to the Balinese, and their arts and culture and enjoy a traditional dance performance at ARMA. You might be surprised by what touches your heart in Bali.
I hope that you have enjoyed your walk around Ubud. The people who have started social enterprises are a mix of local Balinese and expats who have settled in Bali and together, want to enrich the community, the environment and the people and animals. Namaste!
Ready to start treading mindfully for one of the most paradisiac towns in Bali?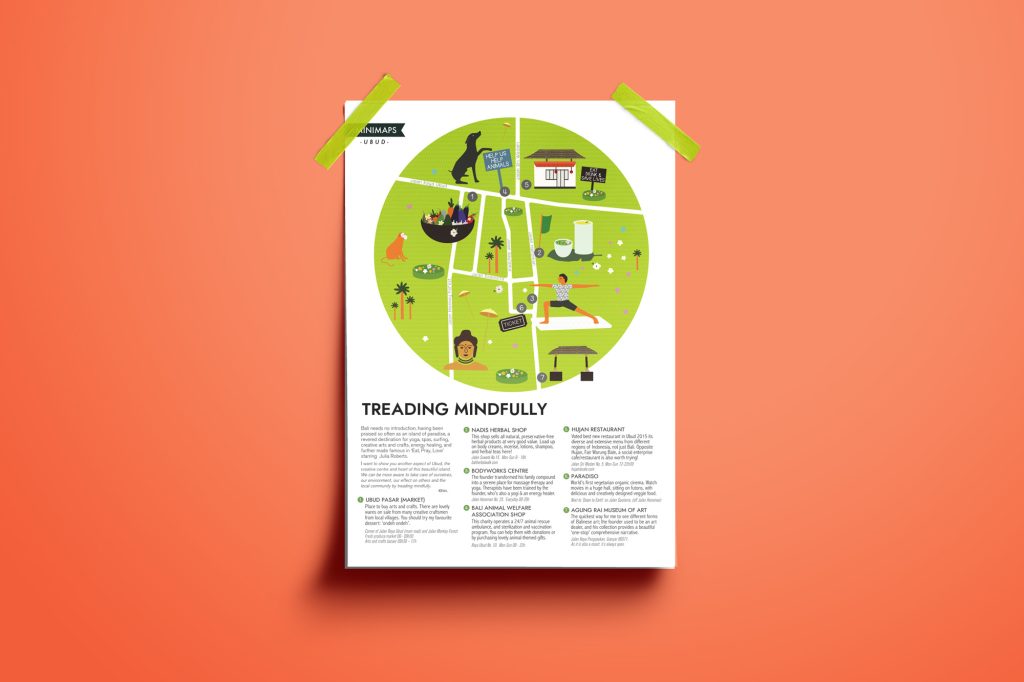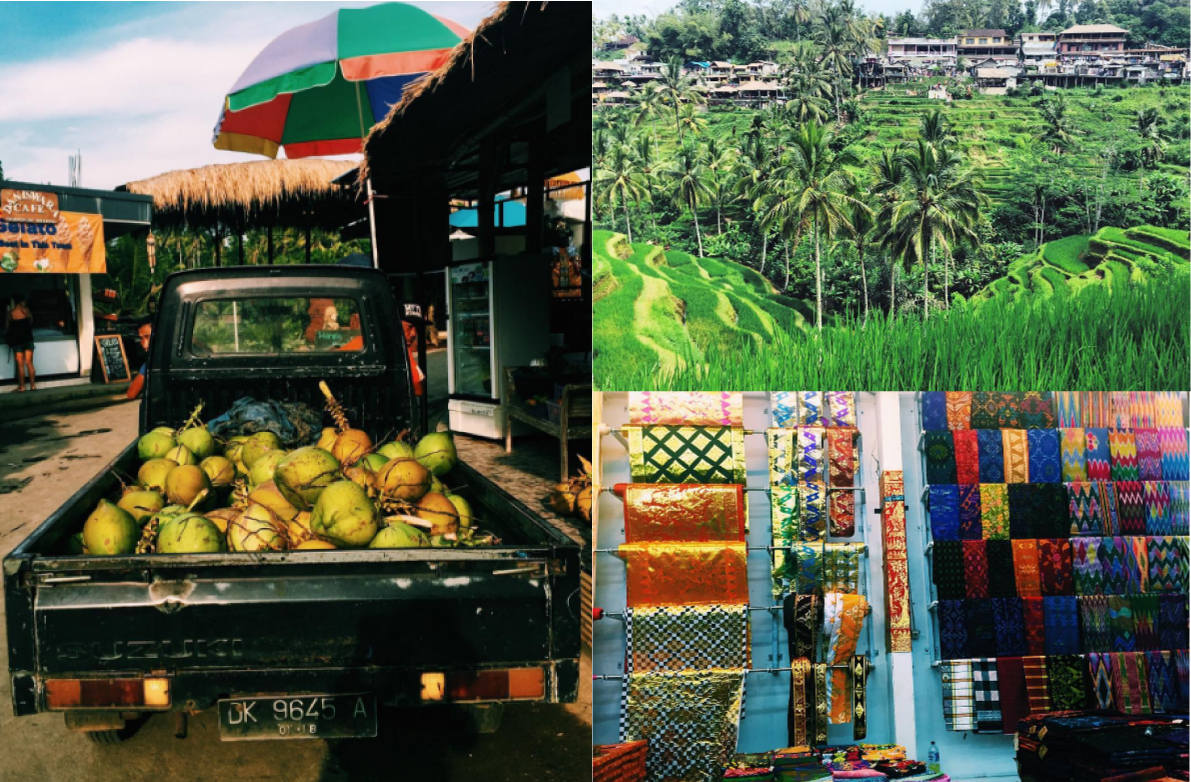 To share your photos with other minimappers, please use this hashtag #superminimaps in Twitter and Instagram!
♥