.
Dreaming of finding (or creating) your own Barbieland? Probably it will be very difficult to find a place with an all-female Supreme, but… if it's pink you're craving for, there are definitely more alternatives.
From incredible natural sites to architectural icons, these gorgeous and very pink places will take you, if only for a little while, to a pink fantasy world where even a stereotypical Barbie with thoughts of death would choose Birkenstocks over heels every time (:
[ESPAÑOL]
¿Soñando con encontrar (o crear) tu propia Barbieland? Probablemente será muy difícil encontrar un lugar con una Corte Suprema constituida en su totalidad por mujeres, pero… si es el rosado lo que deseas encontrar definitivamente hay más alternativas.
Desde increíbles sitios naturales hasta iconos arquitectónicos, estos preciosos y muy rosados lugares te llevaran, aunque sea por un rato, a un mundo fantástico color de rosa en los que hasta una Barbie estereotípica con pensamientos acerca de la muerte elegiría Birkenstocks sobre tacones cada vez (: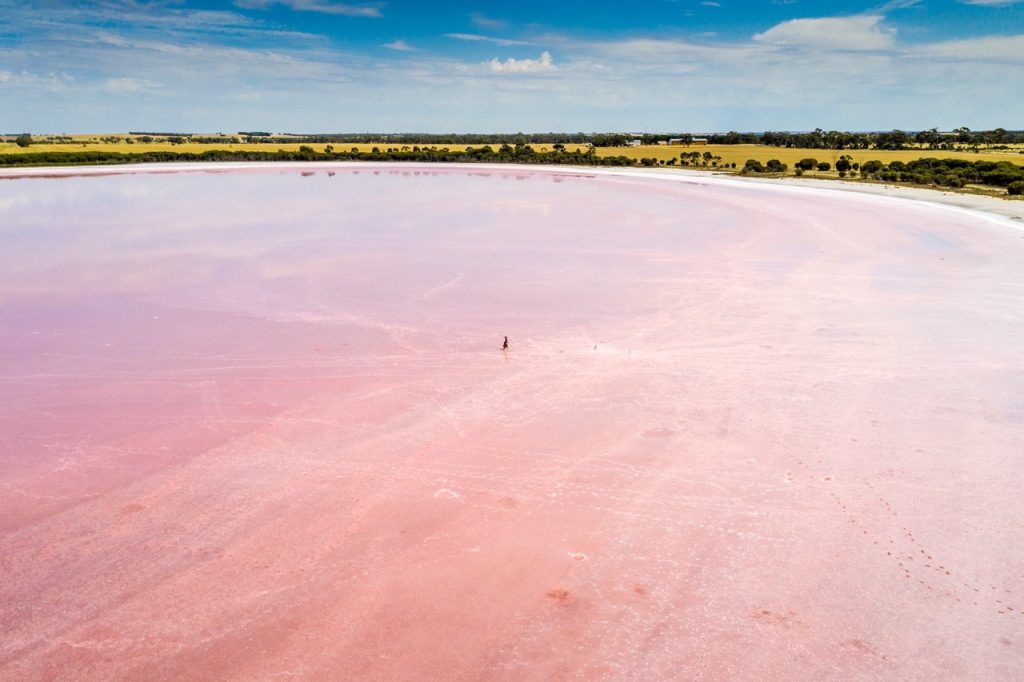 Pink Lakes – Western Australia
Nature lovers who adore pink will be amazed by Western Australia's Pink Lakes. From Lake Hillier to Hutt Lagoon, these stunning pink lakes offer a surreal sight due to the presence of unique algae and bacteria that tint the water pink. Biologist Barbie would be fascinated here.
[ESPAÑOL]
Los amantes de la naturaleza que amen el rosa y los viajes de larga distancia estarán deslumbrados con los Lagos Rosa del oeste de Australia. Desde el Lake Hillier a la Laguna Hutt estos lagos ofrecen una visión surreal gracias a su combinación única de algas y bacterias. Barbie bióloga estaría fascinada.
Laguna Rosa · Torrevieja, España
A lot closer to home, it is possible to find an astonishing pink landscapes. In the heart of Alicante's Vega Baja del Segura region, there is a huge pink lagoon of 1,400 hectares that is part of the Natural Park of the Lagunas de la Mata and Torrevieja. This phenomenon, unique in Spain, is produced by a bacterium that releases a pinkish pigment in waters with a high concentration of salt: in the case of the pink lagoon, 350 g/L, like the Dead Sea.
[ESPAÑOL]
Mucho más cerca de casa es posible encontrar paisajes rosa deslumbrantes. En el corazón de Vega Baja del Segura, en Alicante, hay una laguna rosa de 1.400 hectáreas parte del Parque Natural Lagulas de la Mata y Torrevieja. Este fenómeno, único de su tipo en España, es producido cuando una bacteria libera un pigmento rosa en aguas con alta concentración de sal, en el caso de esta laguna la cifra es de 350g/L, una cantidad parecida a la del Mar Muerto.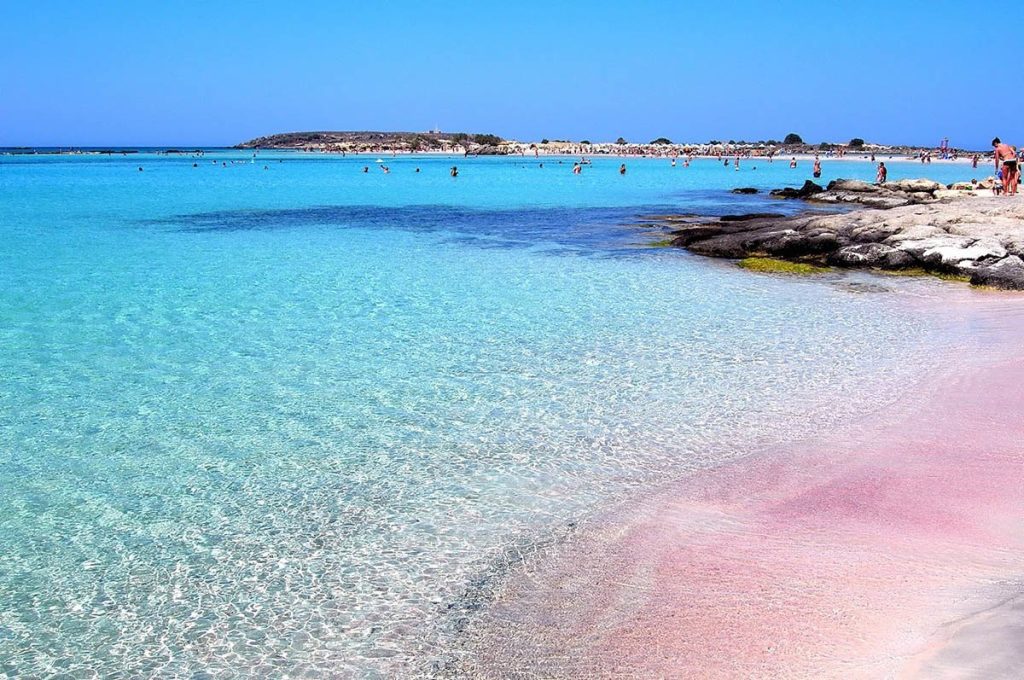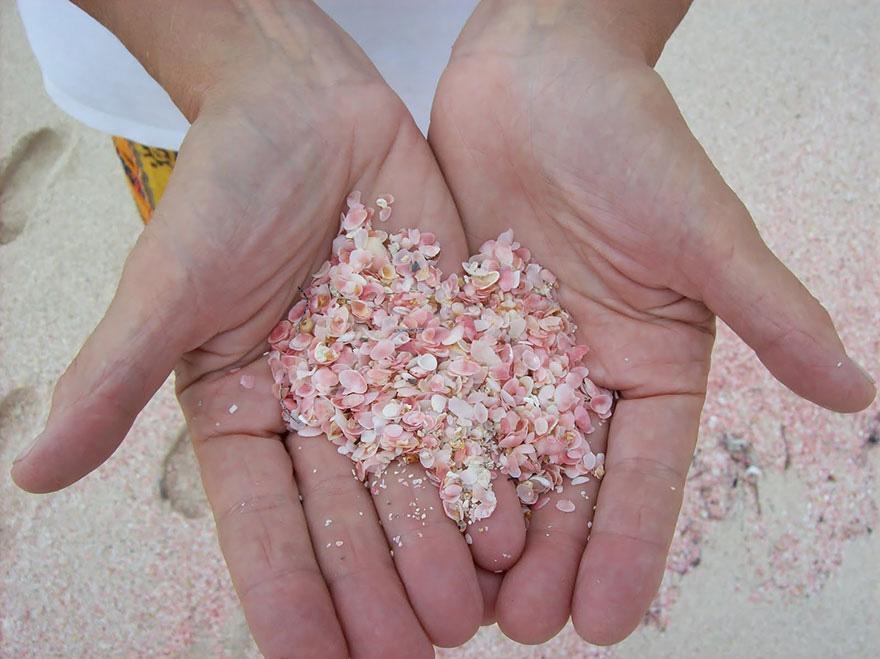 Pink Sands Beach, Harbour Island, Bahamas
Photos on the internet might have an exaggerated hue and saturation BUT it is a fact that this beach's blush-pink sand gets its color from crushed coral and shells and that it contrasts beautifully with the light blue waters of the Caribbean. In any case, a holiday on the Caribbean is well worth it even if your job title isn't "Beach".
[ESPAÑOL]
Las fotos que veréis en Internet es posible que tengan exagerado el tono y la saturación del rosa, pero es un hecho que la "arena" de esta playa es ligeramente rosa por las conchas y los fragmentos de coral que se encuentran en su orilla y que el contraste con el turquesa radiante del Caribe es precioso. En cualquier caso, una vacación en el Caribe está siempre recomendaba, incluso si tu profesión no es "playa".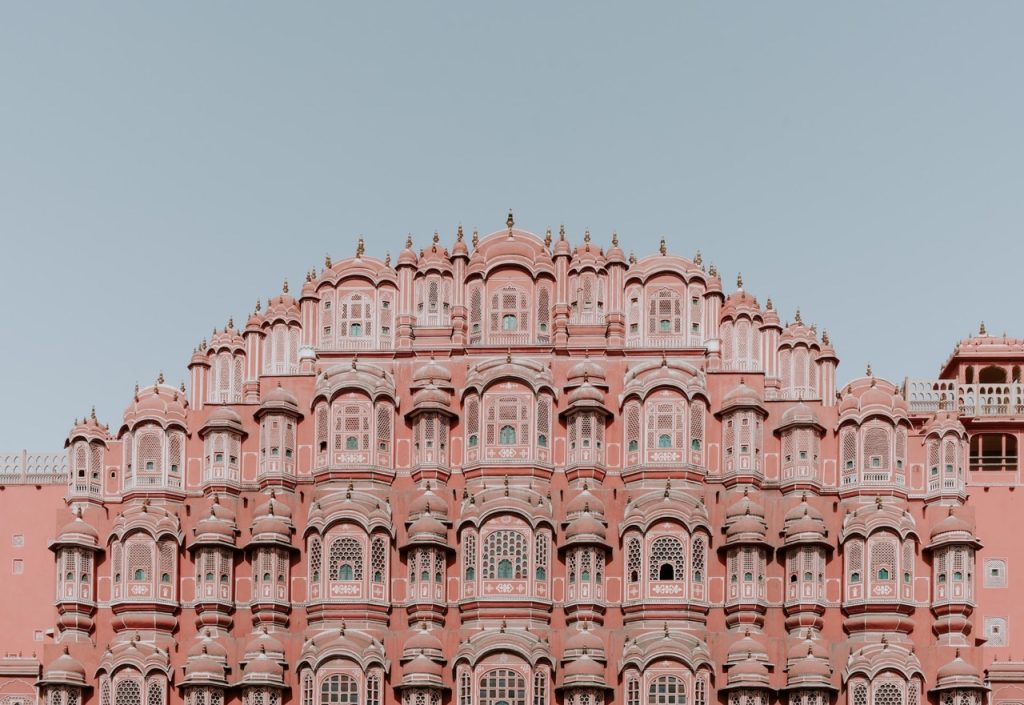 The Pink Palace – Jaipur, India
Jaipur became known as "The Pink City" when, in 1876, Maharaja Ram Singh had most of the buildings painted pink – the color of hospitality – in preparation for a visit by Britain's Queen Victoria, according to Google Arts & Culture.
Jaipur is home to an impressive monument called Hawa Mahal, or "Palace of the Winds." This magnificent structure, adorned with a pink façade, was built so that the royal ladies could observe the bustling streets without being seen.
In this palace you can satiate two Instagram trends: Barbieland and Wes Anderson – what more could you ask for?
[ESPAÑOL]
Jaipur pasó a conocerse como "La Ciudad Rosa" cuando, en 1876, el maharajá Ram Singh mandó pintar de rosa –el color de la hospitalidad– la mayoría de los edificios para preparar una visita de la reina Victoria de Gran Bretaña.
Jaipur alberga un impresionante monumento llamado Hawa Mahal, o "Palacio de los Vientos". Esta magnífica estructura, adornada con una fachada rosa, se construyó para que las damas reales pudieran observar las bulliciosas calles sin ser vistas.
En este palacio podéis saciar dos tendencias de Instagram la de Barbieland y la de Wes Anderson. ¿Qué más se puede pedir?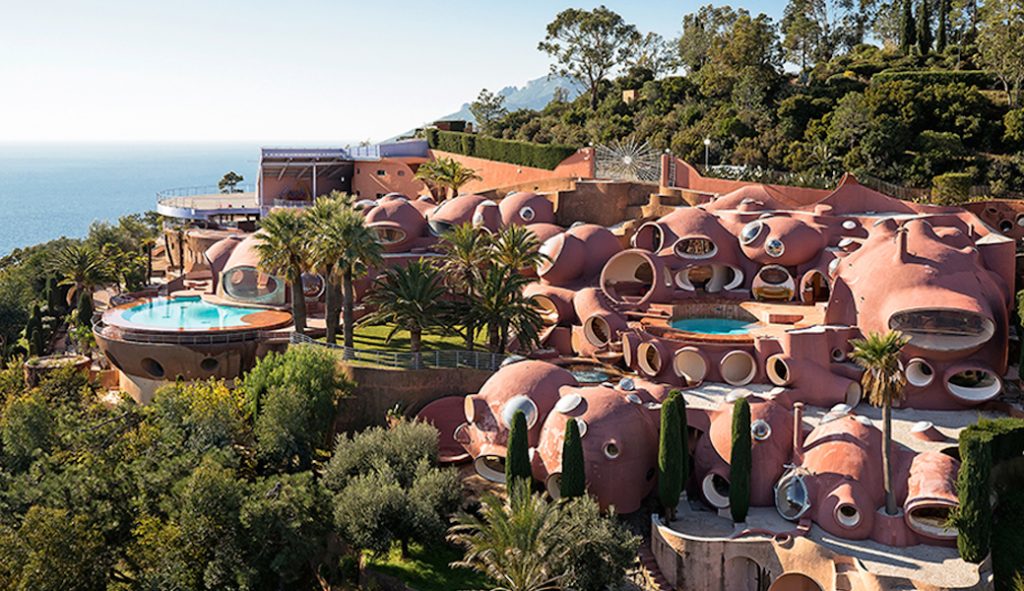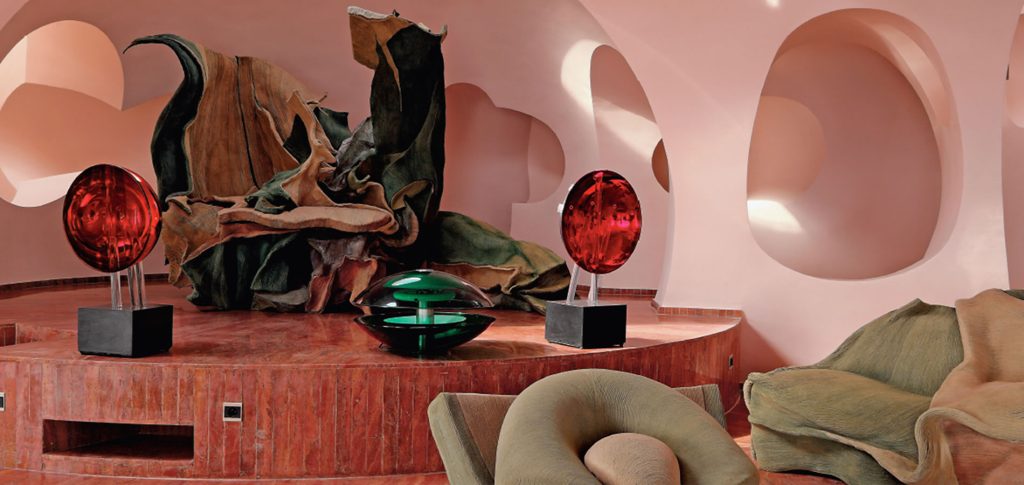 Le Palais Bulles in Cannes, France
A bit closer to home Le Palais Bulles, or "The Bubble Palace," is a striking and futuristic mansion located on the French Riviera. It's not THAT pink on the outside, but it has a pink heart and it's whimsical enough to make this list, right?
Designed by the Hungarian architect Antti Lovag and built by Pierre Bernard in 1984, this iconic residence features interconnected bubble-like rooms in an astonishing "architectural folly" that offers breathtaking views of the Mediterranean Sea and it's the envy of the whole world", according to the website. In 1992, Pierre Cardin, couturier and art patron, acquired Palais Bulles and it became his favourite home.
[ESPAÑOL]
Un poco más cerca de casa, Le Palais Bulles, o "El Palacio Burbuja", es una mansión llamativa y futurista situada en la Riviera francesa. No es TAN rosa por fuera, pero tiene un corazón rosa y es lo suficientemente caprichoso como para entrar en esta lista, ¿verdad?
Diseñada por el arquitecto húngaro Antti Lovag y construida por Pierre Bernard en 1984, esta icónica residencia cuenta con habitaciones interconectadas en forma de burbuja en una asombrosa "locura arquitectónica" que ofrece impresionantes vistas del mar Mediterráneo y es la envidia de todo el mundo", según la página web. En 1992, Pierre Cardin, modisto y mecenas de arte, adquirió el Palais Bulles y se convirtió en su casa favorita.
La Muralla Roja in Calpe, Spain
First of all, a warning: This is a private building. You cannot and should not try to break in without consent… as with everything in life, actually. However, you can appreciate this architectural beauty from a prudent distance. La Muralla Roja, or "The Red Wall," is a postmodern apartment complex located on the White Coast of Spain, specifically in a place called Manzanera in Calpe.
It was designed by the Spanish architect Ricardo Bofill and fully constructed by 1973. It has been ranked among his "10 Most Iconic Works." While this labyrinth-like building may not be entirely pink, its combination of shades, including various hues of pink, creates an otherworldly atmosphere.
[ESPAÑOL]
En primer lugar, una advertencia: Este es un edificio privado. No podéis ni debéis intentar entrar sin consentimiento… como con todo en la vida, en realidad. Sin embargo, podéis apreciar esta belleza arquitectónica desde una distancia prudencial. La Muralla Roja es un complejo de apartamentos postmoderno situado en la Costa Blanca de España, concretamente en un lugar llamado Manzanera, en Calpe.
Fue diseñado por el arquitecto español Ricardo Bofill y construido en su totalidad en 1973. Se ha clasificado entre sus "10 obras más icónicas". Aunque puede que este edificio con forma de laberinto no sea totalmente rosa, su combinación de tonos, incluidos varios matices de rosa, crea una ambiente súper especial y bastante extraterrestre.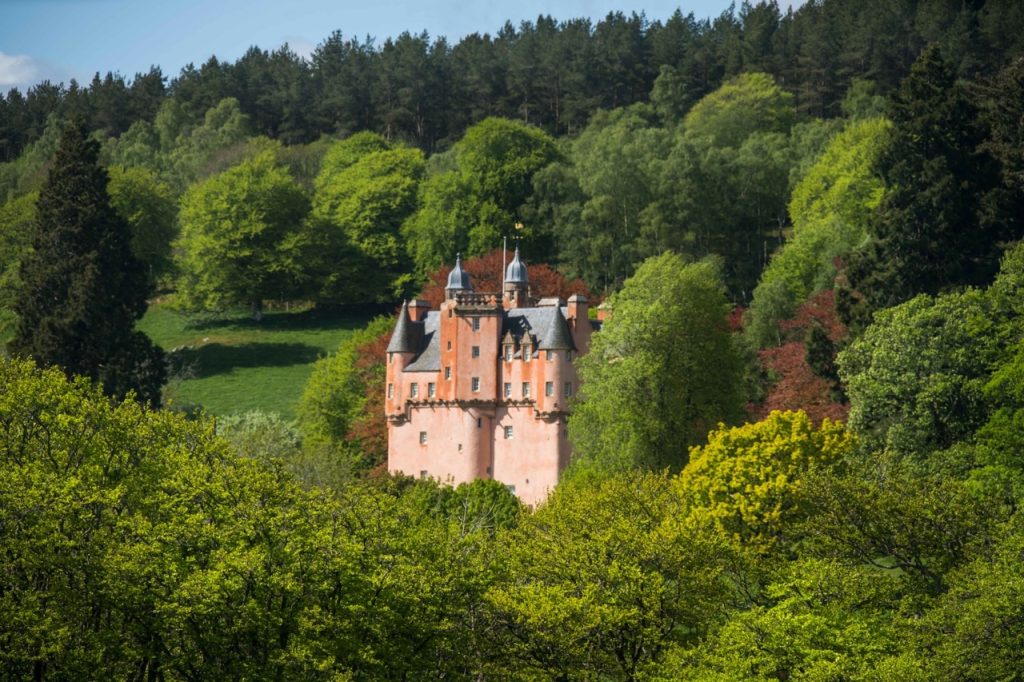 Craigievar Castle in Scotland
Nestled in the lush Scottish countryside, Craigievar Castle stands like a fairytale fortress painted in a soft pink hue. It's altogether a dream castle, though perhaps more evocative of the dreams of a 1950s Disney princess than Greta Gerwig's modern-day Barbie of 2023. In any case, a pink castle is always a nice place to see and photograph.
[ESPAÑOL]
Enclavado en la exuberante campiña escocesa, el Castillo de Craigievar se erige como una fortaleza de cuento de hadas pintada en un suave tono rosa. Es completamente un castillo de ensueño, aunque tal vez evoca más los sueños de una princesa Disney de los años 50 que de la moderna Barbie de Greta Gerwig de 2023. En todo caso, un castillo rosa siempre es un lindo sitio para ver y fotografiar.
Happy Barbie-inspired travels this summer! / ¡Felices viajes rosa-Barbie este verano!