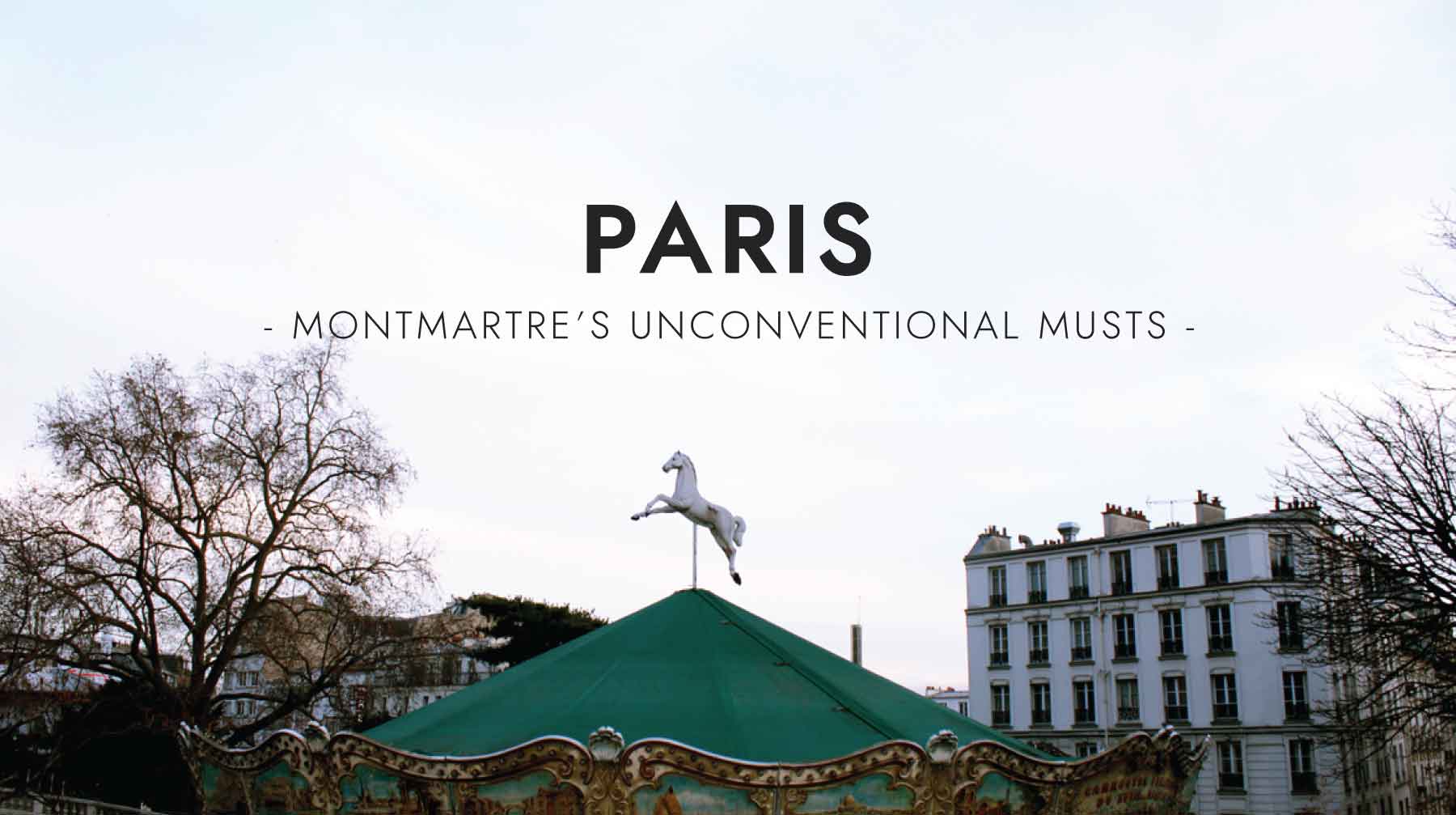 In the 18éme quartier in Paris, there is an emblematic hill, la butte de Montmartre, surrounded by cute small streets and strangely exhausting but romantic stairs. Here is where Toulouse-Lautrec's postcards and Monsieur Chat's grinny cat co-habit in perfect harmony. This is where Django Reinhardt wrote R-Vingt-Six, and where new bands play every week at La Cigalle.
In Montmartre the old and the new meet, creating a parallel universe that is part imagination and part reality. In this peculiar world, a lot of wonderful things are surely being sing, painted, filmed, photographed, co-created, prototyped, coded, and imagined right now.
During the Belle Époque and in the early 20th century many important artists lived, rented spaces to work or hanged around Montmartre. From Renoir, Degas, Toulousse-Lautrec, Picasso, Matisse, Modigliani, and Dalí, to Eric Satie, Ernest Hemingway, Gertrude Stein, Luis Buñuel… and pretty much all the characters you have seen in Woody Allen's Midnight in Paris. This city in general, and Montmartre in particular, has the peculiar ability of looking unchanged for the enchanted eyes of those who want to connect to the past, and to serve as a boiling pot of inspiration for those looking for a transformation in their lives.
However 'getting inspired' can be really though if you are constantly surrounded by masses of tourists that seem to follow a script where selfies are mandatory every 2 min. Having your picture taken with an amazing view of Paris on your back is great (we all have done it!), but to discover the whole of Montmartre it is key to find a nice balance between the old clichés and the new unconventional. Have a look at Renoir's old studio and visit a urban farm close to the outskirts of the city. We hope this minimap you can do exactly that.
Be adviced: there's a lot of walking to be done and a lot of stairs to be climbed, but it will certainly be delightful. Plenty of cafés, galleries and improvised markets will be waiting for you along the way, and that's why we don't seem to have enough of Montmartre. If you do find a real gem, please share it with us! –> #superminimaps
Edited by MJ James & Ana Laya & illustrated by Ana Laya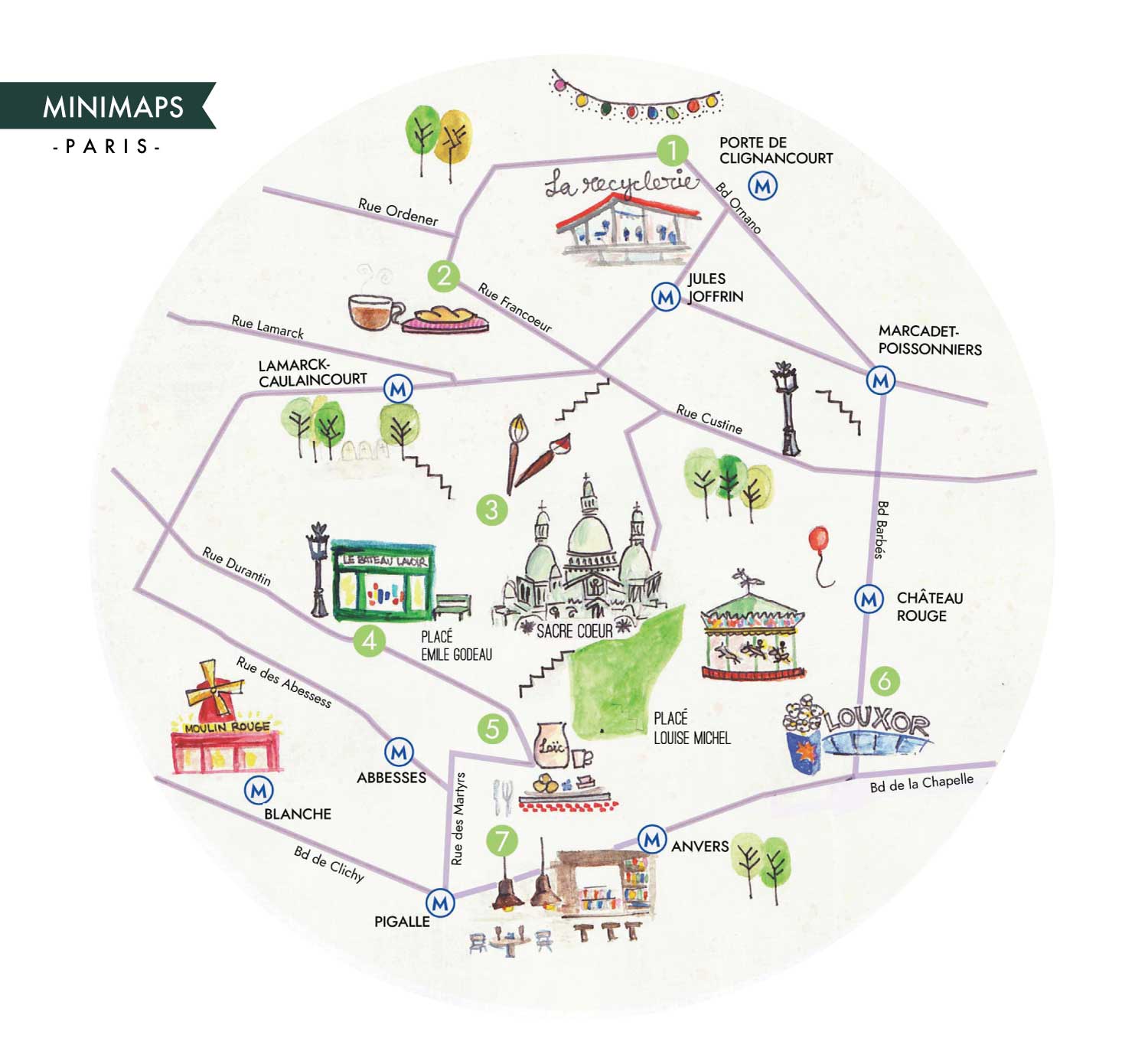 These are the places that Marie and Ana recommend for a non totally conventional walk around Montmartre:
Nice multifunctional space set up in an abandoned train station and railway close to Porte de Clignancourt. The people of La Recyclerie have done wonders with the place; there's a bakery, a restaurant, a bar, they have co-working spaces, rooms for meetings, a communal garden and a mini-farm with goats, chickens and… well, actually don't remember if there are more animals. Worth a visit if you fancy eating, drinking, petting or co-working. Check their website for seasonal events like markets or food fairs.
Cute café close to the Lamarck-Caulaincourt Metro station. The mood is relaxed, the coffee is tasty and they have a decent selection of wines. Also, if you ask me, that is the best side of Montmartre, charming, full of options, minus the tons of people. Right in front there is Bululú, a nice Venezuelan restaurant, if you're in the mood for something more exotic, and if you want to visit a local bar with the most French toilets ever (and I'm not saying that as a good thing), I dare you to go to La Divette de Montmartre.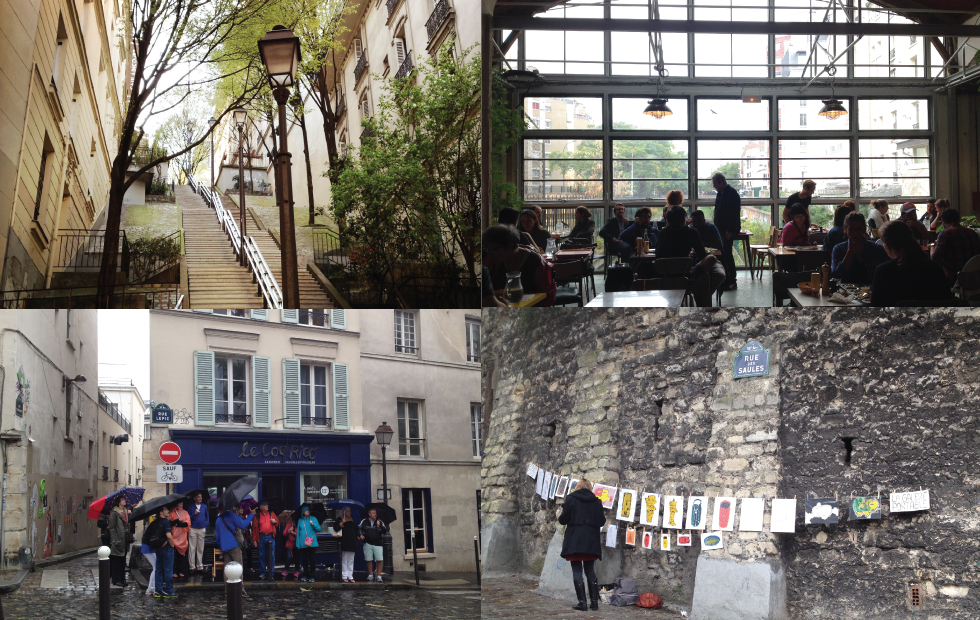 Ideal to know the history of the area, since the hill was just a hill. Also, Pierre-August Renoir while renting the space as a workshop painted Nal du moulin de la Galette and Le balançoir. Maurice Utrillo and Raoul Dufy also used the museum space to live and work. You might think that this is a total cliché, but it turns out that is not. It's not full of tourists and I went there with a Parisian that had never visited and she was as delighted as me.
4. Brocéilande
Discovered by mere chance turned out to be a nice place to eat a galette and drink some cider from French Brittany. I went there with a bretonne and she approved of the taste. I just knew that my galette with pate, potatoes and caramelized onion was delicious. Also the place is small, authentic and not over-priced.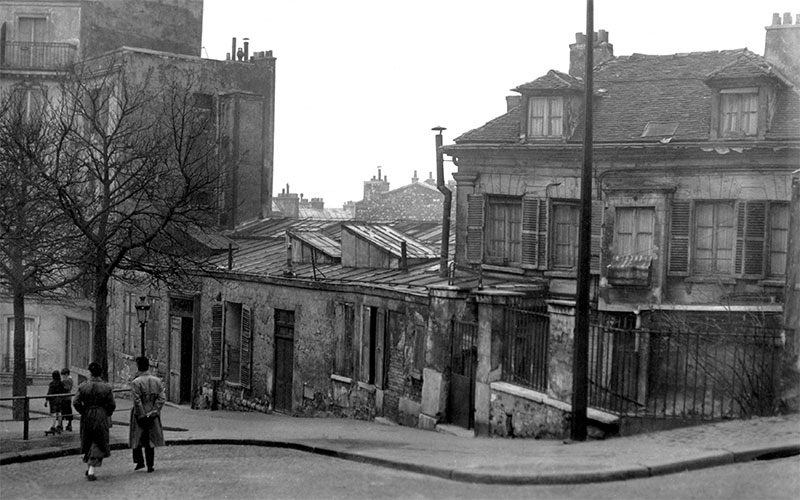 In this building a lot of artists like Amadeo Modigliani and Pablo Picasso lived and worked between 1904 and 1909. Picasso's Les demoiselles d'Avignon was painted there. Nowadays is a private property, but you can have a look at the building, and if the weather is nice, hang for a little while in the cute Émile-Goudeau square.
Lovely art decó cinema in Magenta Boulevard. Inaugurated in 1921, Le Louxor was recently remodeled and it counts with 3 modern screens, with all the technological bits and bobs you might want, a nice bar exclusive for the clients, and a program that includes special premieres and mostly arty, independent and classic movies.
7. La Fourmi
Nice typical bar to have some rest after hours of extreme sight-seeing. Not a tourist-trap (and believe me, there are A LOT of tourist-traps around). Good wines, limited but decent selection of beers, French tapas (bien sûr!), a nice chandelier made of wine bottles, and it is totally affordable! Some things are even cheap, which is extremely weird for Paris in general, and for Montmartre in particular.
Ready to walk up and down the most beautiful hill in Paris?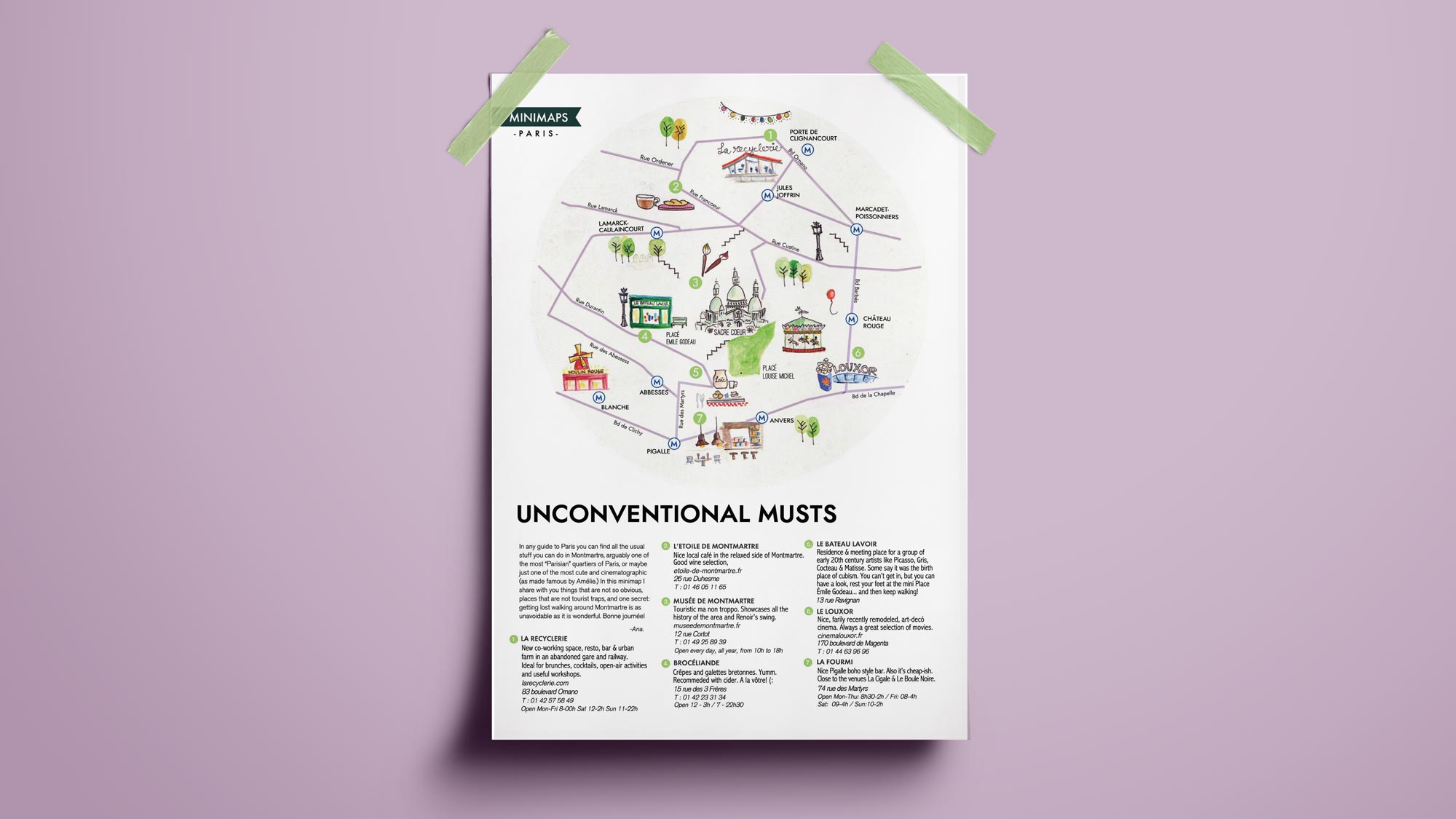 .
To share your photos with other minimappers, please tag them #superminimaps in Twitter and Instagram!
❤
.