Valletta, is a small capital with a great heritage. You can stroll around and easily discover its elegant buildings. And while you are taking a look around you will notice some things that are peculiar in Valletta's architecture such as the use of local limestone, its lovely balconies and the beautiful handles. Maybe it because of this combination that even residential buildings are also so pleasant to see.
In this minimap you will find some of the most beautiful architectural jewels of Valletta, both historical and modern. During the tour you can take beautiful pictures, enjoy moments of relaxation and, of course, eat really good food.
Edited and illustrated by Eva Naccari.
.
Cover Photo: Siddhant Prasad via Unsplash.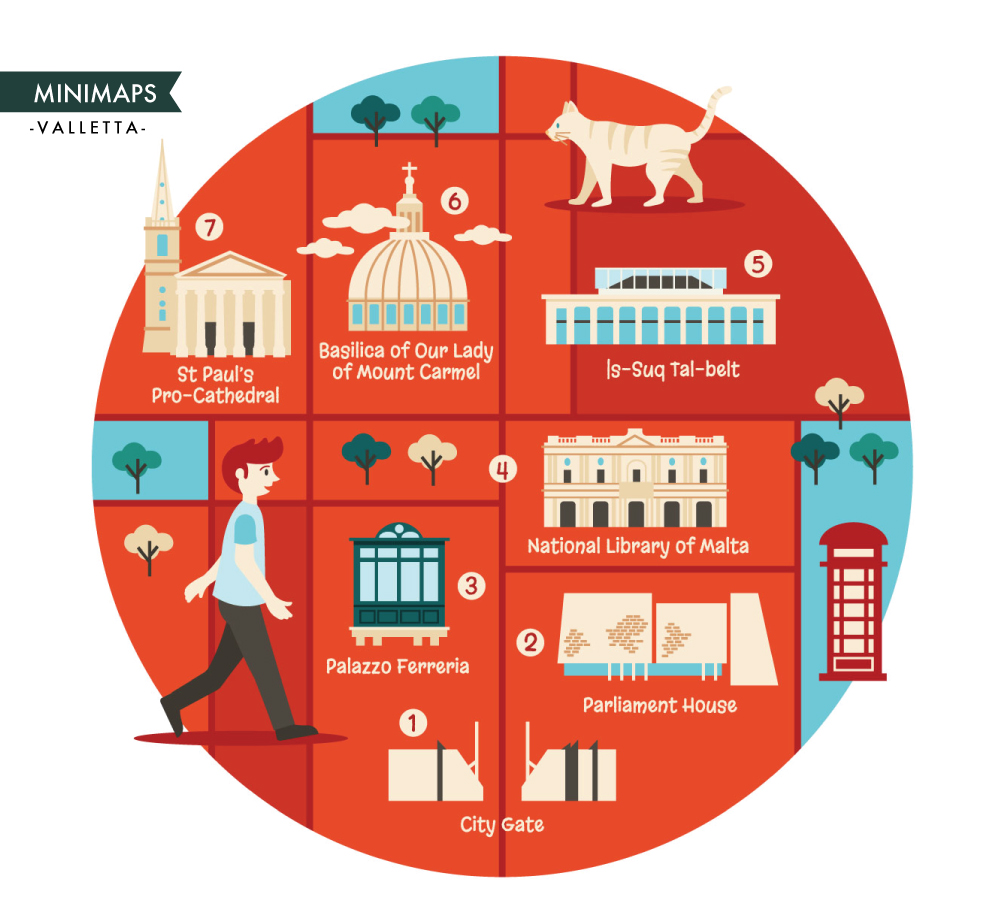 .
1. City Gate
The City Gate is the gateway to the city of Valletta, it was designed by Renzo Piano and built between 2011 and 2014. The gateway is a gap in the city walls and is the fifth gate built in this place over the years. It's made of stone and there are two steel poles, 25m high.
It is very evocative to cross it in the evening, walking on the illuminated bridge to enter in the city leaving behind the beautiful Tritons' Fountain.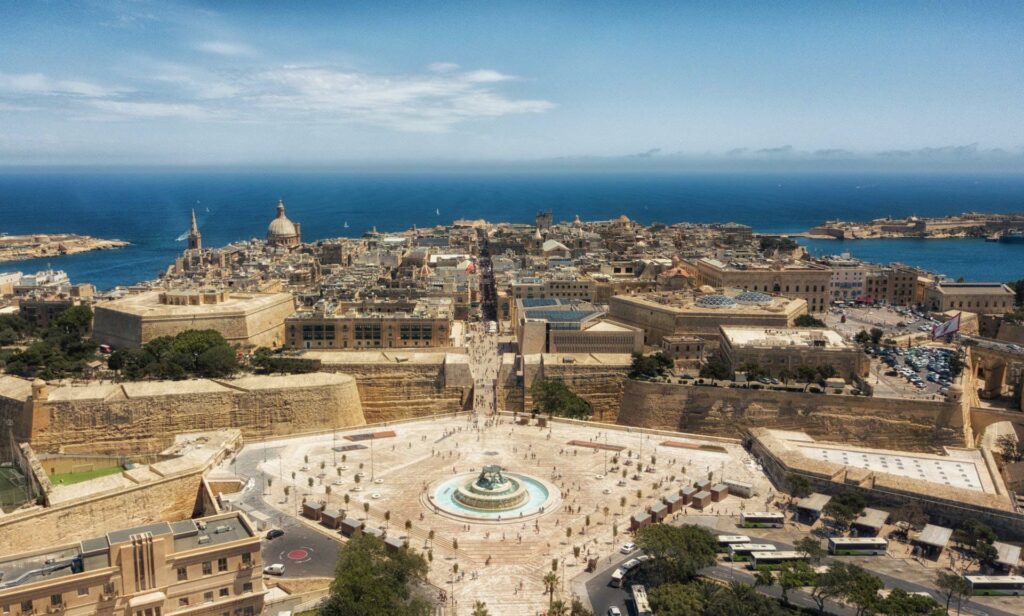 .
The Parliament House is also Renzo Piano's and its part of his "Valletta City Gate Project", as well as the redevelopment of the Royal Opera House. This is a zero-emission building, consisting of two blocks connected by bridges. Despite being a modern building, it is very well integrated into the architectonical context of the city. You will love looking at the façade, made with limestone from Gozo, that looks like it has been eroded by the wind.
.
3. Pallazzo Ferreria
When one thinks of Valletta among the things that immediately come to mind are its traditional closed balconies with wooden verandas. You can admire them in the façade of the Venetian gothic style of Palazzo Ferreria.
This palazzo was designed by architect Giuseppe Bonavia in the late 19th century and is the second biggest one in Valletta after the Grandmaster's Palace. Inside there are four statues that represent the continents.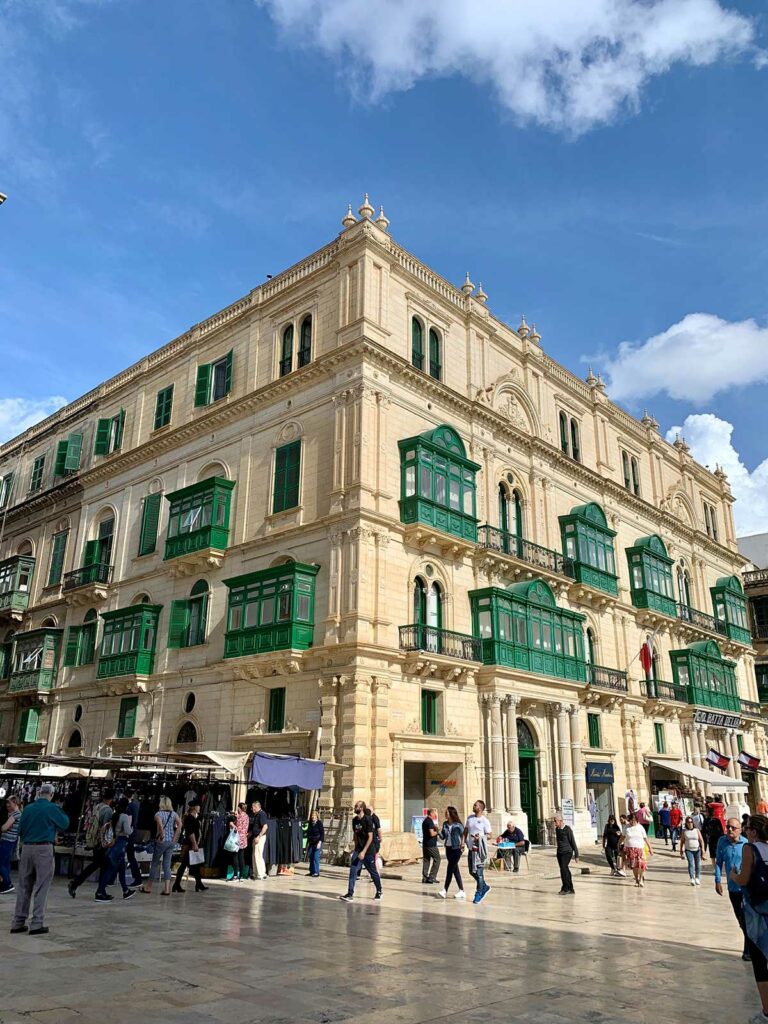 .
Walking along Triq Ir-Repubblika (Republic Street) you can take a look at the National Library of Malta in Republic Square. This neoclassical building was designed by Polish Italian architects Stefano Ittar and his son Sebastiano Ittar. In the library it is possible to find archives, ancient manuscripts, incunabula and maps. Before you resume your stroll you might like to relax and eat a dessert in the beautiful square. Also, don't forget to have a look at the beautiful Grandmaster's Palace, it is close to the library.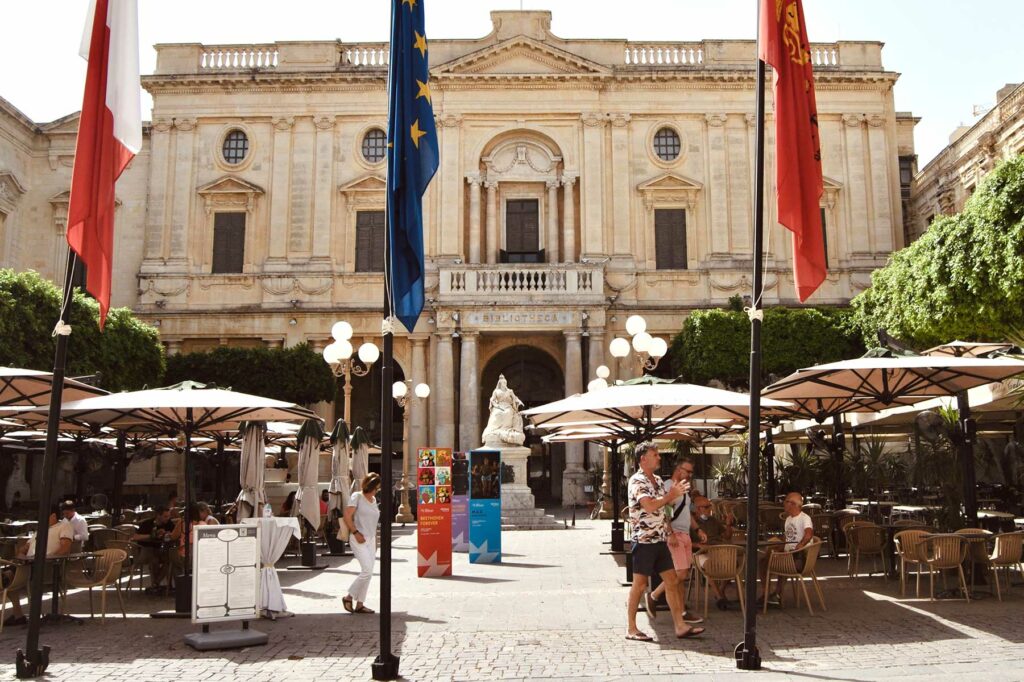 .
Markets are always fascinating places. Is-Suq Tal-Belt or Covered Market is a beautiful building that knew unhappy times, but that now is become the perfect spot for meeting friends, shopping fresh produce and conviviality.
It was designed by Hector Zimelli and its construction ended in 1861, but over the years it has been renovated more times. The Is-Suq Tal-Belt consists of three levels: on the ground floor there is a food market, on the first floor there are restaurants with specialties from all over the world and bars and at the top floor you can relax in an open space.
.
6. Basilica of our Lady of Mount Carmel
The skyline of Valletta is dominated by the dome of the Basilica of our Lady of Mount Carmel. This neoclassical church was designed by Girolamo Cassar and built in 1570. At the beginning it was dedicated to the Annunciation, but after it was given to the Carmelites.
Inside there are beautiful paintings and red marbles columns. And if you are in Valletta on July 16th, you can attend the traditional festival dedicated to Our Lady of Mount Carmel.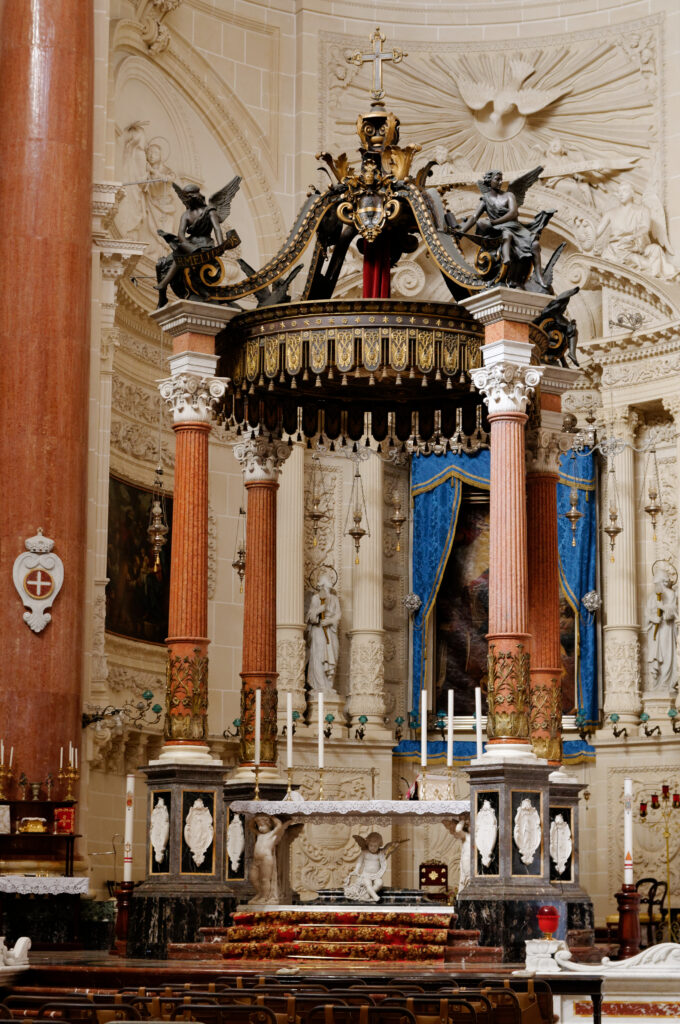 .
Have you ever seen an Anglican Church? After seeing the Basilica of Our Lady Of Mount Carmel you can walk down Old Theatre Street and arrive to the St Paul's Pro-Cathedral. It was designed by William Scamp, with a neoclassical style, and built between 1839 and 1844.
This church is one of three cathedrals of the Anglican Diocese of Gibraltar in Europe and was commissioned by Queen Adelaide. It resembles a Greek temple, with a portico of six columns with capitals of the Ionic order. Inside, however, the columns have capitals of the Corinthian order and you can also admire a beautiful baptistery.
.
Ready to enjoy this beautiful city?
.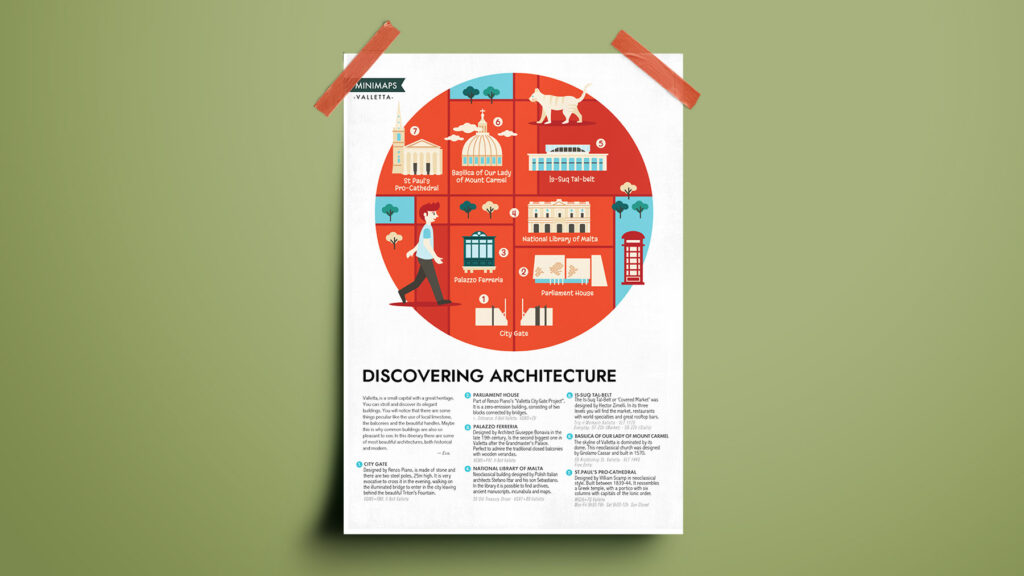 .
To share your photos with other minimappers, please use this hashtag #superminimaps in Twitter and Instagram!
♥
.
.