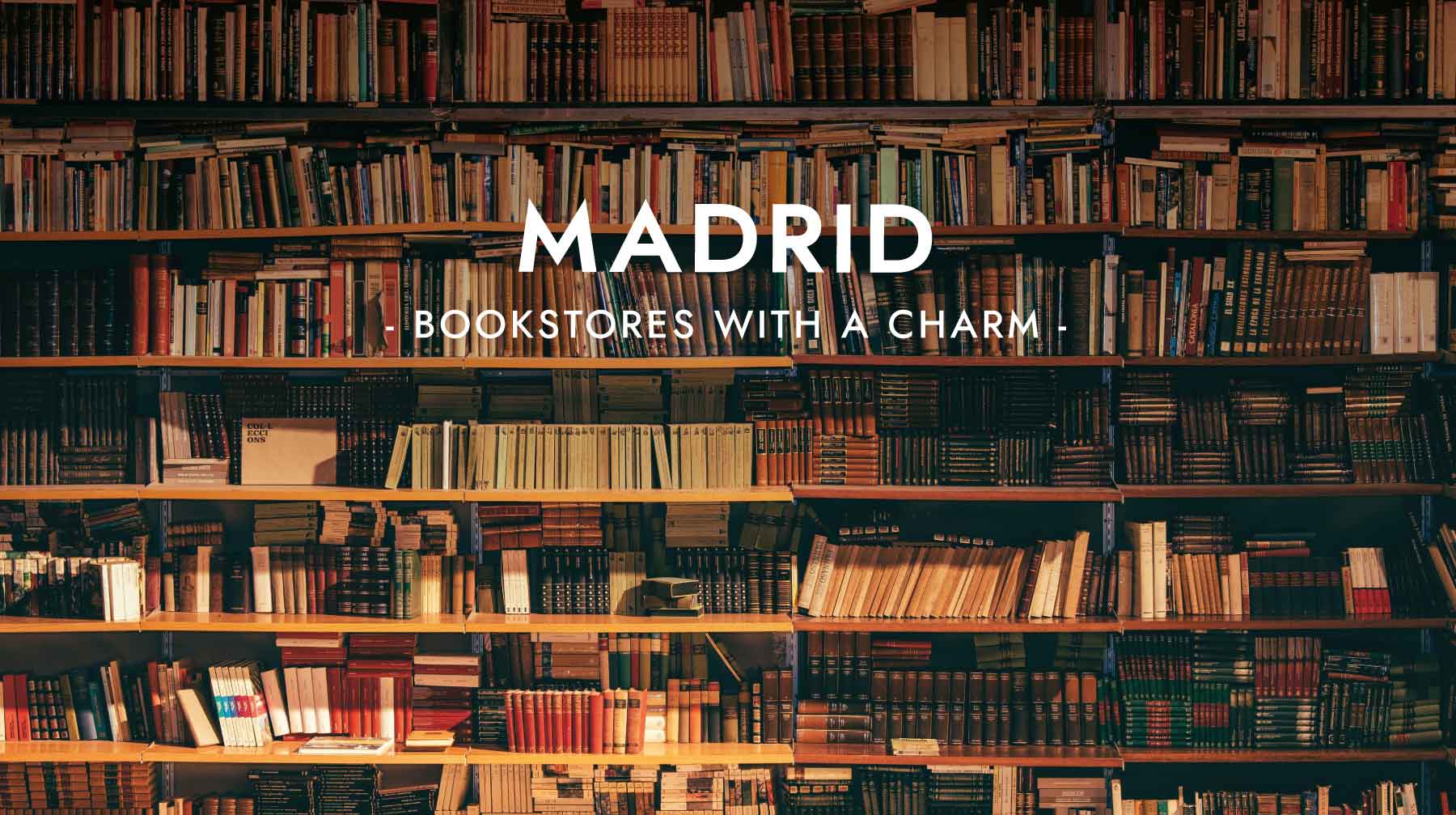 Four hundred years ago Miguel de Cervantes died leaving his very well known Character "Don Quixote" as a legacy for the future times. That very same year, 1616, Shakespeare passed away leaving a full compendium of books that has been the delight of many.
Maybe because 2016 it's marked as a very important year regarding books, or perhaps just for the pleasure of enjoying the quietness and inspiration inside a bookstore, this Madrid Minimap won't take you to indulge yourself tasting delicious food and drinks in the capital of Tapas and Vermut (although I hope you will anyway!). Instead, these seven spots (plus one) are special because of that precious thing that is knowledge. Wisdom that often times has been encapsulated in the form of a Book. So, please feel welcomed to "Bookstores with a Charm."
Edited by Ramón Gullón and illustrated by Victoria Fernández.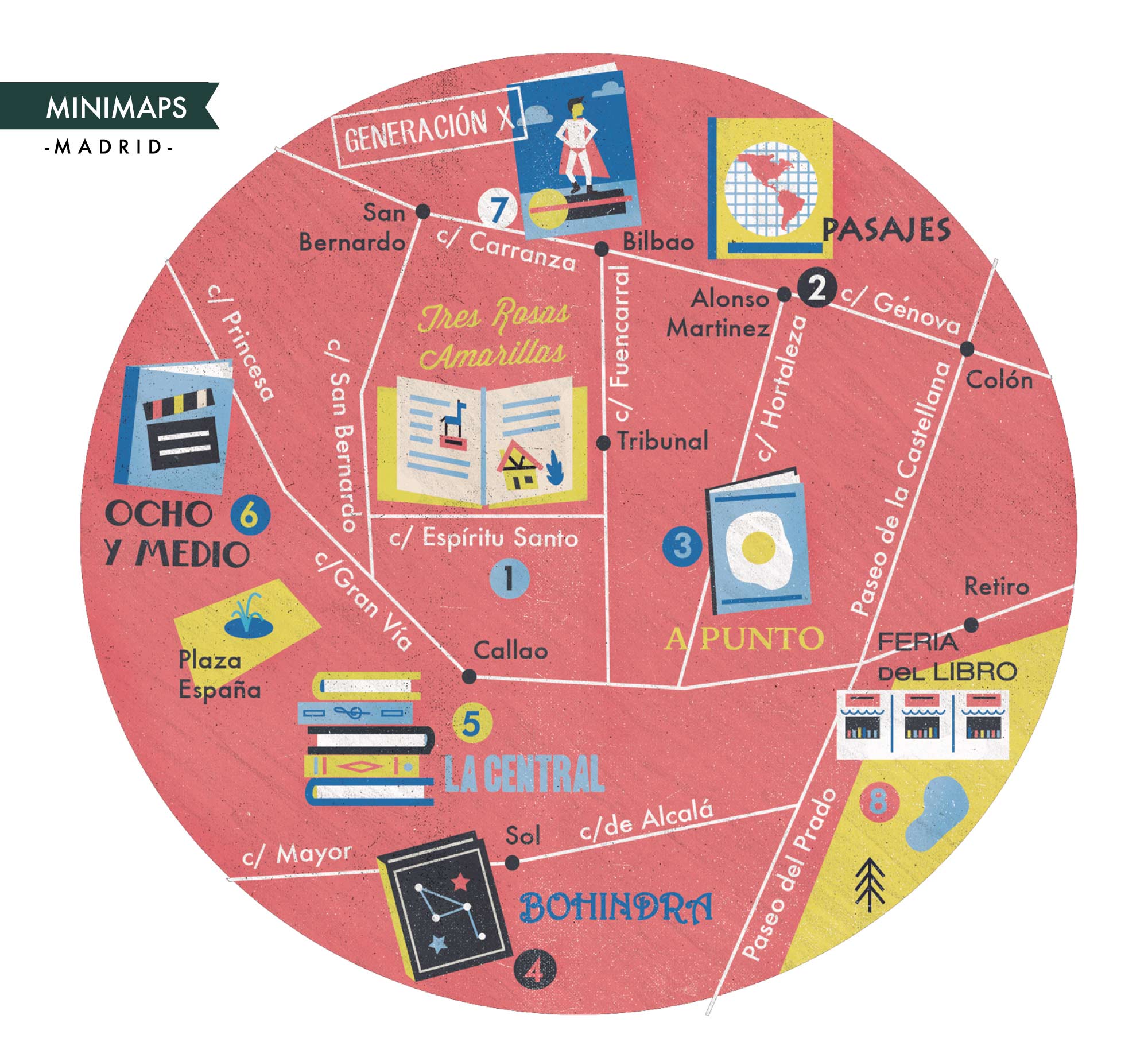 Right in the middle of the lovely neighbourhood of Malasaña, where you can enjoy a galore of nice cafés and bars, this children bookstore is the right place to become a child one more time. In their own words this is a bookshop specialises in wonderful stories.
This lovely shop is specialised in international books… well it would be more fair to say that is the temple of foreign language books. Looking for a book in Latin, Swedish or Bulgarian… yes, they have it. Willkommen!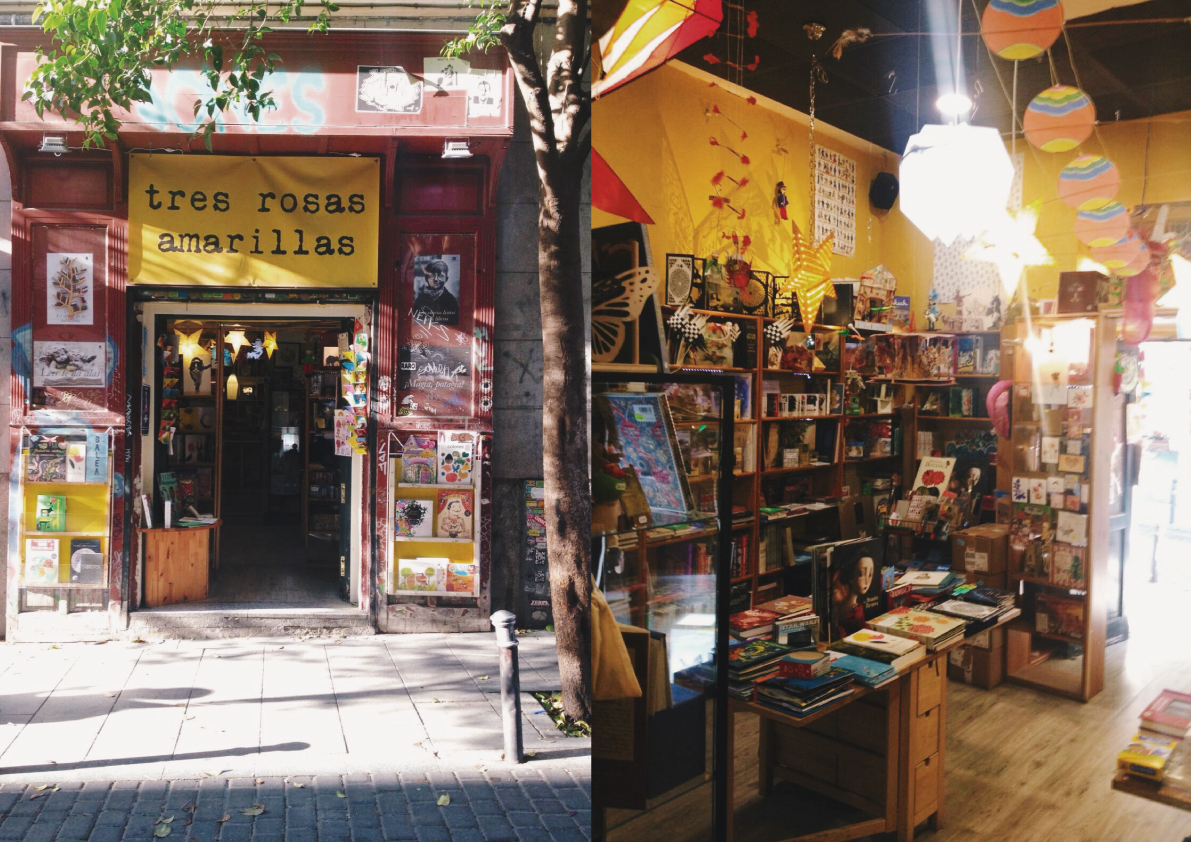 Everything a modern foodie would ever need. Yes, even if you don't have many cooking instruments, you'll find some there. And yes, even if you don't know how to cook, you'll find tasty courses in their academy. Bon apètit!
Peculiarly enough this bookshop specialises in spiritual books, a way of connecting with your inner self in the city. Plenty esoteric, spiritual, new age and eastern philosophy books. Where is it located? In Peace Street, of course (Calle de la paz).
Here you can spend hours and hours looking around as this bookstore has everything that you might want to read, glance over, take a look, see, draw… and a coffee, so you can do it well caffeinated! Check the agenda in their website, there's something happening almost everyday!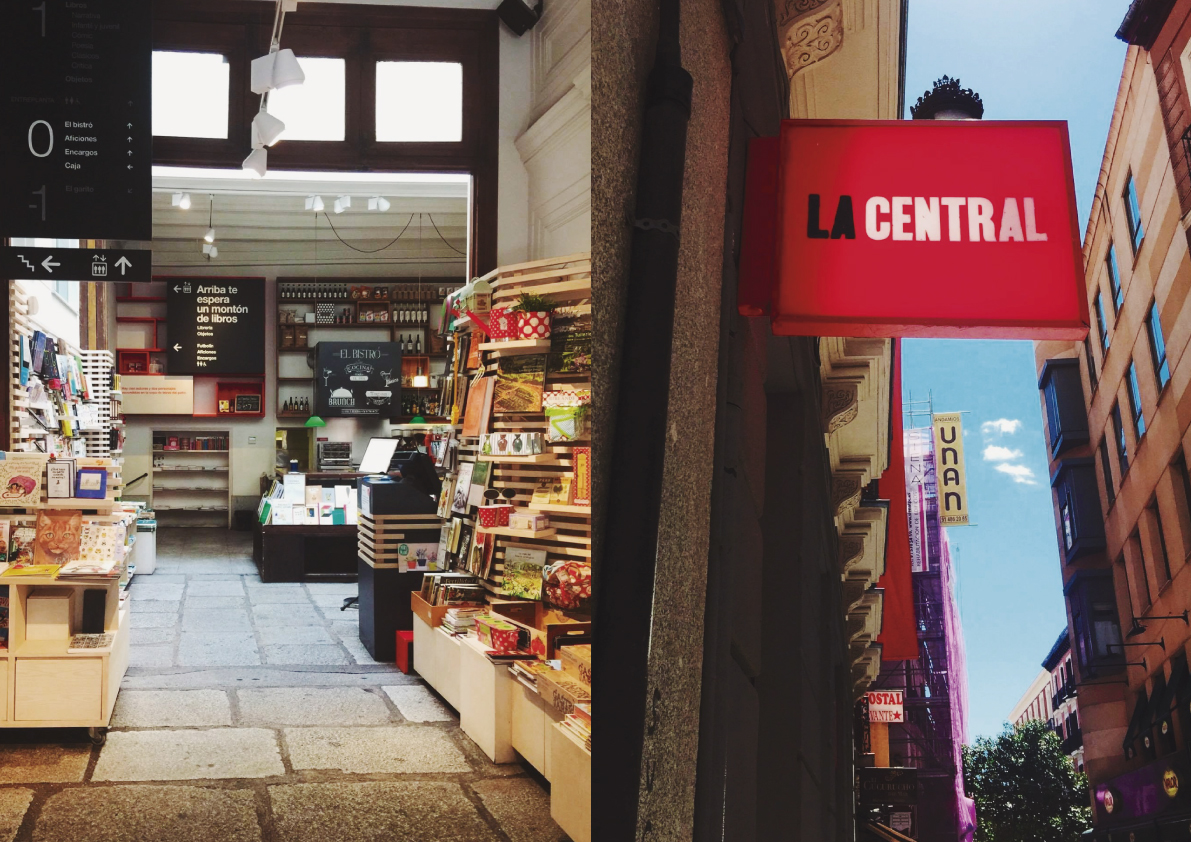 This amazing space is a tribute to the seventh art. Besides books and a cozy café you can also find movies, posters (many of them autographed), and all kind of amazing memorabilia and art objects from all over the world but specially from Spain, of course.
This is a very special bookstore selling comics for children and grown-up children. American, European, Japanese, independent, there's a bit of everything. Collectors and 'frikis', welcome home!
This minimap is -by now- the only one that have 8 featured spots but only because this last one is a seasonal one, but also the reason we're releasing this minimap today. From the 27th of May until the 12nd of June in the lovely Retiro Park, Madrid hosts its wonderful Fair Book. This year the invited country is France. If you're around the city these days, maybe you should start this whole tour right here!
.
Ready to visit the most charming bookstores in town, go crazy and read, read, read?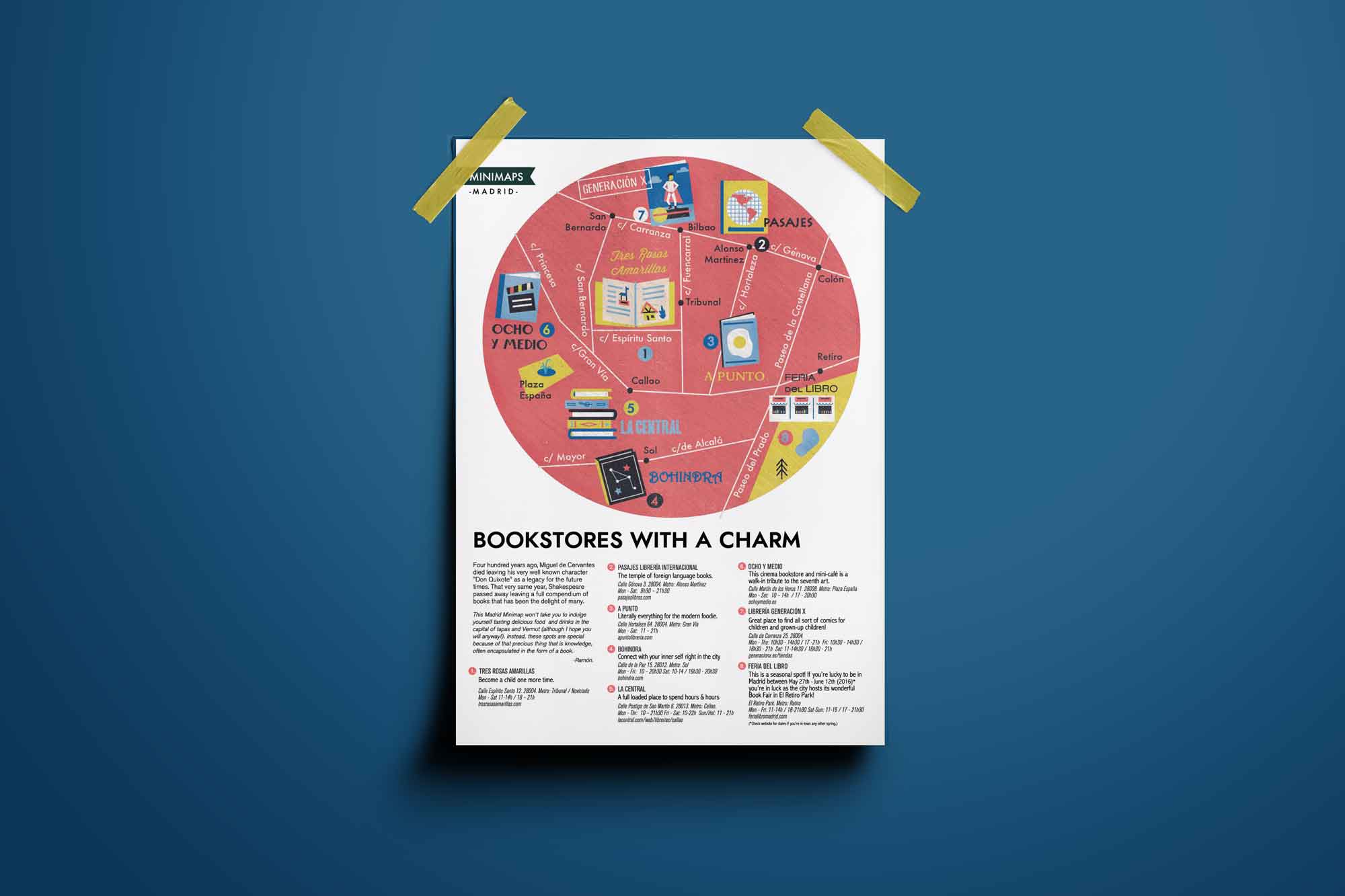 To share your photos with other minimappers, please use this hashtag #superminimaps in Twitter and Instagram!
–
♥