.
Por alguna extraña razón en todo este tiempo nunca había subido a Navacerrada. Creo que en mi mente un sitio a 1200 m de altitud, en la ladera sur de la sierra de Guadarrama con pistas de esqui tenía que estar lejos de Madrid o ser de difícil acceso, pero resulta que no, que está apenas a 40(-ish) minutos (en coche, sin tráfico), y que además de ser fácil llegar, el sitio es precioso. Entre las cosas bonitas de 2020 quedará definitivamente esta visita a Navacerrada.
For some strange reason in all this time he had never climbed Navacerrada. I think that in my mind, a site at an altitude of 1200 m, on the southern slope of the Sierra de Guadarrama with ski slopes, had to be far from Madrid or be difficult to access, but it turns out not, it is barely 40 (- ish) minutes (by car, no traffic), and in addition to being easy to get to, the site is beautiful. This definitely will be one of my happy memories of 2020.
.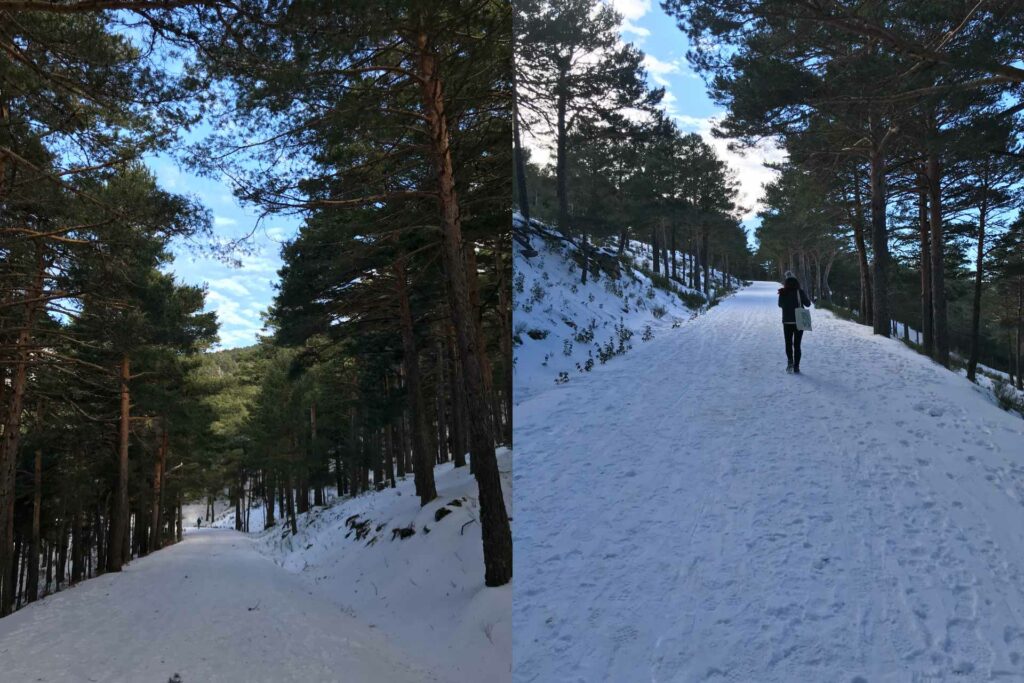 .
La caminata por la montaña la hicimos por la entrada del Monte Pinar de la Barranca, unos 10-15 minutos antes de llegar al Puerto de Navacerrada. Un sitio maravilloso, poco concurrido con miradores a varias alturas, perfecto para diferentes aguantes.
We hiked up the mountain starting on the entrance of Monte Pinar de la Barranca, about 10-15 minutes before arriving at Puerto de Navacerrada. A wonderful place, not crowded at all, with viewpoints at various heights.
.
.
Había gente que subía para luego descender con esquíes. Otros suben con bastones para nieve, otros con botas especiales, pero la verdad es que estando bien abrigado y con unas botas decentes se puede hacer fácilmente el recorrido. ¡Había muchas personas paseando con sus perros!
There were people who went up and then descended with skis. Others climb with snow poles, others with special boots, but just with good regular boots and warm clothes you can easily make the journey. There were many people walking their dogs!
.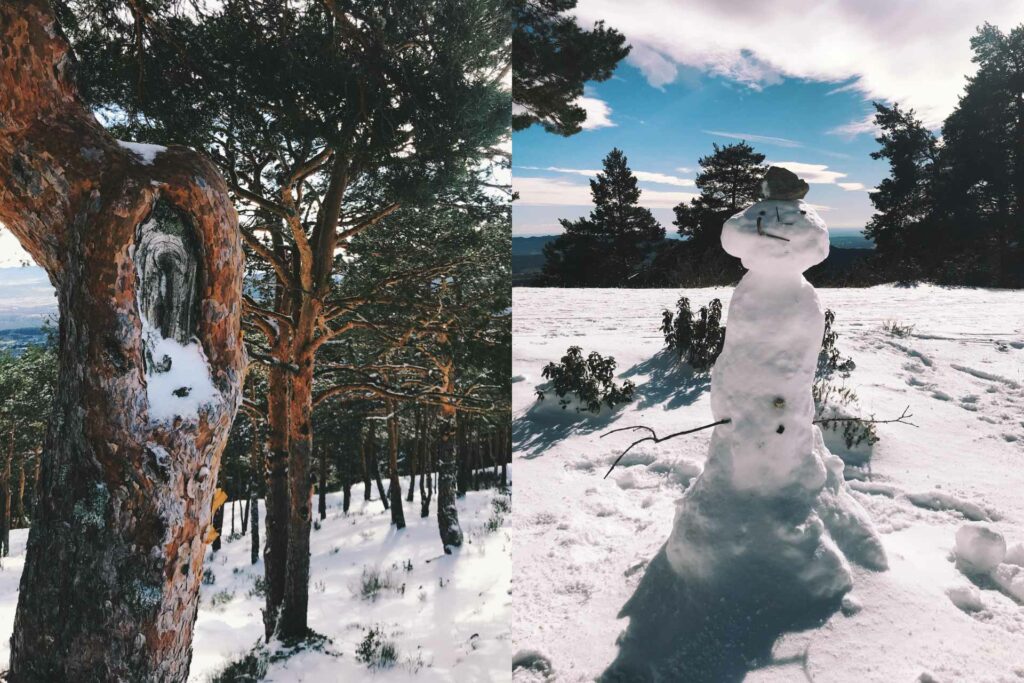 .
Navacerrada es famosa en Madrid entre los esquiadores, pero yo no esquío y este año las pistas y los negocios están cerrados, así que la visita a la parte de las pistas fue breve.
Navacerrada is famous in Madrid among skiers, but I don't ski and this year the slopes and surrounding businesses are closed, so the visit to the port was rather brief.
.
Me encantó ver un paisaje pintado de blanco bajo ese hermoso cielo azul característico de Madrid. Me encantó menos lo concurrida que estaba la locación (en comparación al otro paseo). Si vais de visita y queréis hacer un paseo tranquilo y relajante definitivamente recomiendo la caminata por el Monte Pinar de la Barranca. Si podéis ir entre semana, ¡mejor!
I loved seeing a landscape painted white under that beautiful Madrid blue sky. I loved less how busy the location was -despite everything being closed- in comparison to how peaceful was our previous hike. If you are visiting, I definitely recommend the wonderful stroll in Pinar de la Barranca.
.
To share your photos, ideas and tips with other minimappers, please use this hashtag #superminimaps in Twitter and Instagram!
♥
.