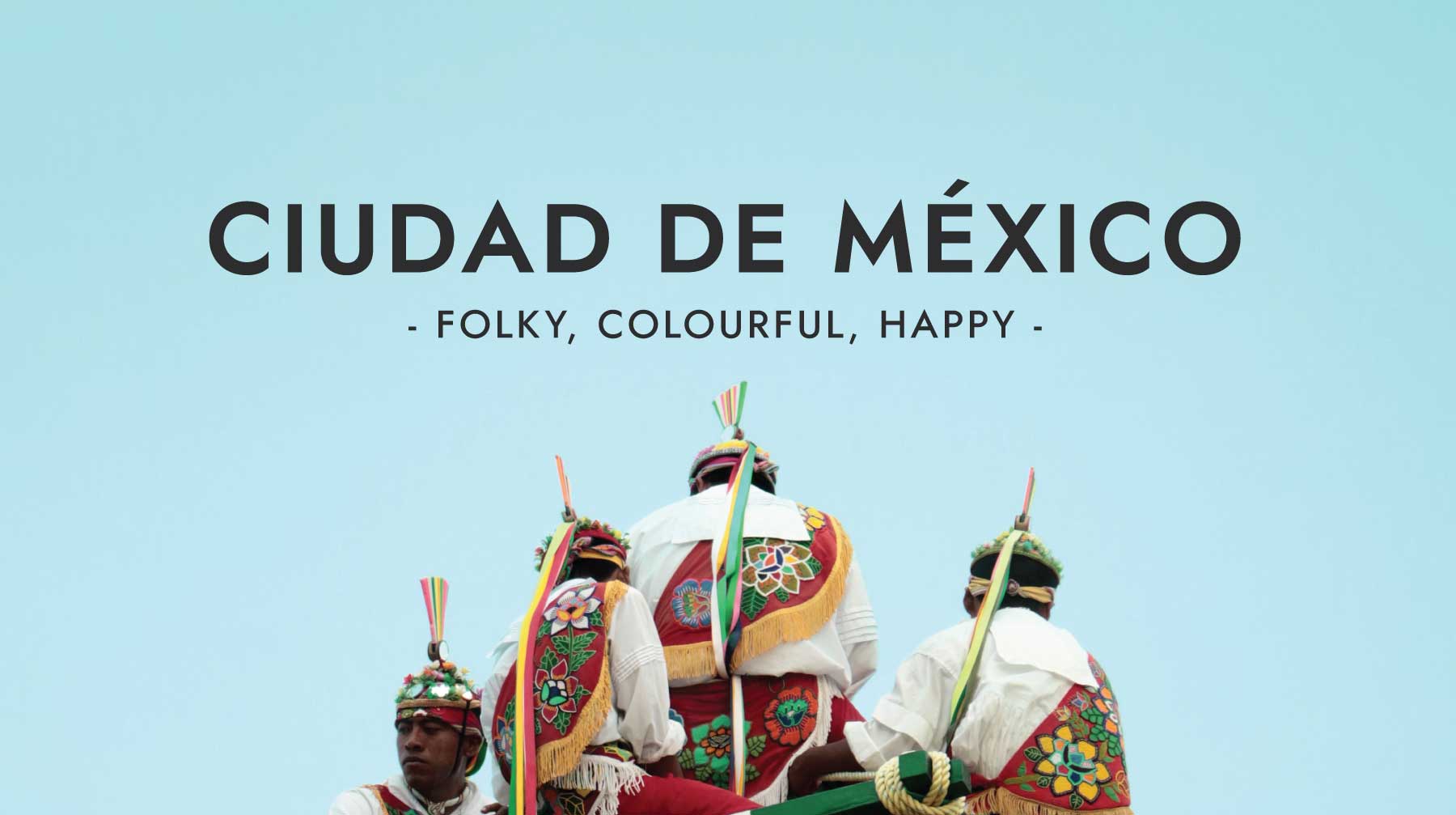 [symple_column size="one-third" position="first" fade_in="false"]
Mexico Lindo y Querido! is a magic city with over 20million people, so possibilities are literally endless. Although is a massive and modern city the past and traditions are still fresh, you will run into shamans practicing magic spells close to very posh shops.

Edited and illustrated by Victoria Fernández.
[/symple_column]
Every subway station has Aztec pictograms showing its name, Lamborghinis and donkeys can be seen on the same highway at the same time. Basically every corner is a cultural contrast, a beautiful unique mess that makes this city an amazingly rich place.
Mexico is well know for its colourful naive folk art, this minimap invites you to visit 7 cute and special places across Mexico City that are true voices of this happy side of Mexican culture. Art, flavours, memories and colour are the center of this route.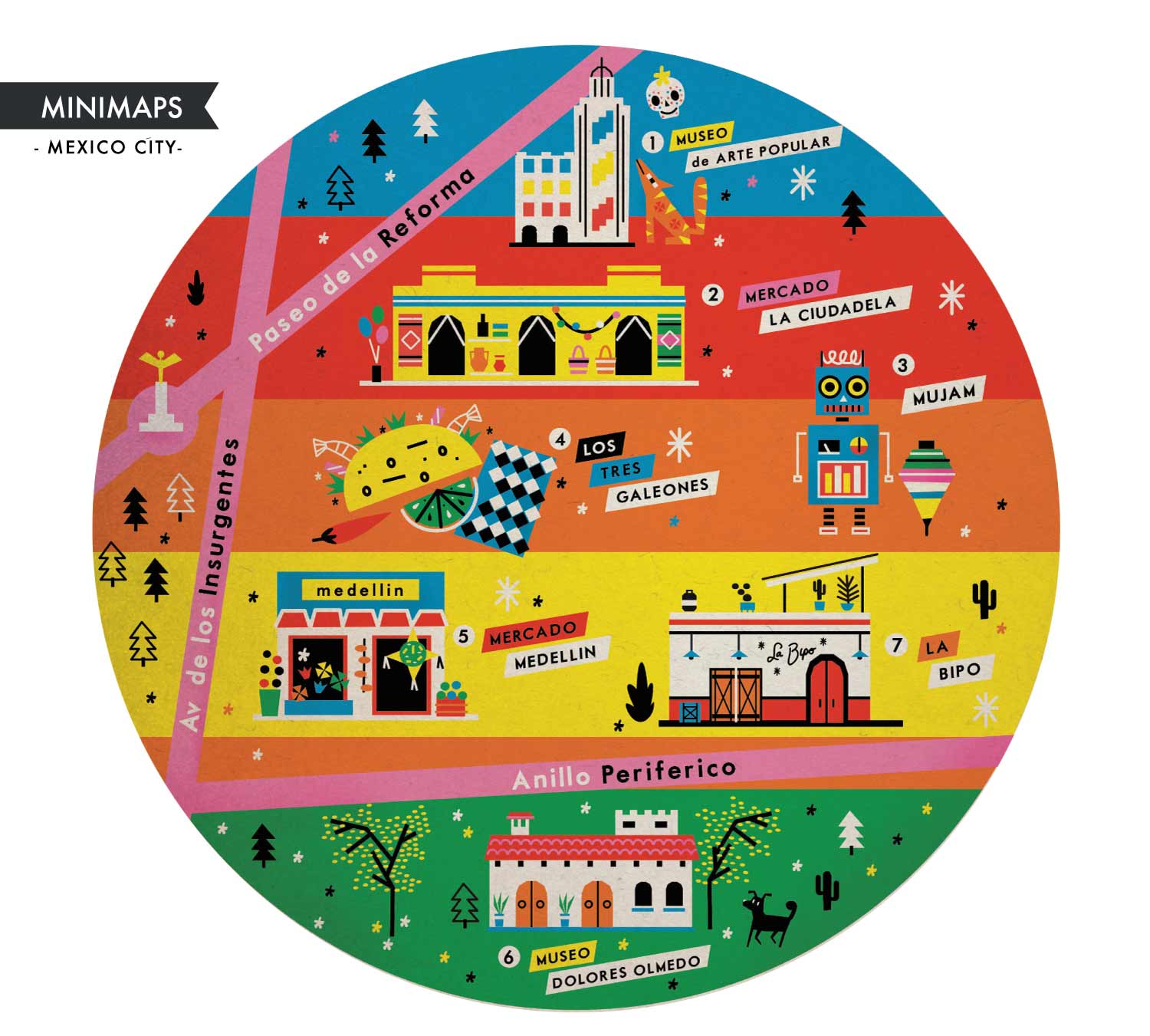 Free to download and ready to print!
[symple_button url="http://superminimaps.com/wp-content/uploads/2015/06/Mexico_PRINT_2019.pdf" color="black" size="small" border_radius="1px" target="blank" rel="" icon_left="" icon_right=""]Download[/symple_button]
Located very close to El Zócalo and the Palacio of Bellas Artes, is a great spot to start this tour across Mexican folklore. The museum host the biggest collection of Mexican art crafts and costumes, so visiting this place is like taking a fast trip around the entire colourful country and learning about Mexican culture. The Calaca's alley is a must see as well the giant Huichol installation on the main entrance.
2. Mercado La Ciudadela
In this place you'll be able to buy almost everything you saw at the Museo de Arte Popular. Is a traditional market specialised in hand crafts, folk art and houseware. Prices are probably the best in town and usually the sellers don't take credit cards, so make sure to bring cash and always feel free to bargain. There are around twelve million people in Mexico that depend on crafts for their livelihood, many of them women, buying in this place means helping this people.
A very surreal experience, this place has a massive collection of toys that belongs to a Japanese family. The museum is located in a bit of a peculiar neighborhood, Colonia Doctores, but is worth visiting. The building is decorated with several street art interventions of local and international contemporary artists, and it's literally filled from floor to ceiling with thousands of Mexican and international toys.
The specialty: Fish Tacos! This is a very cute place located in the trendy Roma neighborhood. Is kind of fast food, very good prices and excellent quality. They have marlin burritos, shrimp taco and octopus tostadas among many others. The place is small, but very nice decorated, the floors are amazing and the small terrace is great.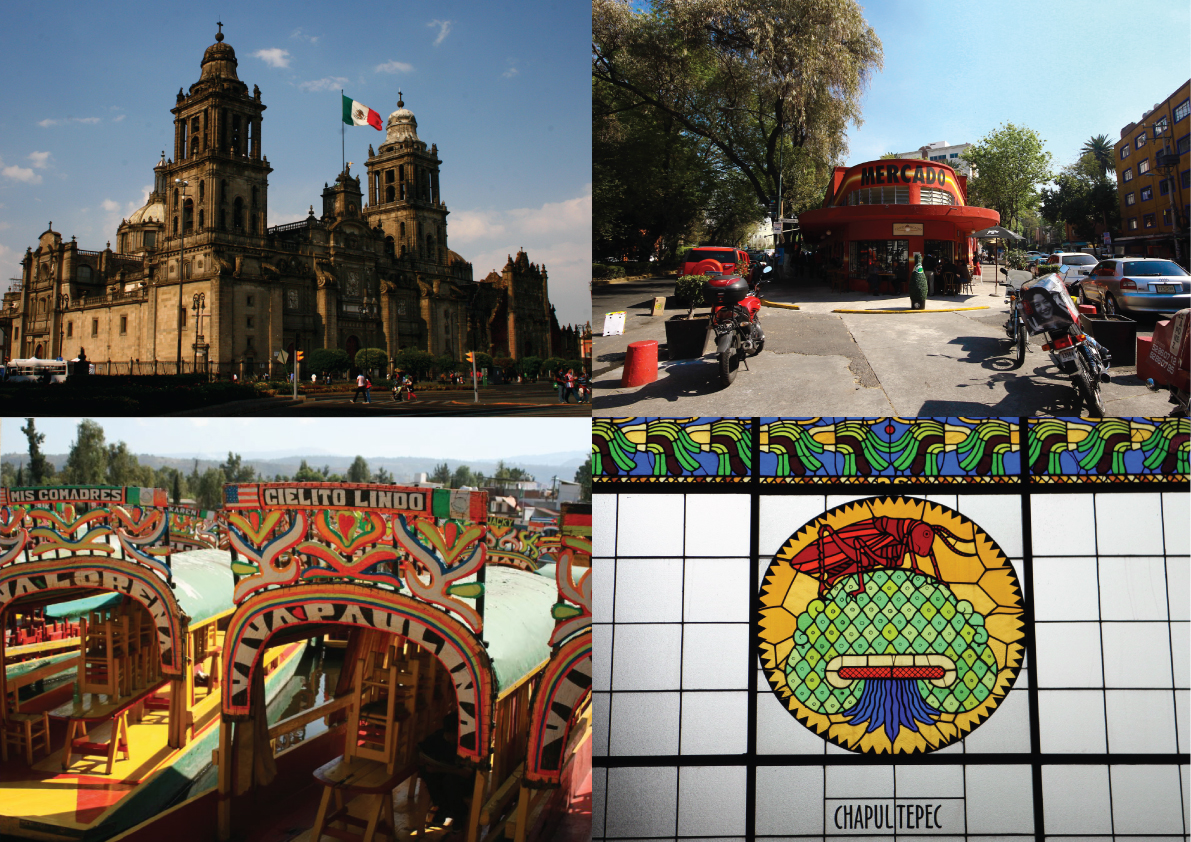 5. Mercado Medellín
Here you can have the real mexican market experience, here you can see regular costumers doing the groceries, but also getting piñatas, flowers, magic medicines, weird spices, living chickens and all kind of Latin products. Please try the fresh fruit juices and ice creams. Is messy, noisy but very happy and you will love it!
Close to Xochimilco, this is a classic Mexican hacienda that belonged to Dolores Olmedo, a great art collector and an aristocratic mistress of Diego Rivera. The house is filled with Riviera's and Frida Kahlo's works, you can also visit the private rooms that kept original decorations and the lovely gardens with peacocks and Xoloitzcuintles ( unny Mexican hairless dogs).
This hipster cantina, located in Coayacán and owned by Diego Luna, resembles traditional Mexican bars, mezcales and tequilas are served as well many sorts of tacos and Mexican dishes. It is definitely a funny place with live music great for having drinks and good food.
Are you ready to discover the colours and magic of this massive and amazing city?
Download your Ciudad de México minimap here.
[symple_button url="http://superminimaps.com/wp-content/uploads/2015/06/Mexico_PRINT_2019.pdf" color="black" size="small" border_radius="1px" target="blank" rel="" icon_left="" icon_right=""]Download[/symple_button]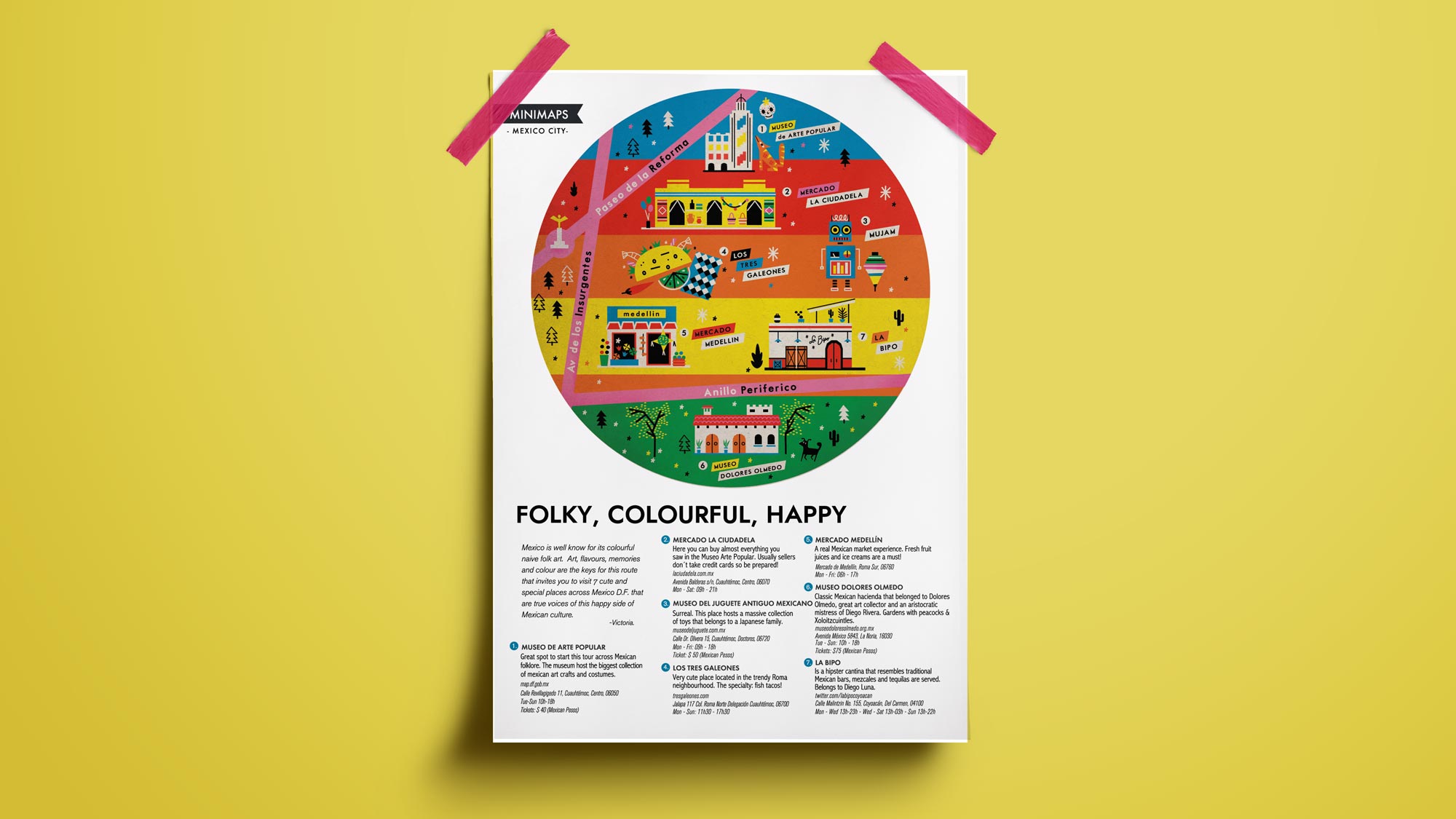 Cover photo: (Bi)Centenario by Alejandro Mejiía Greene.
To share your photos with other minimappers, please use this hashtag #superminimaps in Twitter and Instagram!
♥