A Weekend por Sevillanas: Sevilla
La Torre del Oro in Sevilla right by the Guadalquivir river | Photo: Ana Laya.
Let's start by saying that all of Andalusia is amazing. I've just started discovering this part of Spain, the wonderful south, and I'm absolutely in love. One of the most iconic cities in Andalusia is of course Sevilla, the walled city with a very rich history and architectural heritage and place of birth of flamenco.

Traveling to Sevilla is recommendable at any time except July and August, unless you're really really into hot weather. Really hot weather. There are two massive celebrations in Sevilla, Holy Week and La Feria de Abril. If you're visiting in those dates is better to book your flights/trains/hotels in advance.
I only spend there a couple of days, but I didn't stop and I came back home absolutely inspired and wanting to discover (and eat!) more. Sevilla definitely has a very special colour!
Edited & illustrated by Ana Laya.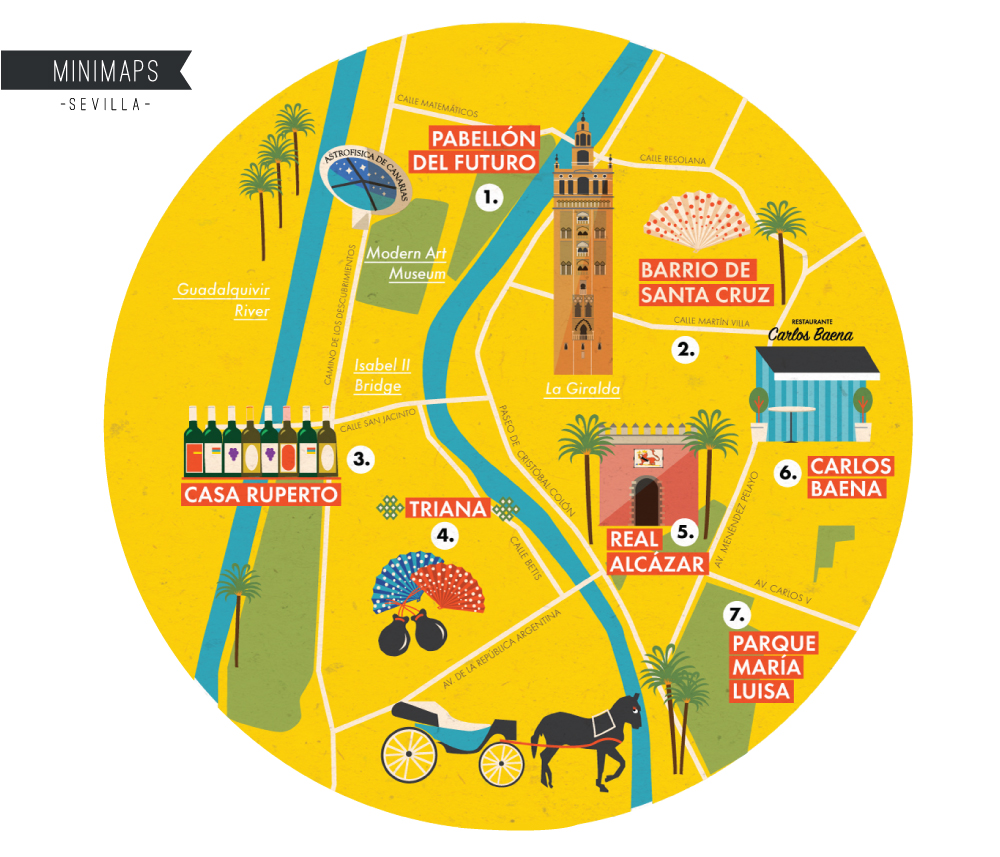 1.Pabellón del futuro: Remember the World Expo Sevilla 92? Well, around that area is where everything took place. It's a bit of a ghost town, a weird one that look like a future city of the 80's… but that has a strange charm and the local government is actively trying of recovering the place, so go ahead and have a look at the new re-purposed pavilions.
2.Barrio Santa Cruz: This walled area around the city center is ideal to stay if you only have one weekend and you don't want to miss a thing. You'll be really close to everything but as this tiny streets are like a labyrinth you'll still have the chance to get lost and discover some secret squares, corners and lovely places. Also in this neighborhood there's the Flamenco Dance Museum, an 18th-century building housing museum detailing flamenco dancing history & culture that also hosts live shows.
3.Casa Bar Ruperto: Well this is a very simple but delicious place. Very local, zero pretensions. Their signature dish is quail but you can also enjoy other dishes and tapas. No chairs, only tables to stand around the locals, it's definitely the least touristic place I visited in Sevilla and it's perfect for a quick bite an a 'caña' to start your night out in Triana (:
4.Triana: This neighborhood is where flamenco was born and where you can enjoy it whether it is in small 'tablaos' or fancier shows. I prefer the first ones. Also, all along Calle Betis you have all sort of bars for every possible taste for a cocktail overlooking the lovely Guadalquivir river.
5.Real Alcázar de Sevilla: This palace was originally developed by Moorish Muslim kings around the 11th and the 16th century and it's an acrchitectural and it is one of the most outstanding examples of mudéjar architecture found on the Iberian Peninsula. It was named a World Heritage Site by UNESCO back in 1987 and in the popular culture is famous for being Dorne, the Palace where the Martells (used to) live in Game of Thrones.
6.Carlos Baena Restaurant: In one word: great. It's not a tourist trap, actually while I was there I was the only tourist. Their menu is filled with nice traditional yet innovative dishes to be enjoyed at a great price right off Santa Cruz neighborhood. Off the menu they have an ajoblanco that is an absolute must.
7.Parque María Luisa: This lovely public park is Sevilla's principal green area. The park was the site of the Expo 29, which had Plaza de España (another GoT location) as its centrepiece. Large enough never to feel crowded, the park is a delightful place for a quiet stroll, a kids' runabout, or romantic horse-and-carriage or boat ride.The most outstanding of its squares are the Gustavo Adolfo Bécquer, the Hermanos Quintero and the one dedicated to the Infanta María Luisa herself. Its most important fountains are the Lions fountain and the Frogs fountain, and the most famous pools are the Lotus and Duck pools.

Ready for a really great weekend in lovely Sevilla? Download your minimap here!
Lovely roofs over the Barrio Santa Cruz.

You ride around the María Luisa Park in this lovely carriages. Also right by the Alcázar and La Giralda. Actually there are a lot of horses around Sevilla city center.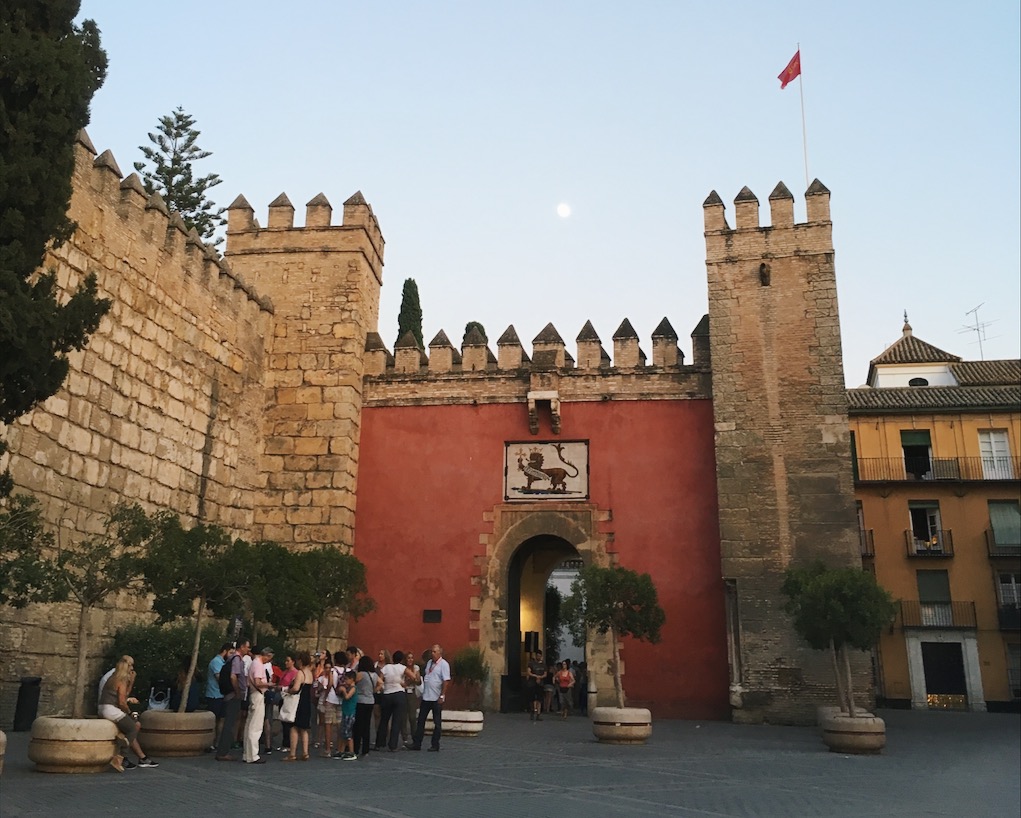 This wonder right here is the Real Alcázar on an almost full moon night.
Plaza España, a great structure that shows mosaic compositions of all the provinces of Spain.
Save
Save
Save
Save
Save
Save
Save