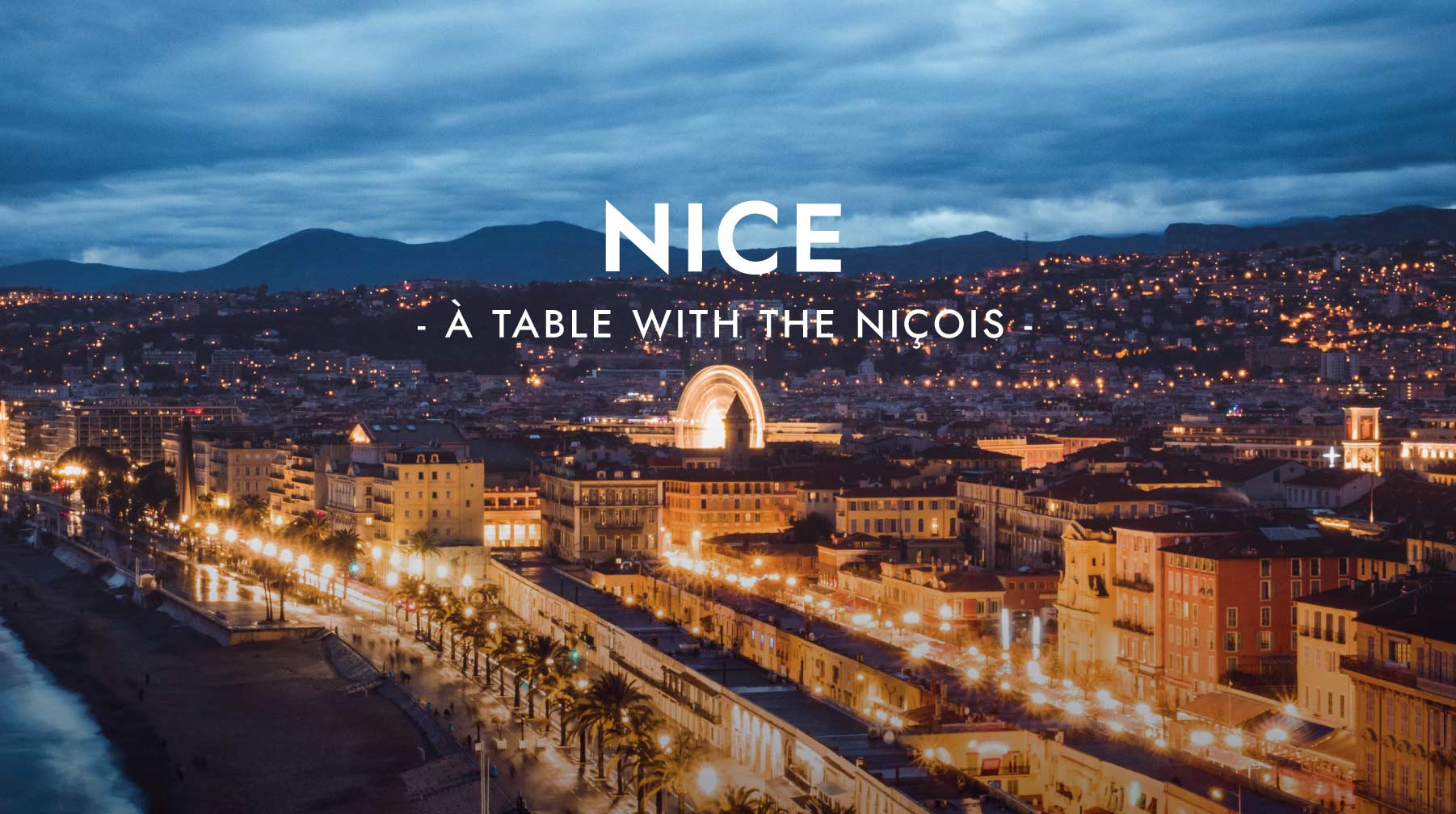 Behind the blingy glam of the French Riviera, Nice hides a true local soul. The 5th largest city in France offers an unparalleled quality of life and a dynamic culinary scene. Ditch your travel guides, forget the tourist traps and experience Nice's real local vibe with these 7 unmissable foodie spots!
.
Whilst I now live in London, I grew up in Nice and love to go back to reconnect with my Mediterranean roots. What do I miss the most? The sea, the sun and… the food! From the French bakeries to the new trendy restaurants and the lively atmosphere of the food markets, Nice is full of beautiful culinary surprises that I always look forward to discovering or rediscovering.
Let's be honest: in a touristy city like Nice, it is easy to be disappointed by overrated or overpriced spots. Yet, by exploring less central neighborhoods, going beyond Trip Advisor ratings and following the advice of locals, you'll find an authentic and generous food scene.
Edited by Adrien Giacchero & illustrated by Victoria Fernández.
Cover Photo: Joachim Lesme / Unsplash.
.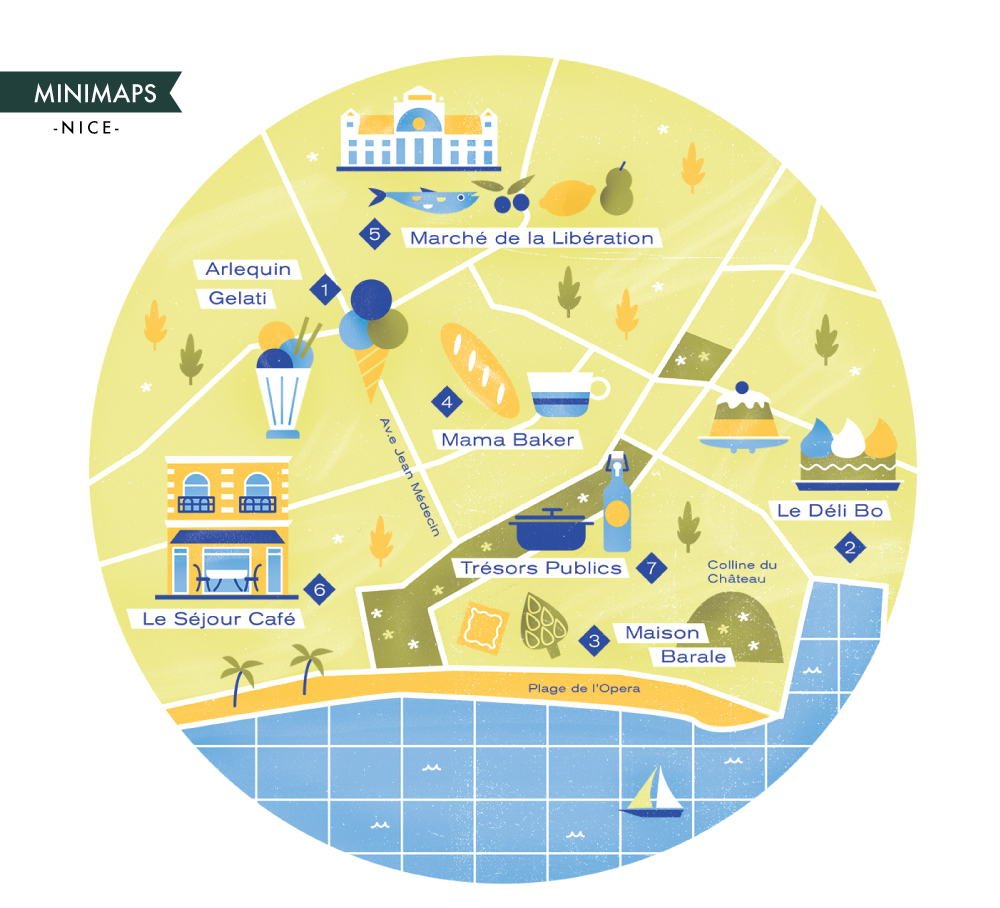 .
Arlequin has been elected nothing less than the best ice cream parlour in France. Do we need to say more? Ice creams and sorbets here are made using fresh and seasonal ingredients and contain no artificial colourings or conservatives. What's great about Arlequin is that customers are always invited to try different flavours before ordering! A great way to help choose between the multitude of tempting flavours, from Sicilian pistachio to saffron or lemon & ginger.

.
If you have a sweet tooth, head straight to Déli Bo and indulge in some of Nice's best cakes and pastries. My favourites? The tarte tropézienne, a succulent cream-filled brioche from St Tropez, the litchi and raspberry macaron and the classic millefeuille.
The Déli Bo team also has a popular restaurant located on rue Bonaparte, next to the trendy Place du Pin.

.
Unmissable stop for pasta lovers! Maison Barale is a family institution founded in 1892 that has been carrying on the tradition of pasta making for four generations. The Old Town shop offers a great selection of fresh pasta, from the traditional daube beef stew ravioli to gnocchi and more creative options such as the surprising lemon and ginger ravioli.
.
This so-called "epicurian bakery" has a great selection of artisanal and organic products. It's the perfect place to stock up on breads, cakes and brioches for a dinner at home or a picnic in the sun. It is not uncommon to queue for a bit… which will give you more time to make your choice amongst all the wonders displayed in the window!
Don't miss the Norwegian fruit bread, the orange blossom brioche and the addictive chocolate and almond cookies. You'll also find a good selection of savoury snacks, such as pizza and focaccia.

.
5. Marché de la Libération
Whilst tourists tend to flock to the colourful Cours Saleya market, locals much prefer the buoyant atmosphere of the sprawling marché de la Libération, open from 6am to 1pm daily (exc. Mon). Get lost in the hustle and bustle of this true Mediterranean market and discover the very best of the Nice region products, from the funny courgettes trompette to the small Nice black olives and lemons from the hinterland.
Feeling hungry? Try the socca, a typical chickpea pancake, at Socca Tram or choose from the many stalls of the lively Gare du Sud food market located in a former railway station..
.
There are a lot of good restaurants in Nice, but my favourite is this small and unpretentious address at the heart of the Carré d'Or. Le Séjour Café offers a modern French cuisine with a Mediterranean touch in a cosy and intimate setting. What I also really like about this place is the truly excellent service. Make sure to book ahead!

.
This cute boutique, located a stone's throw away from the magnificent Sainte-Réparate cathedral, has everything to make foodies happy. Its particularity? All the products on display are 100% made in France! Treat yourself among the fine selection of tableware and kitchen accessories including cast iron casserole dishes, madeleine moulds and elegant tea towels. The shop also stocks up a nice range of food products from Ardèche chestnut spread to Nice PDO olive oil and authentic Dijon mustard. Expect a warm welcome from the two friendly owners, always keen to tell a story about their suppliers.
.
Already hungry? We are!
.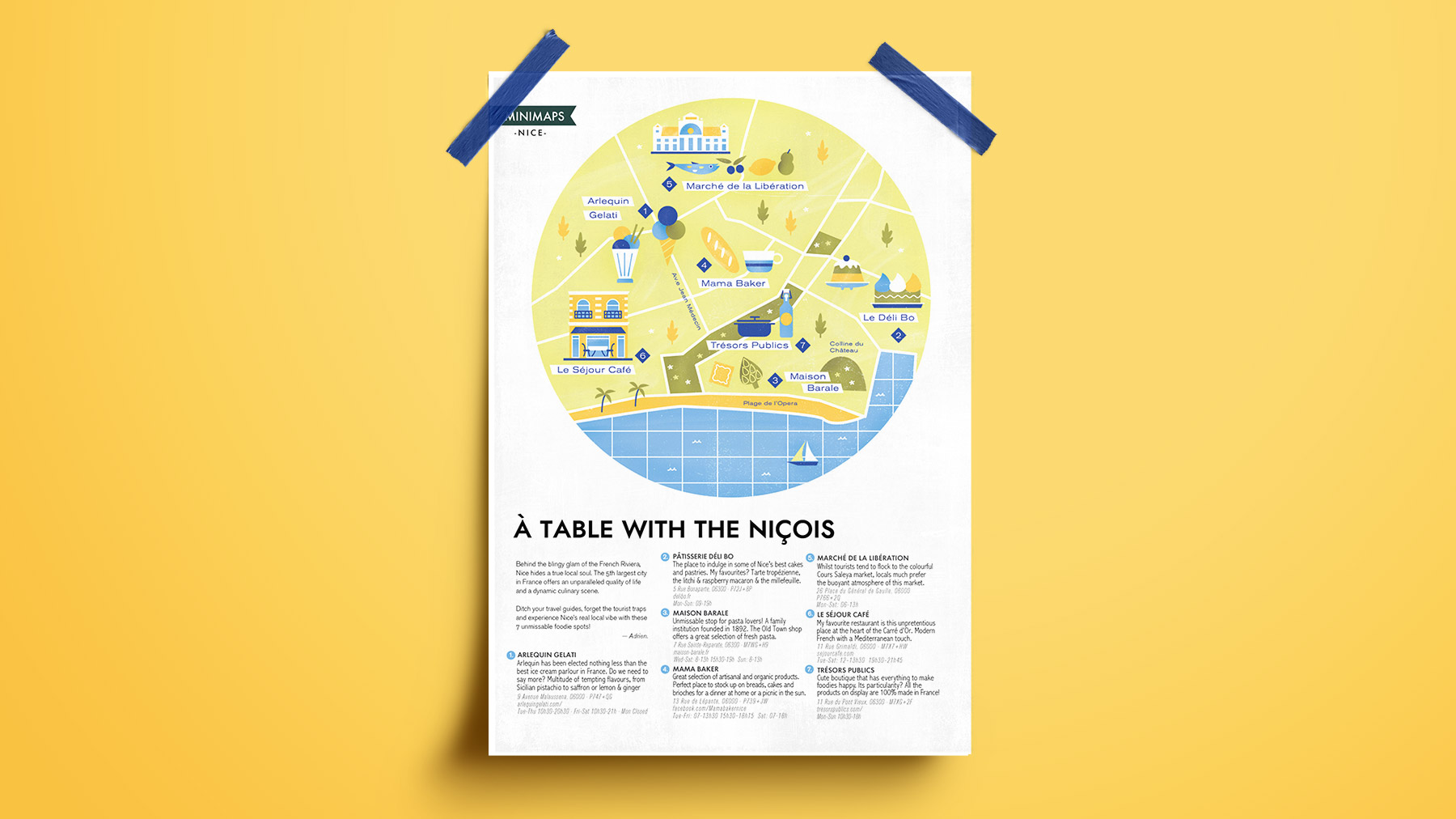 –
To share your photos with other minimappers, please use this hashtag #superminimaps in Twitter and Instagram!
♥
.
.