If there's one thing people from Madrid are really proud of is the city's sky. That shade of blue is absolutely unforgettable, it's deep and intense and shinny and it's always there, even during winter time (insert standing ovation here).
With that being said, we have to add then that that "rooftop time" is all the time in Madrid, given its wonderful clear skies with little to no-rain forecasts all year long (Madrid is a desert, when it finally rains people is thankful, isn't that just wonderful?). But obviously when it's warm outside and we have summer specials, a relaxed holiday mood and when happy hour comes up to two hours before the sunset… enjoying the city a little bit closer to the sky can be dreamy.
This minimap will show you seven different rooftops terraces in Madrid that are not necessarily the same that every travel guide mentions (not that there's anything wrong with them, but someone already did that job). Each and every one of this terraces is special for a different reason and there's one for every taste. Enjoy them!
Edited by & illustrated by Ana Laya.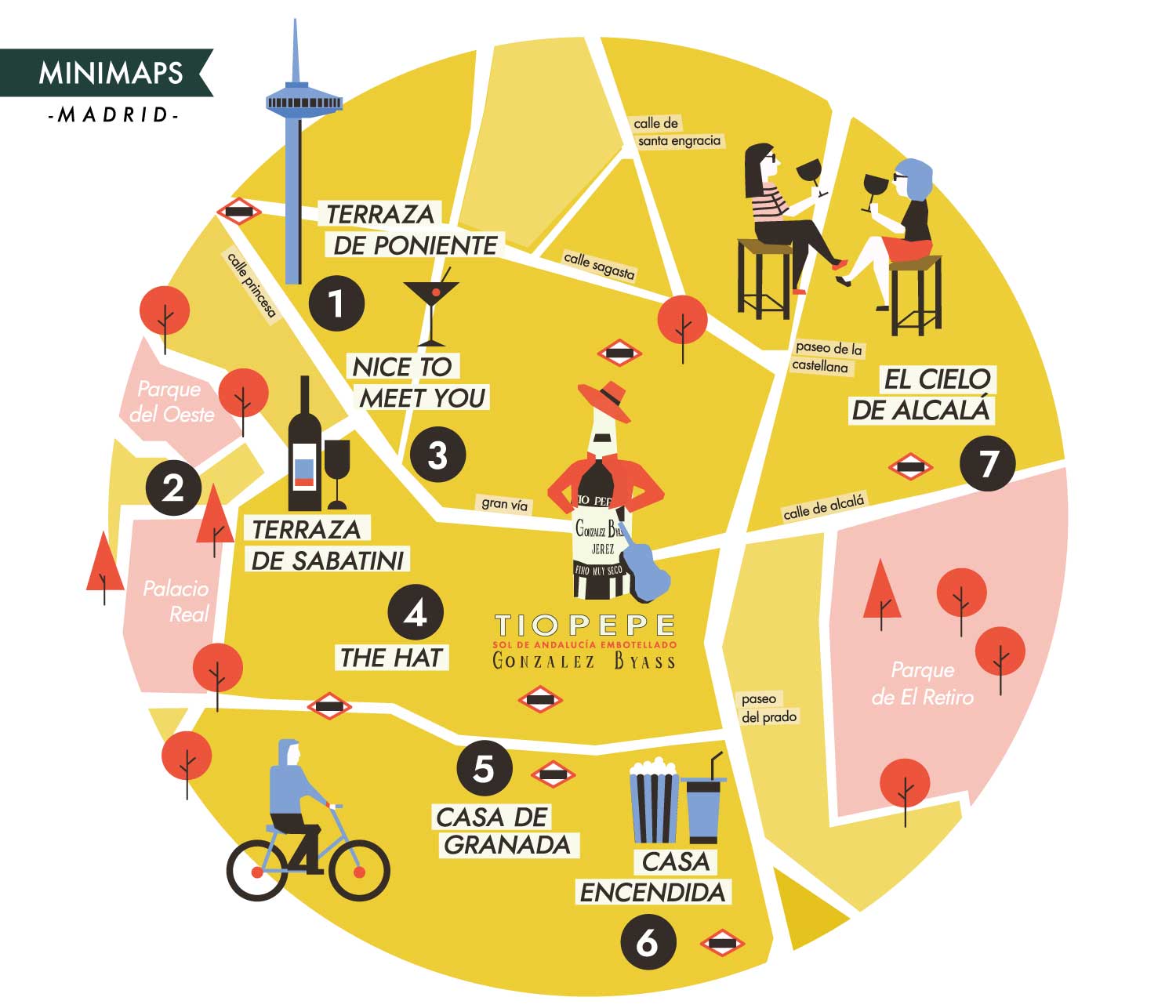 1. Terraza de Poniente
If you're staying in Chamberí neigbourhood, then this is your local rooftop. A modern terrace, located on top of the Exe Moncloa Hotel. You'll have a look at not so typical views of Parque del Oeste, one of our Unconventional Musts in the city, the Faro de Moncloa, Parque del Oeste, Ciudad Universitaria, El Pardo and finally the Sierra de Guadarrama. Yes, this is where the city ends. Also, being a bit far from the center means: it's not so crowded. Enjoy!
*OPEN FROM MID-JUNE TO OCTOBER. More info here.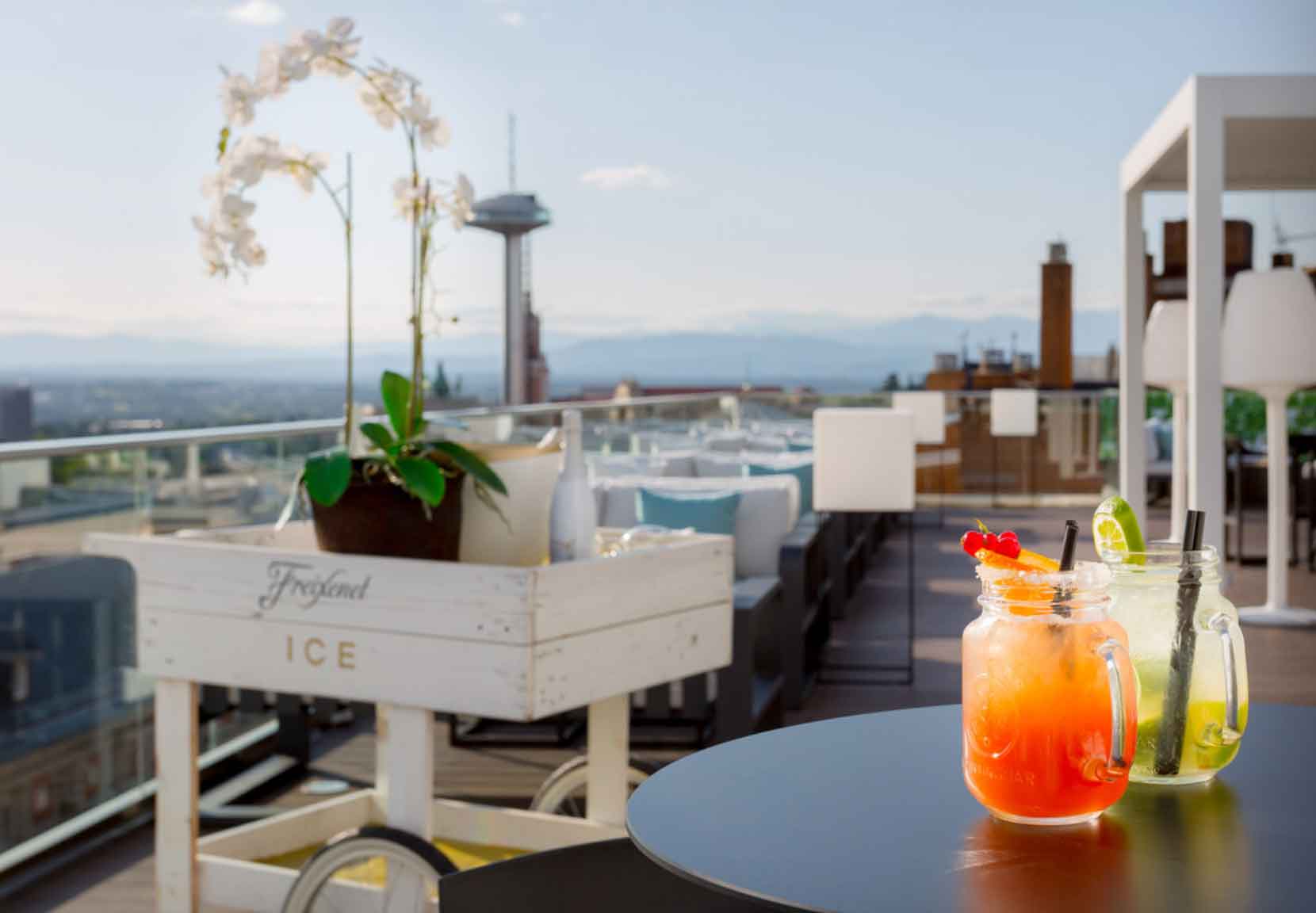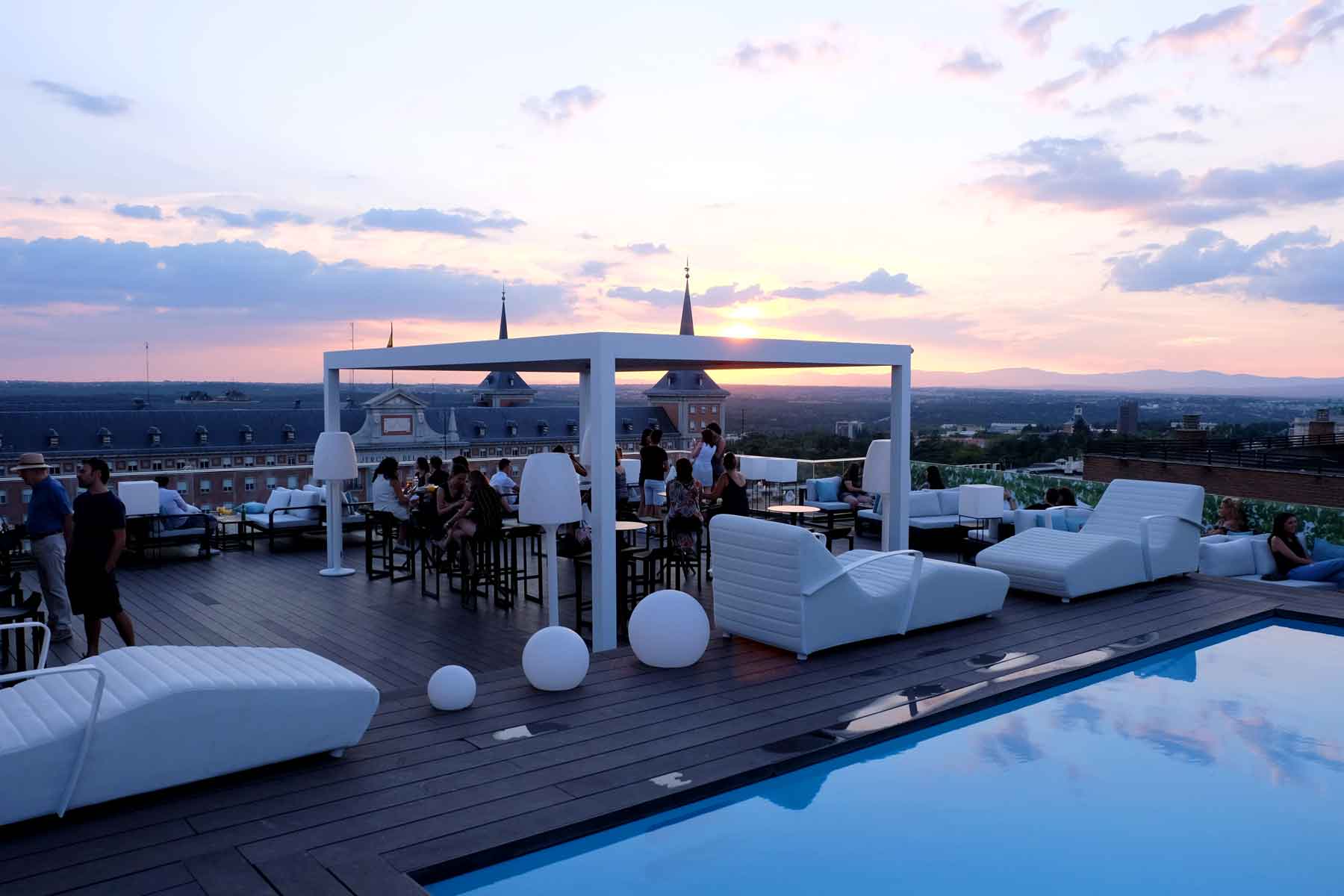 2. Terraza de Sabatini
This rooftop made the cut because that view is hardly found anywhere else. The Terraza de Sabatini, located on top of Jardines de Sabatini apartohotel and is right in front of the Royal Palace.
There's a minimum spending per person required, something that I've learned by minimapping around that is not so unusual in these kind of places during summer, but it's only 9€ the equivalent of a cocktail. Cheers!
*OPEN Fridays 16-23h / Weekend: 12-23h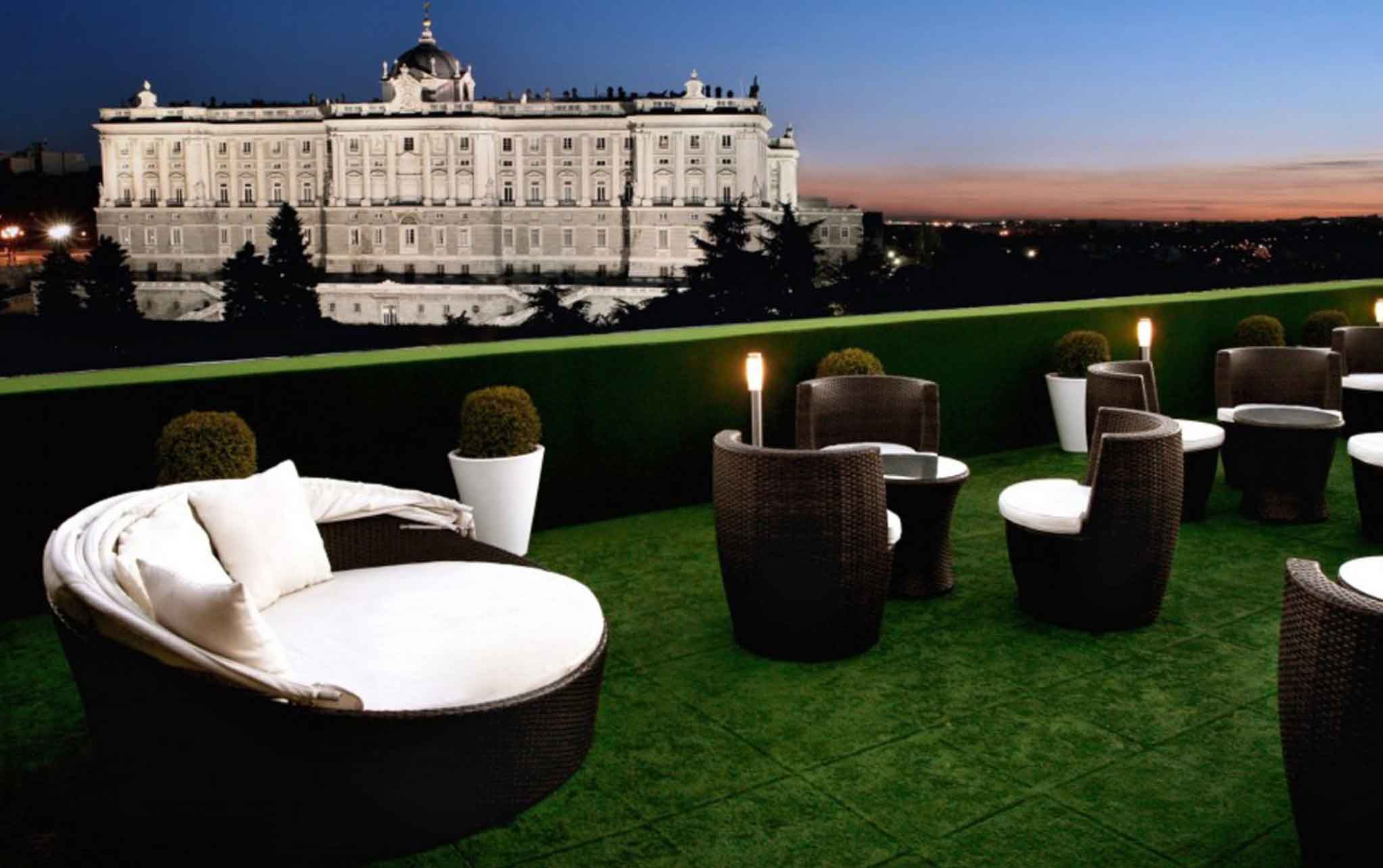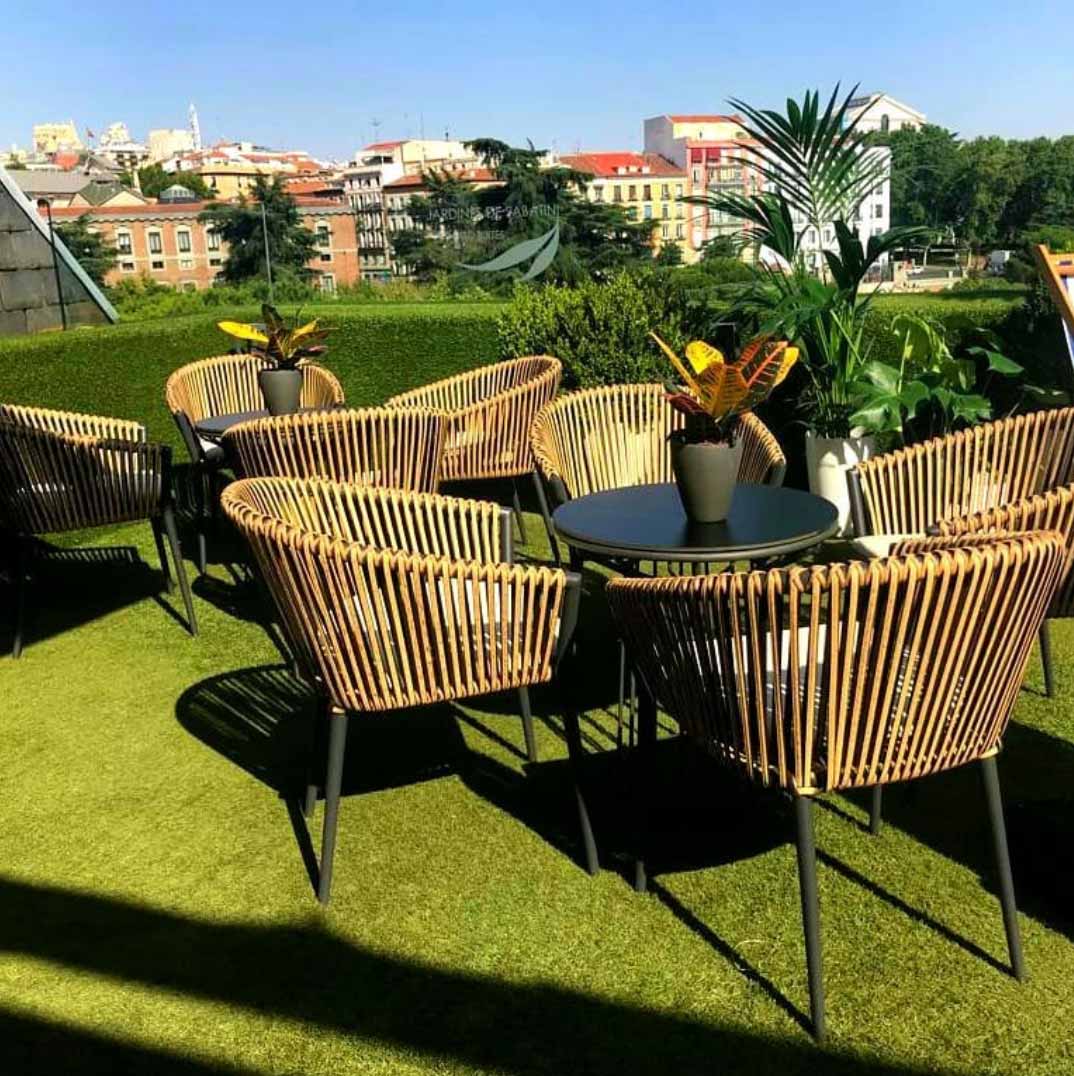 3. Nice to Meet You
This bar and restaurant is located on top of the lovely Dear Hotel. It's a urban garden or sorts with a laid out vibe. You have 360 views of the city, as it is on a 14th floor, very high for Madrid, so you can enjoy the wonderful Plaza España with the Casa de Campo and part of la Sierra on the background, that's where the sun sets. You can also enjoy part of the Gran Vía and the top of the most iconic buildings. You'll be surrounded by a young-ish, hip, relaxed crowd and the people staying in the hotel.
They highlight that the space had been designed "by Tarruella Trench Studio (AD magazine 2015 award) over the idea of an urban garden with plants and big terracotta pots, with a large terrace where you can enjoy one of most beautiful sunsets in Madrid."
They have DJs on the weekends. Cocktails are €12 and beers €4.50. You can make your reservations for the restaurant (located right below the terrace and still with gorgeous views) by phone or email.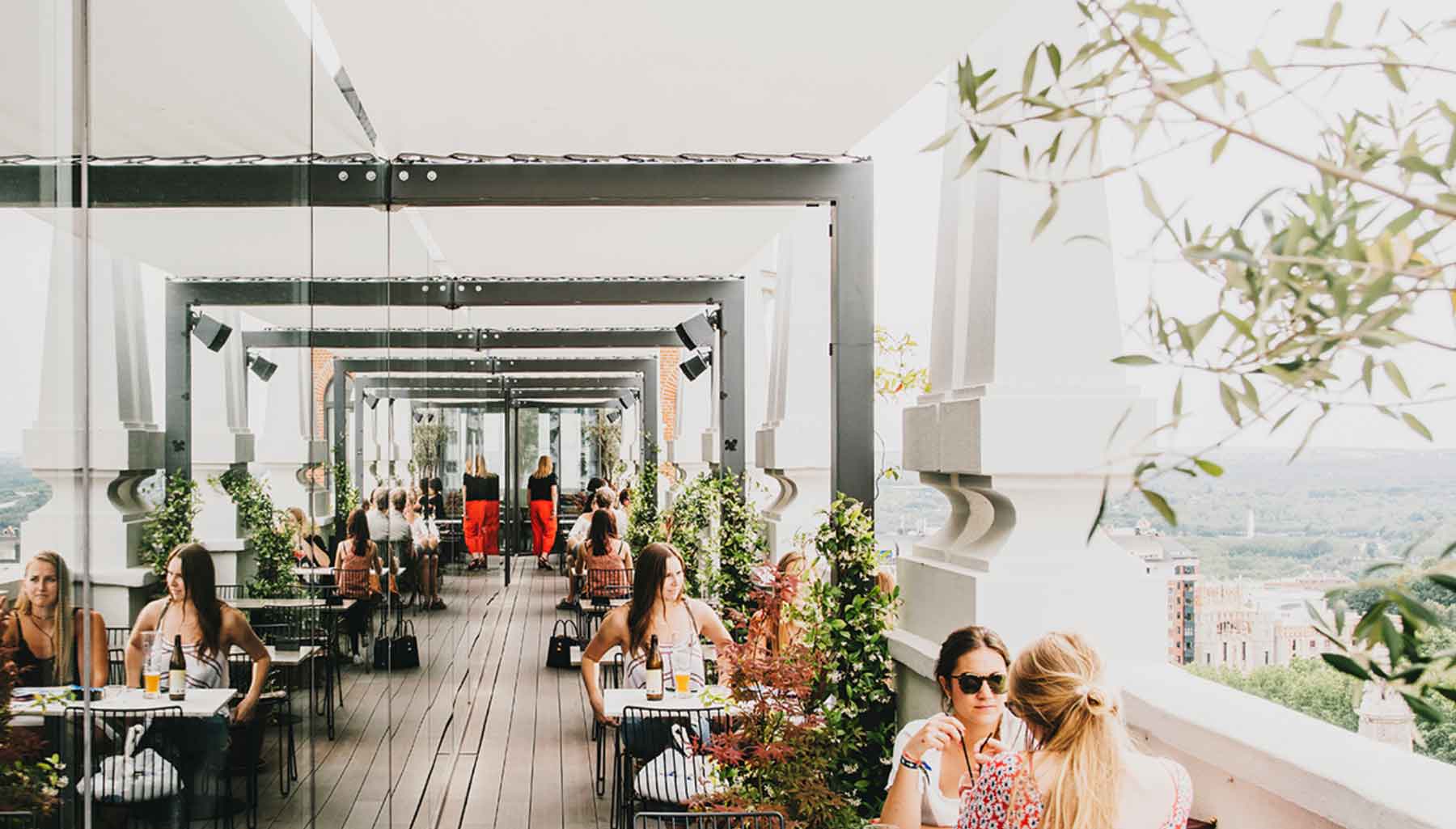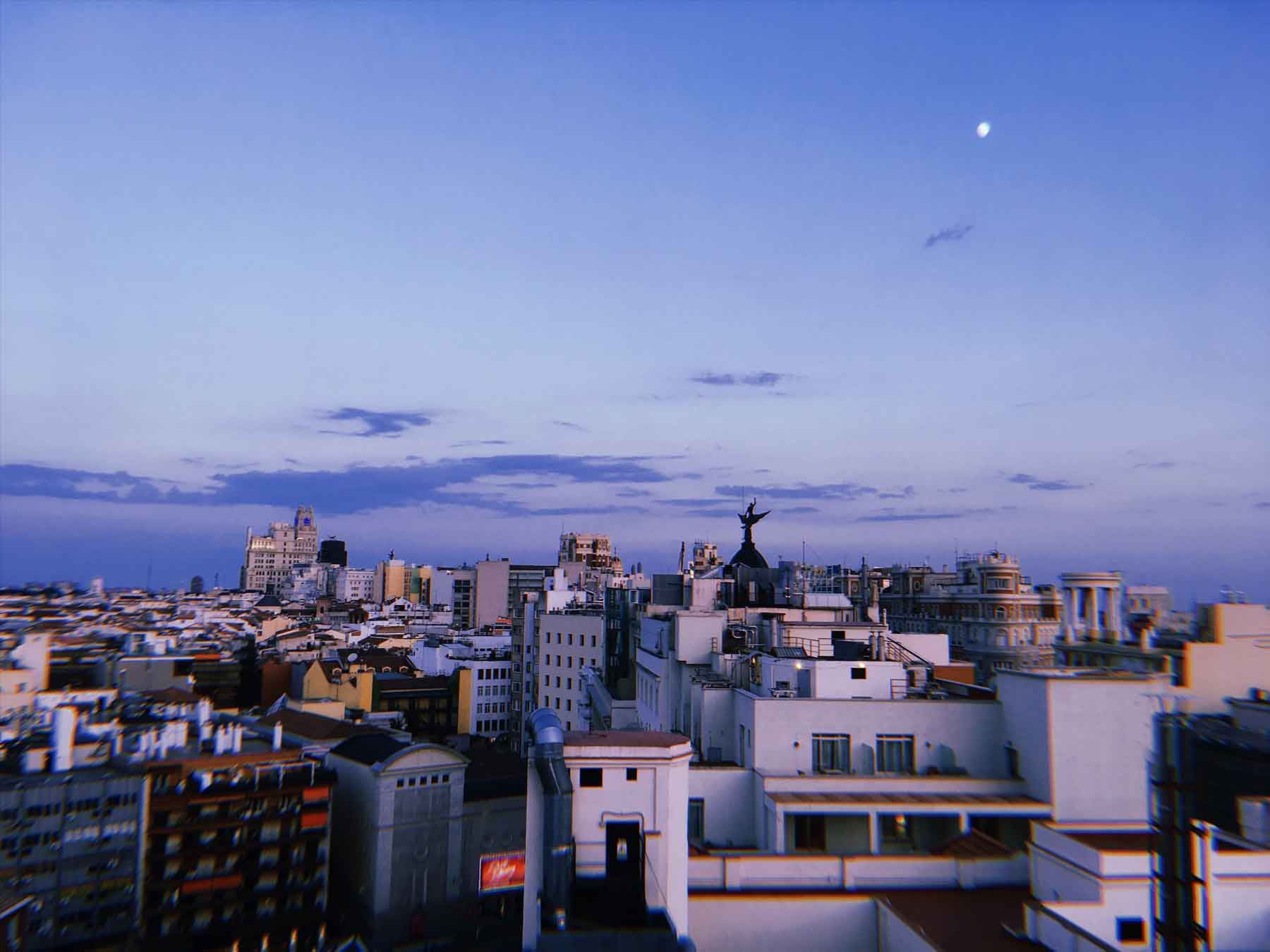 4. The Hat
Located on top of a very trendy and environmentally smart hostel right next to the Plaza Mayor there's this lovely, laid-back bar called The Hat. I discovered by mere chance one summer day when I was about to die of thirst and it was the oasis I was looking for, right in the middle of the busy city center!
They serve nice cocktails and tapas and a mean tinto de verano that you should definitely try. The views? The ancient tiled roofs of all the typical Spanish buildings surrounding you, so photogenic!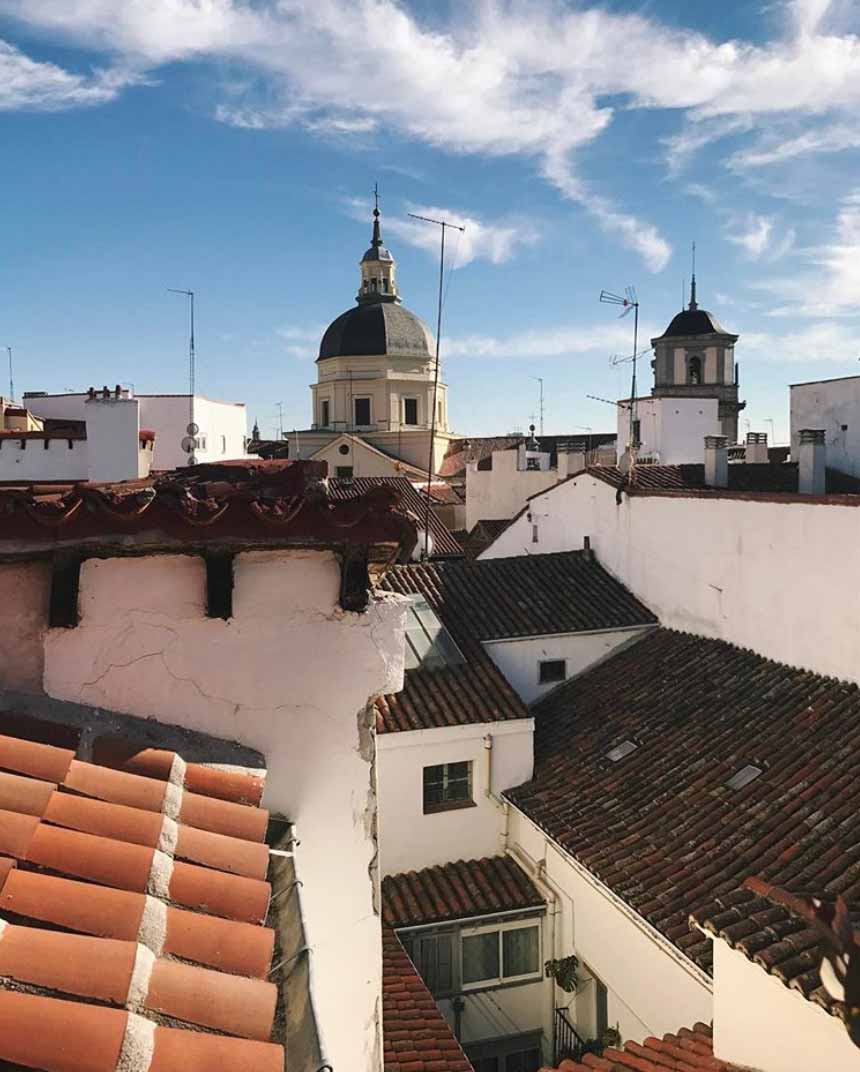 5. Casa de Granada
This peculiar rooftop is the most Spanish in the list, it's not a non-place sort of say as it couldn't be anywhere else but Spain. In Casa de Granada they don't care about trendy lightning and "signature cocktails", they offer cold beers, tasty tapas and dishes that are as delicious and generous as in Granada.
Sometimes they host live music events, generally classic music and flamenco. Have a leaflet there if you're interested (not very strong online presence).
Oh, and don't expect a big ad on the ground floor of the building, just a small sign on the intercom. You ring, they open. Voilà.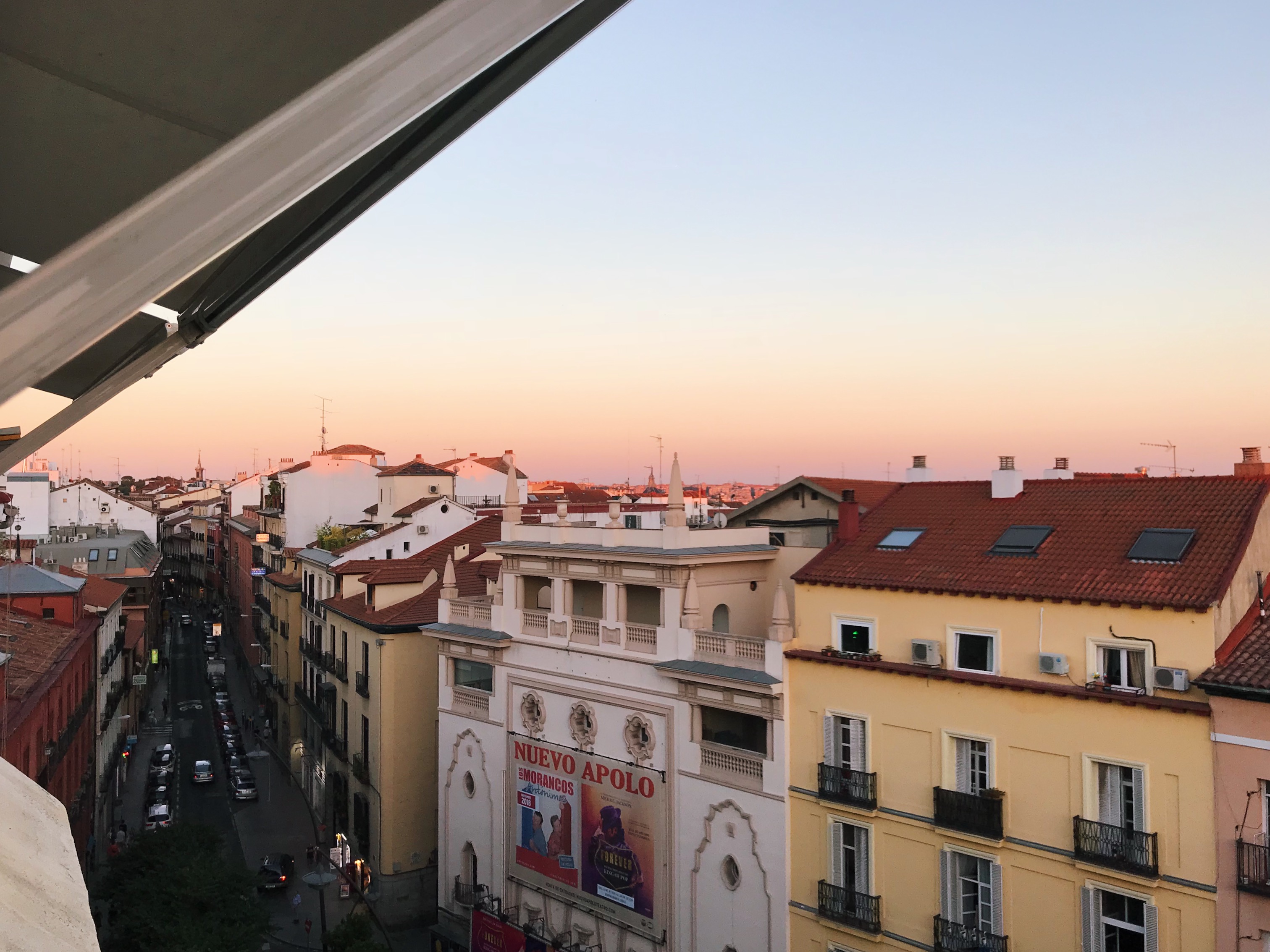 .
6. Terraza Magnética / La Casa Encendida
A drink and an indie movie or concert outdoors? Yes, please. This rooftop is located on top of La Casa Encendida, a modern multifunctional centre with contemporary art exhibitions, workshops & fair trade shop.
"Over the weekends in July and August, the Terrace at La Casa Encendida will magically transform into La Terraza Magnética with its customary programme of music and cinema"
To find out this year's program you'll have to take a look at their website.
*OPEN AIR CINEMA ONLY DURING SUMMER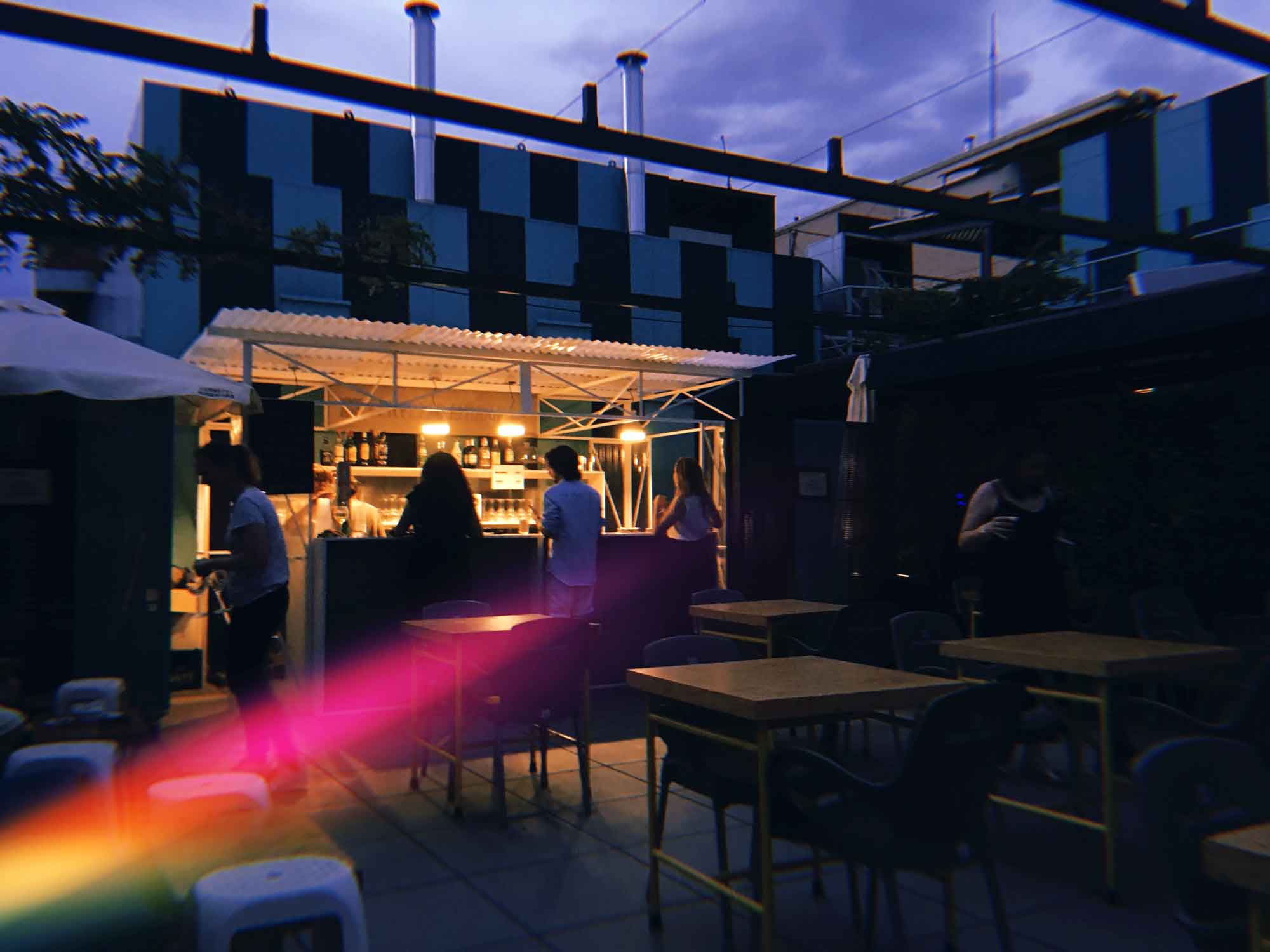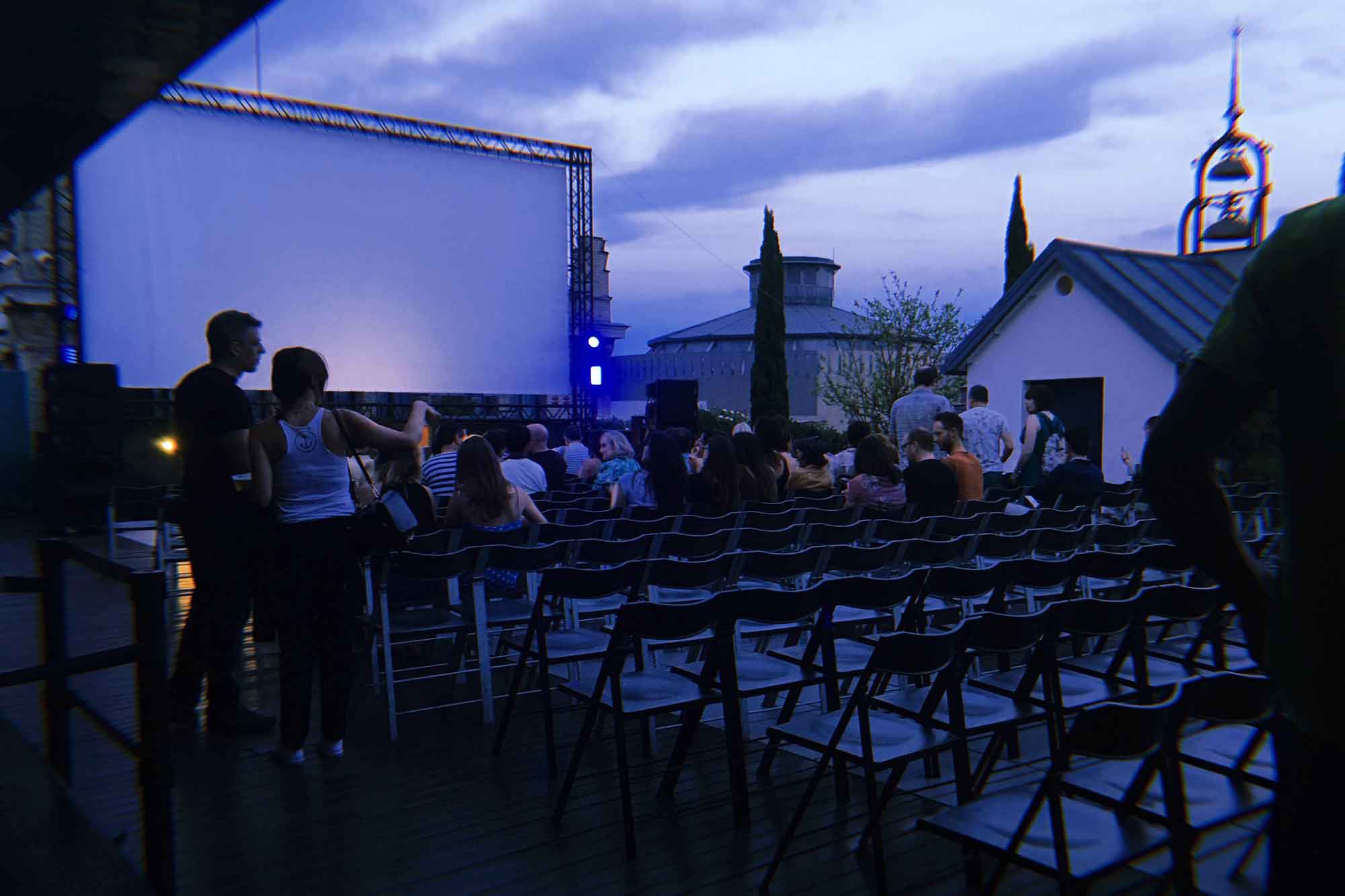 7. El cielo de Alcalá
This is a truly hidden jewel, because judging by the height of the building you'd never tell that such amazing views await. All of El Retiro park is right there for you, followed by la Puerta de Alcalá, Gran Vía, and to your right hand side the entire Salamanca neighbourhood extending at your feet.
Fancy and delicious drinks and a tasty tapas menu that they usually update seasonally (they have now a 3-mini-burger dish that is really really good… and not only because we love all things "mini"). If you're a gin tonic fan, try their special made with aloe vera gin straight from Formentera island (Ibiza).
*ONLY OPEN DURING SUMMER / BOOKING IS RECOMMENDED.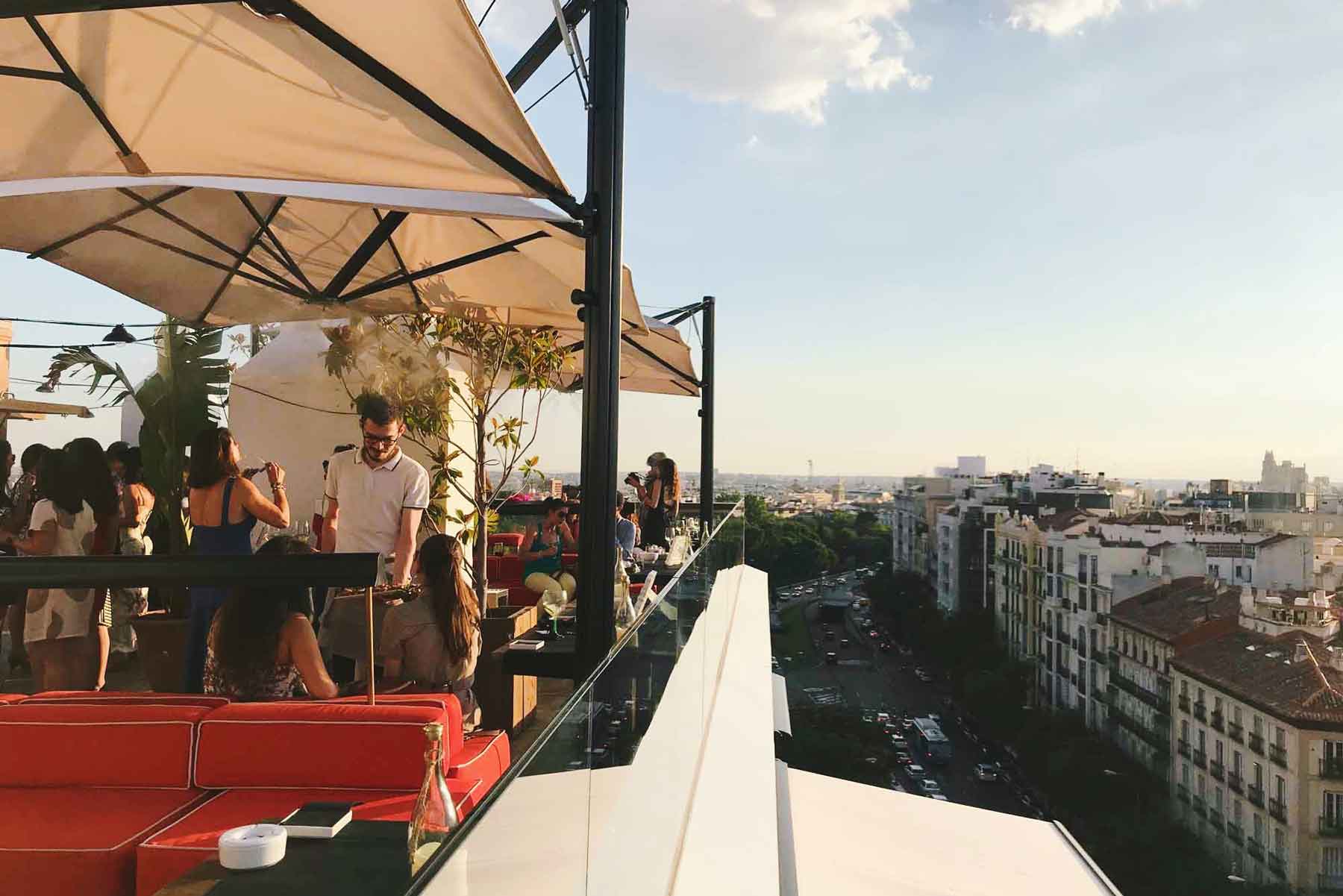 .
.
Ready to enjoy Madrid's skies?
.
To share your photos with other minimappers, please use this hashtag #superminimaps in Twitter and Instagram!
♥