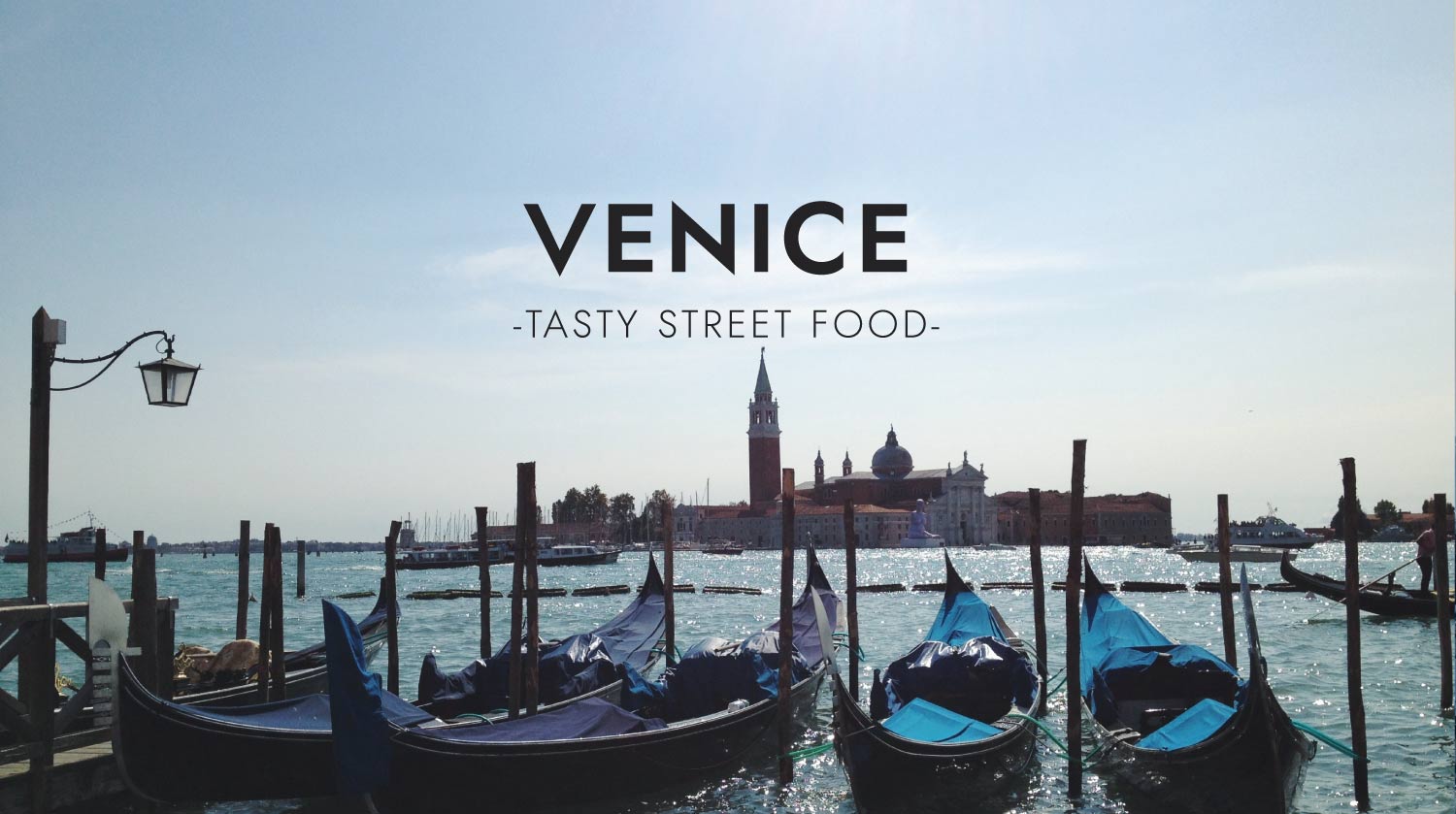 You'll probably already know that travelling to Italy means a lot of fresh, mouth-watering food. When you book a trip to Venice, you mentally prepare to day-long marathons chewing-over pasta. I'll stop you there : yes, pasta is THE typical dish in Italy. No, it's not the only thing Italians eat!
Venice is actually famous for having a very special kind of ritual : «mangiare cicchetti», a tradition in the street-food's spirit, similar to Spanish tapas (but don't call cicchetti tapas if you don't want to piss Venetians off!).
Cicchetti are small portions of food that you can enjoy for aperitivo in a bacaro (a typical Venitian bar), while sipping on a Spritz as you chat by a canal. This might often become your dinner if you are traveling on-a-budget.
Deep-fried food, fish, vegetables or cheese, cicchetti come in all types of flavours and toppings. This guide will take you through the labyrinth of narrow streets (whatever you do, call them calle not via) to taste the best iconic cicchetti Venice has to offer.
Buon appetito!
Edited by Lucie Tournebize & illustrated by Marc Combas.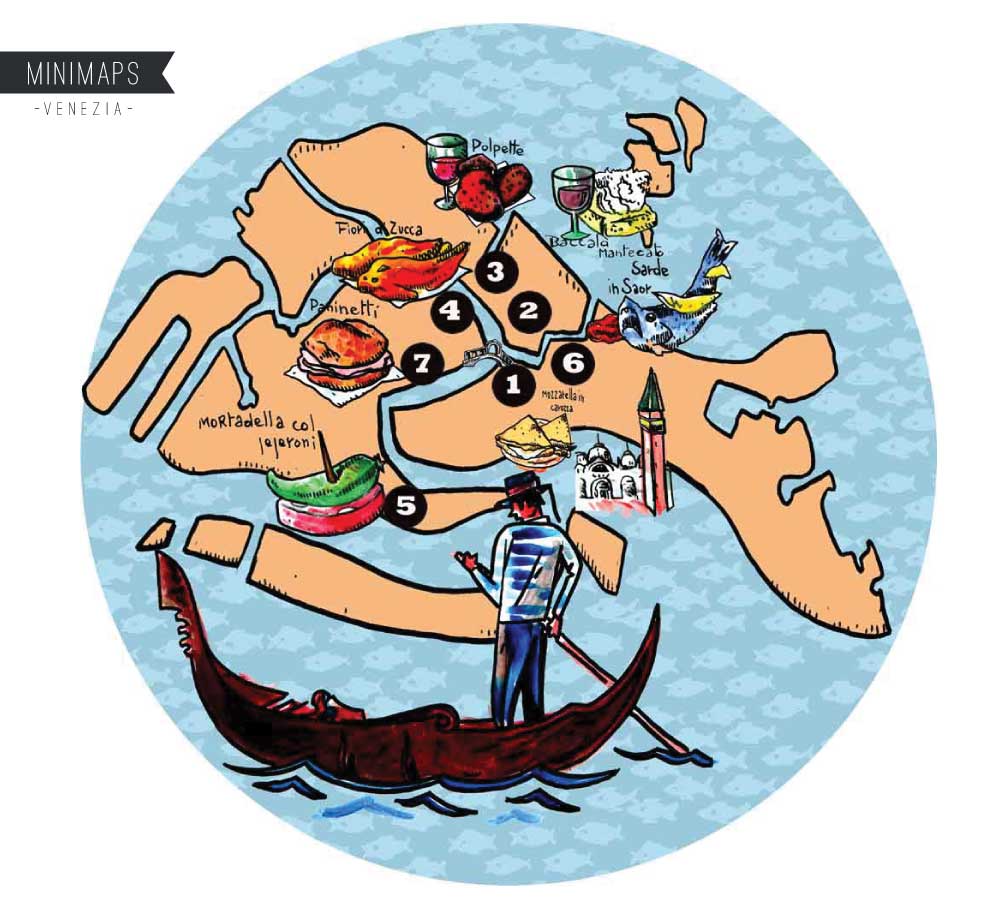 .
1.Rosticceria San Bartolomeo and her majesty the Mozzarella in Carozza
Picture a big, white, creamy Neapolitan mozzarella. Glowing succulently, she is the Queen of Italian cheeses, and sometimes, she might fancy a ride in her coach, or rather, a Carozza. Two slices of bread, a thin blanket of ham to counter the cold, and she's ready for deep-fried dive in boiling oil. BOOM. This is the famous Mozzarella in Carozza. Take a bite when it's piping hot; if your fingers get all greasy while long strings of cheese start to dangle from your mouth, nevermind. Everything's okay. On a cold foggy day, inside the Rosticceria San Bartolomeo, a popular trunk a few calli away from Rialto Bridge, it's undoubtedly the best way to face the cold, wet Venetian winters.
.
What is baccalà, or stock fish, doing this far from its native Norwegian sea ? Brought back to the Serenissima by a merchant during the XV century, it slowly enters into the Venetian traditional recipes. Now it has settled in the city and you may find it « mantecato », the most popular way to cook it. On a soft slice or bread or polenta, it lies in a smooth palatable cream, the perfect topping for a cicchetto.
If a local invites you to try it at «I Promessi Sposi», which literally means the weds-to-be, don't worry. Nothing to do with weddings here (nor with literature, even if it's also the title of a book every single Italian child must read). You are about to have an intense gastronomic experience trying baccalà mantecato in one of the best cicchetti places in the heart of Venezia.
.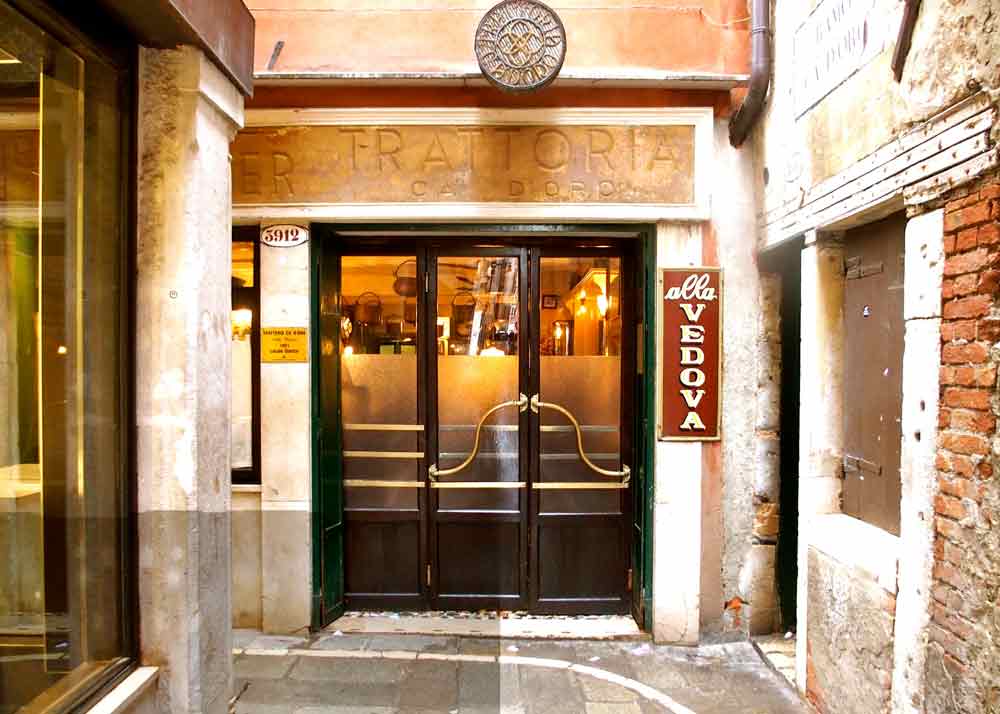 3.Trattoria Ca D'Oro alla Vedova and the Polpette
Don't be fooled by its crusty appearance, these polpette (meatballs) want you to believe they are hard as rocks, but they're actually hide a tender heart. You will sometimes find them alone, sometimes hanging out in a bunch of three. Just give them a try, and they'll reveal their true personality: warm, sophisticated and refined, their flavour is way more complex than what you might think staring at their hard shell. A consensus on where to find the best ones is still far-off, and since everyone has a strong opinion on the matter, mine is that la Vedova's polpette beats them all. If you order at the counter of this famous restaurant, it's only about €1,50 a piece – still less than those yucky cheeseburgers at the nearby Mc Donald's, so be sure to make the right choice.
.
Maybe before coming to Italy you were completely unaware that zucca, or marrows, has flowers, I mean fiori. That's a pity because those green-orange kind of ugly things are a killer when filled with ricotta cheese and an anchovy. Oh, and of course, it's breadcrumbed and deep-fried. Subtle and soft, their high-calory level will reward you after a whole day getting lost in Venice's labyrinths. My favourites can be found at Do Spade, one of the oldest Osterie in town. In a narrow street, spot the barrel (most probably supporting a couple of habitual night-owls), push the door and make your way in. This friendly place serves a great selection of wines along with cicchetti. And if you're looking to keep things on a low budget, remember that an ombra of white or red might cost you maximum €2 a glass.
.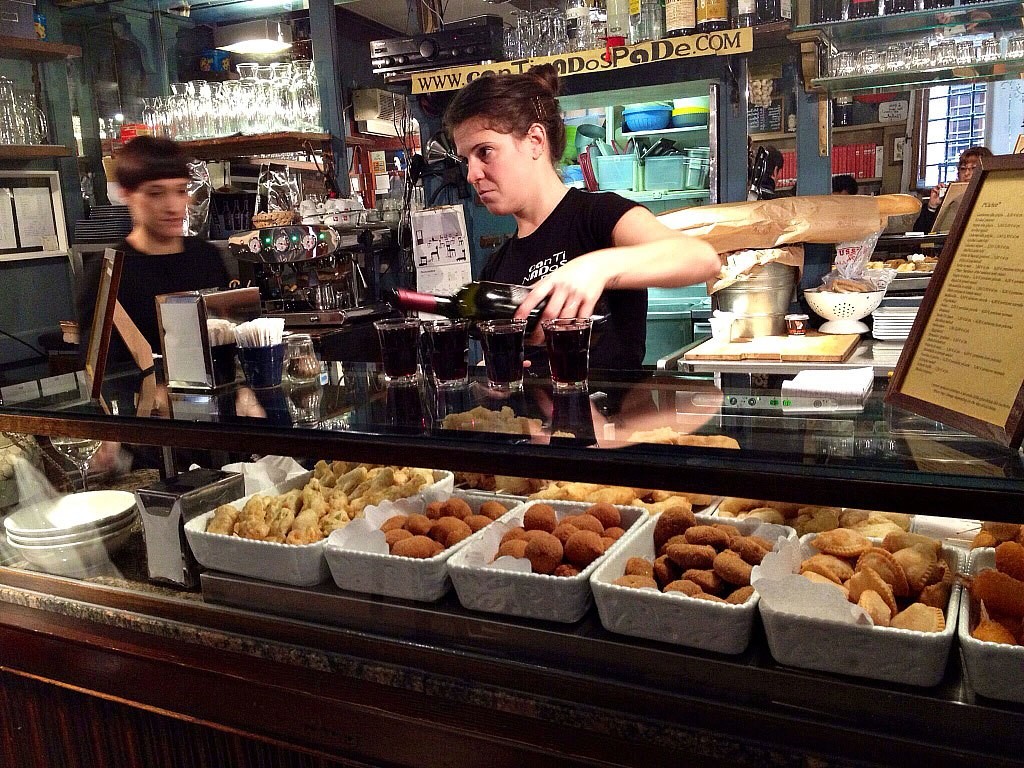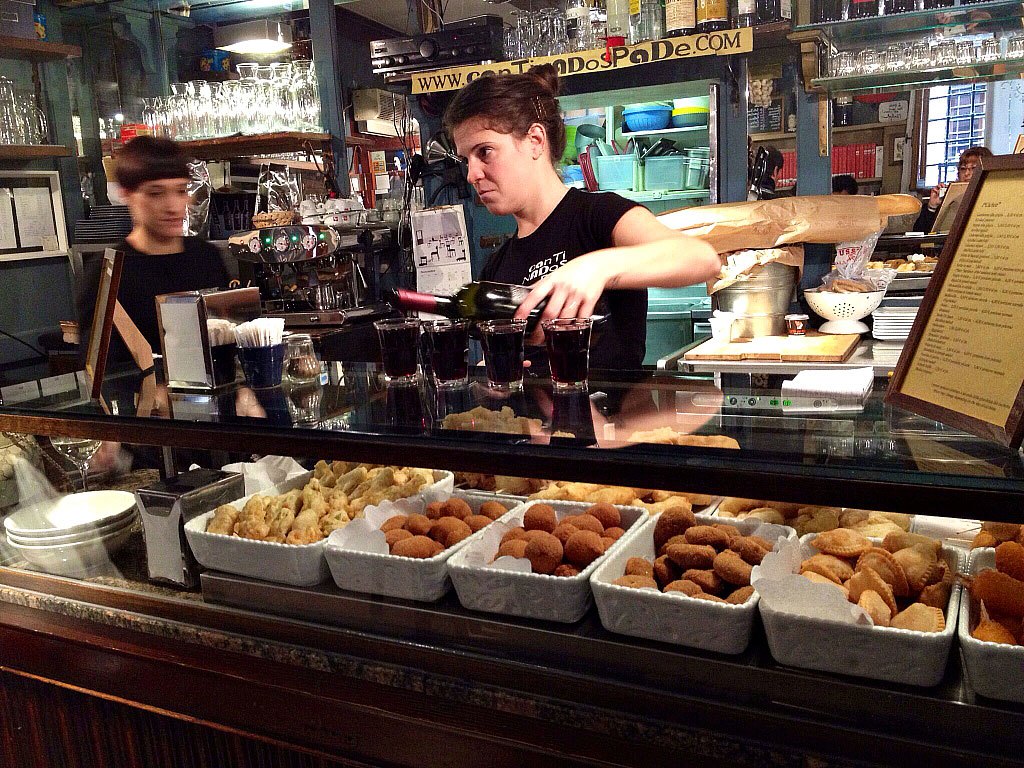 Forget about vacuum-packed mortadella from your supermarket. Close your eyes, relax and follow my instructions. Picture something in the shape of a small brick, about the size of the palm of your hand. Now, look closer, this block is made of mortadella. Smell it, it must be strong, inviting. Visualise a green pepper on top, pinned down by a tooth pick. Open your eyes. Ta-daam ! You are standing by the wooden bar in a local bacaro of Dorsoduro, surrounded by people chatting loudly and gesticulating excitedly. In your right hand, a piece of mortadella with pepper, just like the one you pictured. In your left hand, Prosecco is sparkling in a glass. It's not magic, it's Venice at aperitivo hour.
.
Is it because of the sweet raisins of Corinth ? Or is it about the pine seeds mixed with wine vinegar? Sarde in saor, with their sweet-sour taste, invites you to travel in time and space throughout Venezia's history. To conserve fish longer, the seafaring nation invented the «saor», a white wine vinegar-based sauce. Sailors would leave on long journeys in the Mediterranean sea and rely on sarde in saor, which also prevented scurvy thanks to the high quantities of onions involved.
Even if no one today is actually concerned with losing one's teeth, the speciality remains a symbol of Venetian cuisine. You can find it everywhere, at a cichetti counter or on the menu of a classy restaurant. So if you're in the mood for street food, get lost around ponte delle paste until you find calle Malvasia and its «portego», basically an archway in Venetian style. Here, a crowd of hungry people is rushing inside to devour tons of cichetti like sarde in saor, don't leave it too late or there won't be any left.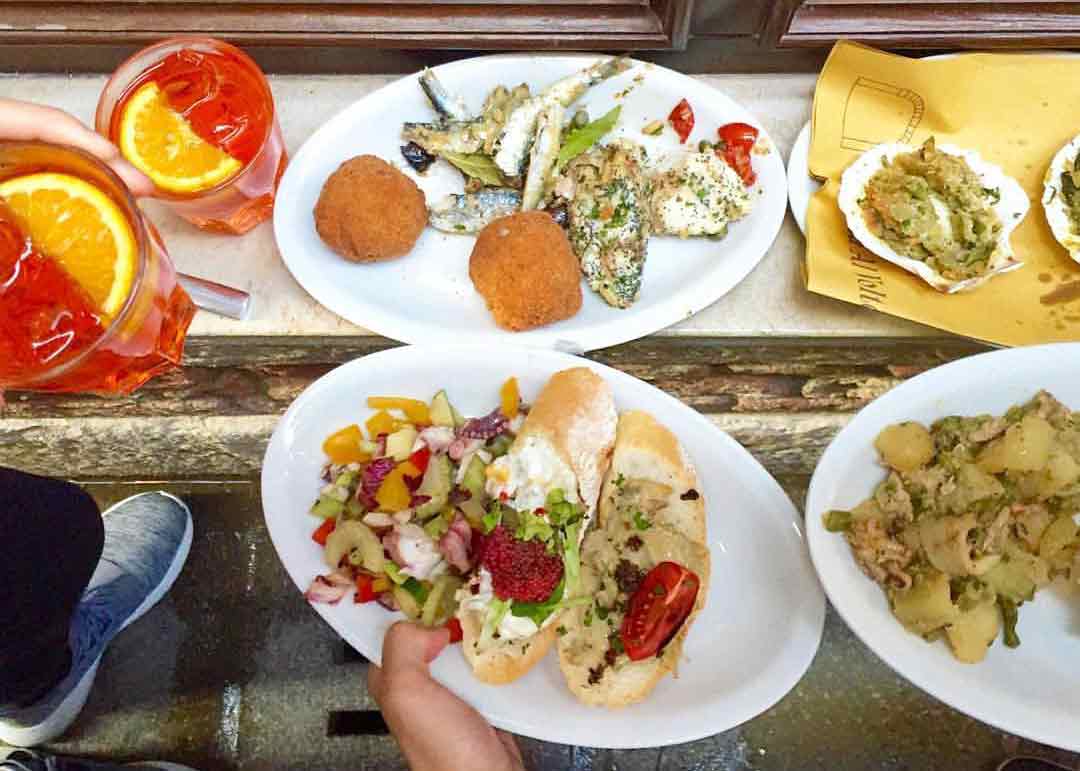 7.Al Mercà, paninetti on the market
They are not even cicchetti but they're so good they definitely deserve a mention. They might be the smallest sandwiches, served in the smallest bar in Venice, with the greatest atmosphere. In the mornings, Campo Bella Vienna and its elegant archways are the decor of the well-known Rialto Market, with its century-old smells of fish and herbs. But in the late afternoon, it slowly puts on its night mask, as people gather to sip on an aperitivo and nibble on something before dinner.
That surely sets the scene, but what about food? Here you go: small sandwiches you can swallow in two mouthfuls, but it's the filling that's interesting. Tons of San Daniele, Parma or Sobresada's ham, often accompanied with truffle cream : this is close to my idea of paradise. And if the bar has no interior (just a counter giving onto the square), you can have your drink poured in a plastic cup and take it to the banks of the Grand Canal to sit and muse. Sunset, drinks and food, nothing is missing to start your Venetian night out.
.
You must be hungry already, right?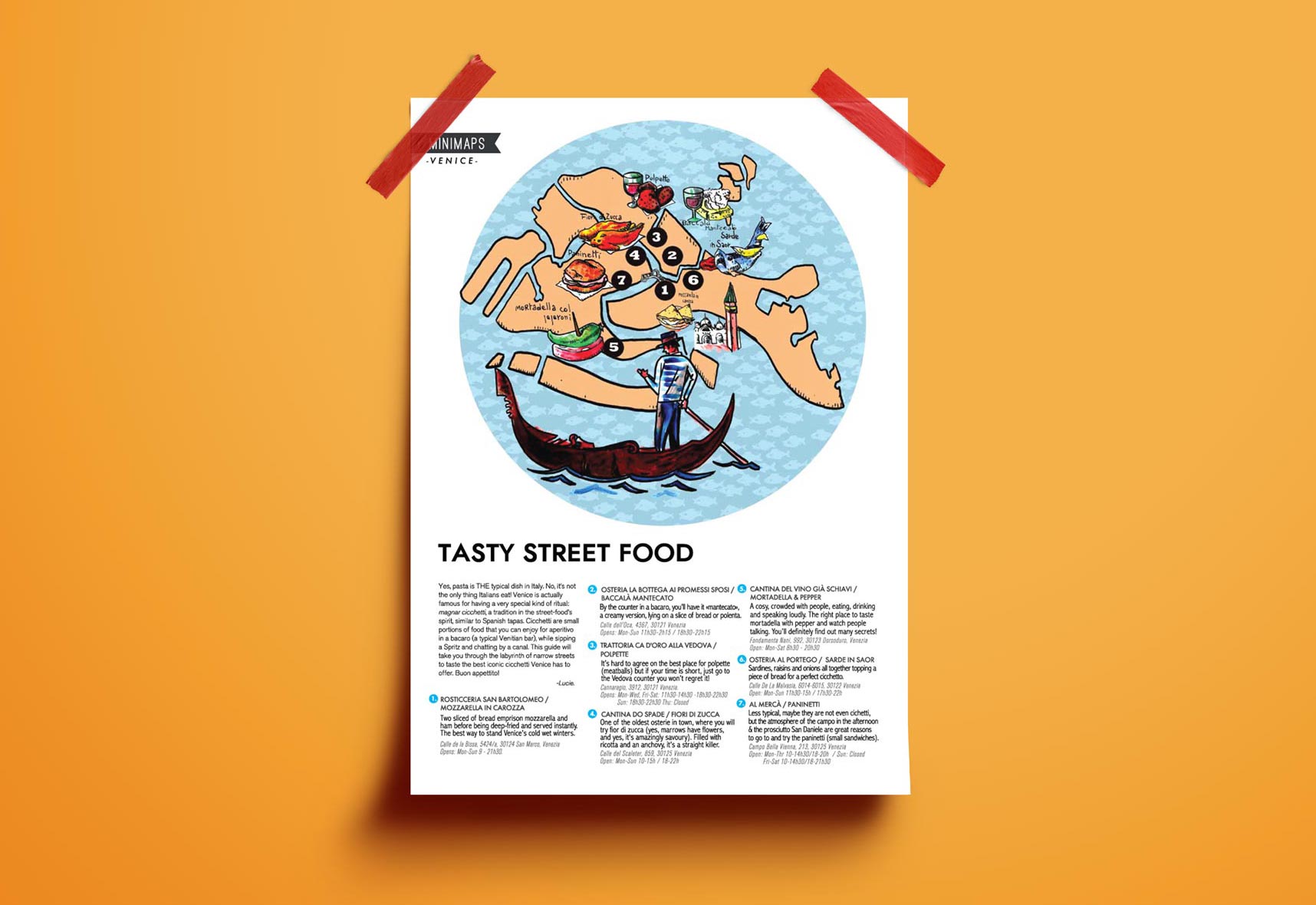 Boat market by the canal. | Photo: Emil Myrsell.
Piazza San Marco in the summer | Photo: Ana Laya.
Venice is for eating! | Photo: Ana Laya.
.
To share your photos with other minimappers, please use this hashtag #superminimaps in Twitter and Instagram!
♥